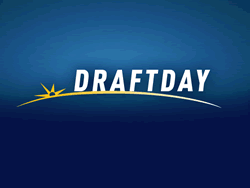 *DraftDay stopped operation on April 20, 2017
This review is for historical use only:
DraftDay is a medium sized fantasy site. They are not as large as the big two sites, but they are larger than most of the rest. They are founded by the team that launched the extremely popular CardRunners poker training site and were acquired FanThrowDown in 2014. My favorite things about DraftDay are the quality software, low rake, and variety of games and sports that you do not find at FanDuel. Here are the details you want to know:
DraftDay 101
Official Website: www.DraftDay.com
Bonus Offer: 3x tourney credits for 3 months
Promo Code: FREAK
Contact: support@draftday dot com or via facebook here.
Should You Use A DraftDay Promo Code To Get Max Bonus?
Yes – You shoud use my tested
Draft Day promo code of FREAK
. Using code:
freak
during account creation will lock in the best bonus any new player can get. The bonus is now a 3x tourney credit for three full months.
You earn your bonus by playing in real money contests and it is paid out to you incrementally in tourney credits. See details here of this new program..
*Updated 2016 – DraftDay is known for great on-going promotions. Depending on the season will determine what kind of specials are running. For new players, utilize our promo code to lock in your new player bonus or visit their latest promotions page here.
How Does DraftDay Work
If you are not familiar with daily style fantasy sports then read over our basics of how to play. DraftDay is one of a growing number of daily style fantasy sports sites looking to earn a chunk of the booming fantasy sports for cash industry.
Create Account and Deposit
Find a contest (offering NFL, NBA, MLB, PGA, CFB and NHL currently)
Draft a team (salary cap, live draft, rapid fire, bracket style)
Beat your competition and win cash
DraftDay Fantasy Games & Sports Offered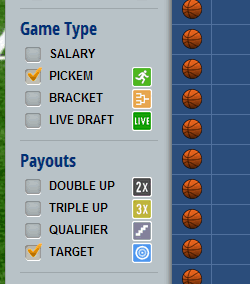 One of the things that sets this site apart is the variety and style of games that they offer. DraftDay offers unique games that you can not find at some of the other sites.
Live Draft – These are just like a traditional style draft where each player takes a turn picking. They run like a sit-n-go in poker, beginning as soon as enough players sign up. These are currently offered with head-to-head matchups and up to 6 man teams.
Pick 'Em – These games are fast and fun. Pick one player from a tier of players to fill out your team. No salary cap.
Rapid Fire – These are super fast pick one or the other from a choice of two players on who will score more fantasy points. If you pick 3 out of 5 or more correct you win.
Bracket Style – These are head to head match ups that last for 3-4 days of competition. You battle one opponent and the winner moves on to the next round. In NBA, for example these would last 3 nights of competition and you would draft a new team each night, assuming you win your matches.
Target – These are unique where the fantasy site sets a points threshold and if you hit it, you split the prize with anyone else in the contest who also hit the threshold.
These games can be played, season dependent on the following sports.
Drafting A Team – Picking Your Players – Like Butta
The site is super user friendly. For recreational players like myself who like to just enter a few contests each week the drafting and picking of a team is easy. All of the information you want is quickly available and it works smoothly and intuitively. I've looked at the multi-team entry and it is also very easy and smooth.
Here are some screenshots of picking your team:
Draft Day Recap
For a medium sized fantay site, DraftDay is an excellent choice. Veterans and new players alike play here because of the great software, ongoing promotions and the team behind the company has a quality reputation. If you are looking for a engaging site to play in that is not quite as large as the big three but still big enough to give you the games and contest you want then you should sign up at DraftDay and get in the game.
DraftDay Fantasy Site
An excellent middle sized daily fantasy sports site.
Date Published: 02/19/2014
A look at the important things to know about DraftDay + screenshots.
print $reviewboxtitle?>
Deposit Bonus: 3x Tourney Credits