Daily Fantasy Hockey Guide For Dummies and er…. You!

Like most sports fans, I don't hate hockey, I just don't watch it much. I've tried starting small fantasy NHL leagues throughout the years, but I could never find enough people to join. So I decided I'd give Daily NHL a try, and it's a BLAST!!!
As I said, I don't watch much hockey…but hey, I don't watch all that much baseball and that didn't stop me from submitting lineups on a near daily basis. Daily Fantasy kept me far more up-to-date on the goings-on's in Major League Baseball, and now that the baseball playoffs are here I'm actually pretty familiar with the lineups and rotations from top-to-bottom. Just a week into the NHL season and I'm already able to spell some very weird names correctly.
You can play in real money contests every day of the NHL season at
FanDuel
. Use
promo code FREAK
to lock in a 100% deposit bonus!
Daily NHL 101 – Basics and Beginners
Roster Requirements – FanDuel vs DraftKings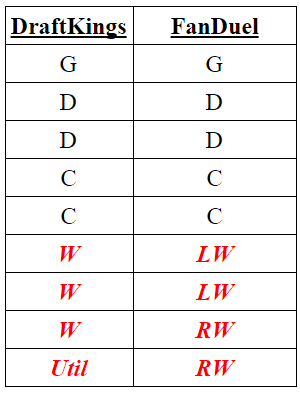 DraftKings: G, D, D, C, C, W, W, W, Util
Fanduel: G, D, D, C, C, LW, LW, RW, RW
Hockey Scoring Comparison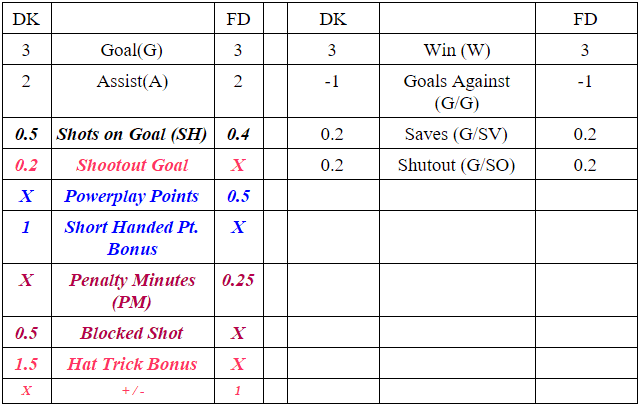 Compare and Contrast DFS Hockey / NHL
Goalie scoring is the same between both sites
Goalies accrue points for goals and assists
Goalie Shutout is Regulation and Overtime only; it doesn't include Shootout Goals
DraftKings gives 0.10 points more than FanDuel for Shots on Goal
Powerplay/Short Handed Goals – are bonus points added to the points you already get for G's and A's
FD awards a bonus(0.50 pts.) for any Power Play goal; at full strength or short-handed.
DK awards 1 full bonus point for Short-Handed Power Play goals only.
Defenseman Points; sort of. Any defenseman can obviously score G's and A's The same goes for shooters blocking shots and accruing penalty minutes, but these are the major ways DK and FD rewards defenseman, so these are where you want to start when rostering them.
FD gives .25 points per penalty minute… DK doesn't
DK gives a half a point for Blocked Shots… FD doesn't
Hat Trick Bonus – in true DraftKings form, they hook you up with 1.5 points for a Hat Trick, while FanDuel remains the old fuddy duddy site with no bonus for the amazing feat
+/- scoring in FanDuel
At the end of an NHL game, a player is awarded a +/- rating. FanDuel will award your player a positive point for every + and a negative point for every –
+/- scoring in the NHL is as simple as if a skater is on the ice when their team scores a goal, they get a +1. If they're on the ice when a goal is scored against their team, not including short-handed goals, they receive a -1
A player can end the game with an Even +/-, where you're neither awarded any points, nor penalized.
NHL.com is a great place to start when searching for stats leaders in the above categories.
Drafting A Team – Basic Advice For Real Money NHL
Know who's playing – The same goes in any sport, the last thing you want to do is get a big fat Zero in a roster spot due to the player being inactive.
Start with the Goalie – neither site does a great job showing the projected/starting Goalie. Find whichever site works best for you to make sure the Goaltender you're rostering is actually at least starting. A Goalie can receive a Win in relief, but it's not very likely.
Know Your Lines – Skating Lines, Defender Combinations, Power Play Lines, and Penalty Killing Lines. Two sites do a great job at giving you this information: fantasyhockey911.com gives you the latest lines used along with their minutes on ice and dailyfaceoff.com provides you with projected lines, but most importantly, will confirm a starting goalie.
Sometimes the projection is a day or two out, so I'd always still double-check closer to game time.
Ice Time – like At-Bat's in baseball or targets and pass/rush attempts in football; Ice Time is how many minutes a player plays in a game is of the utmost importance when deciding who to roster. Most stars, even if on the 1st line and the top penalty killing lines, will only log about 20 minutes of ice time, or about 1/3 of an NHL game.
A skater on the 4th line, however, who barely contributes to penalty killing lines might only log 5-10 minutes of play.
Know Your Stars – This should go without saying, but hey, I just said it. When you check your Ice Time and Lines, you should have a pretty good idea of who the stars are; if you didn't already know. Whatever you do, don't just follow the salaries laid out by FanDuel and DraftKings to determine who is and isn't a star. Hell, Arian Foster was one of the 5th most expensive RB's in football for the entire month he was injured. Yet I'm sure people rostered him. Don't be one of those owners.
Find Value – Of course, we'd all like to own nothing but the best, but the salary cap prevents that. So you have to fill out your roster with some cheaper players, and the best way to find value is to pay attention to promotions and injuries. A backup Goalie getting an unsuspecting start could save you a ton of money and even get you a few points. If a 1st-liner gets injured, it might not be the guy who moves up from the 2nd line who is the value, but the guy who moves from the 3rd to the 2nd where you really save some dollars.
The same goes with players outperforming those ahead of him. A line can change from game to game, or even from minute to minute within a game. Don't assume a player will retain his role from game-to-game and always check your sites for the latest news and projections. Always know who the next man up is. Always pay attention to streaking players; both hot and cold. And do this especially with losing or under-performing teams as they might be more apt to make changes, if not just to shake things up.
Get Started – Try Daily Fantasy NHL
DraftKings has free games and entry fees as low as $0.25 almost daily. FanDuel entries start at $2. DraftPot offers fantasy NHL without a salary cap. You can literally pick anyone you want.