How To Get Your Spouse To Understand Your Daily Fantasy Football Addiction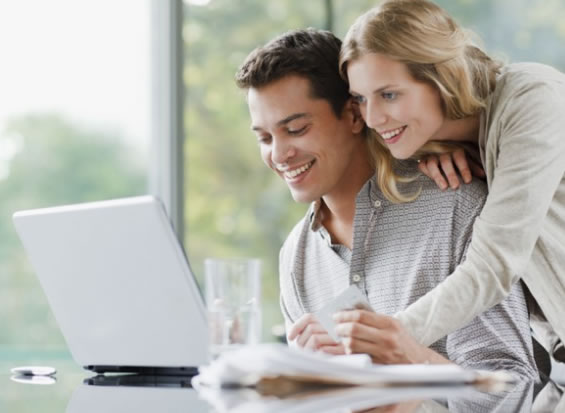 If the amount of time you spend playing weekly fantasy football is starting to irritate your spouse, it's because she (or he) doesn't fully understand what you're doing. Or more to the point, it's because you haven't properly explained it to her…. (or him)
It may be obvious to you. You know all about the daily fantasy lifestyle. You're aware of the grind because you're living it day in and day out. But to your significant other, it's a mystery. She doesn't understand how you can spend hours "playing games" on the computer without eating, showering, or getting dressed.
That's what we're going to cover today. The new NFL season is underway at DraftKings and FanDuel, which means you'll be spending more time at both sites. It's a good idea to sit down with your spouse, partner, or significant other beforehand, and describe what you'll be doing.
I'll give you a few talking points below.
The Daily Fantasy Football Lifestyle Defined
The lifestyle of a typical DFS grinder is fairly predictable. If he has a job, he comes home from the office and logs into his DraftKings account. He quickly checks his results from the previous night's games before heading to the DK lobby.
In the lobby, he looks through the upcoming fantasy football contests to find those that suit his style. For example, he'll focus on the guaranteed prize pool (GPP) contests if he enjoys competing in large-field events. He'll concentrate on the 50/50s, small leagues, and head-to-heads (H2Hs) if he enjoy smaller contests.
He's sharp with his cash. He knows he has a limited bankroll, and joins contests that impose entry fees he can afford.
That's the easy part. Now comes the harder part.
The dedicated weekly fantasy football player realizes that research is critical. It's what makes the difference between winning and losing contests. He knows that gathering intel on NFL players is a crucial part of building a winning lineup. So he digs in, using a variety of resources to identify promising draft picks.
The research phase can take hours. It's important to know when enough is enough.
With the hard part completed, the fantasy football player drafts his lineups for that evening's games. Then, he settles in to watch them play.
You can see how a spouse might question the activity described above. The problem is that she's not included in it. All she knows is that her significant other is spending a lot of time in front of the computer "playing games."
In a moment, we'll look at ways to assuage her doubts.
Weekly Fantasy Football: Hobby Or Full-Time Income?
The process described in the previous section assumes the fantasy player has a full-time job. That being the case, he has limited number of hours after work to find contests, research players, and build his lineups.
But let's suppose that competing in daily fantasy football contests is your full-time gig. It's what you do to earn a living. That means you have a lot more time to make things happen. You can play fantasy sports and still have plenty of time to spend with your spouse and kids. Problem solved, right?
Not so fast.
When you play daily fantasy sports as a hobby, you're not under any pressure to make money. But if you're doing it to make your nut each month, it's a different story. You'll be competing in a lot more contests. That means you'll be spending much more time researching players and building lineups.
If you're good at managing your time, you can get almost everything done during the day, when most folks are at their jobs. You'll want to double-check your lineups minutes before the first kickoff of the night to make sure the players you drafted are still expected to play. But otherwise, you can set your laptop aside and enjoy your spouse's company.
In reality, a lot of daily fantasy football players have trouble unplugging. Many of them manage their time poorly during the day, and end up spending hours in front of their computers at night. Others find themselves being lured in by qualifiers and GPP tournaments that promise huge payouts to the victors.
Meanwhile, their spouses grow increasingly angry and bitter.
Why Your Spouse Is Concerned (Angered) By Your DFS Activity
Let's assume your significant other is less than thrilled about your daily fantasy football activity at DraftKings and FanDuel. If you're hoping that she'll eventually see things from your perspective, you need to figure out what's behind her concerns. Only then can you take steps to alleviate them.
I'll make it easy for you…
The first reason is time. You're spending a lot of it at DraftKings and FanDuel. Every hour you spend in front of your computer is an hour you're not spending with your spouse. Few things can cause a relationship to deteriorate more quickly than ignoring your partner.
The second reason is money. Each time you join a contest, you place a small chunk of your bankroll at risk. Suppose you join 20 contests each week. If the entry fee for each contest is $5, that means you're putting $100 at risk each week – or $400 per month.
Suppose you go through a losing streak (it happens to everyone). It takes a patient spouse to overlook a $400/month outflow. If you're on a budget, you'll have some explaining to do.
Now that you're familiar with the reasons your partner is uneasy about your fantasy football hobby, let's take a look at how to ease her concerns.
How To Explain Your "Fantasy Football Addiction" To Your Spouse
You're probably not addicted to weekly fantasy football. But your lifestyle might make you seem so to your significant other. She sees you glued to your computer for hours on end, spending money that doesn't produce tangible results.
You know better, of course. You're looking at your bankroll and (hopefully) watching it grow. You know your efforts are generating a profit, even if you haven't cashed out and purchased anything. To you, playing DFS is not only a blast, but a fun way to make money.
So, how do you reconcile the time and money you're spending at DraftKings and FanDuel to your spouse?
Here's a good rule of thumb: money talks.
It might be as easy as showing her your account balances at the daily fantasy sites. (This only works if you're doing well of course.) If you're on a winning streak, be generous. Take her out to a fancy restaurant. If you cashed big in a major tournament, take her on a mini shopping spree.
The point is to share your success with your spouse. That's how you make it real to her.
Also, commit to spending more time with her. No one likes to feel isolated in a relationship. Isolation breeds resentment. Head it off early by making yourself available, even if that means missing a few contests. You'll always have another opportunity to make money with fantasy football.
Your spouse will also feel more at ease if she meets other daily fantasy players. That may be difficult to pull off since most of your time at DraftKings and FanDuel is spent online. But if you're going to attend a live, in-person event, take her with you.
For example, DraftKings is hosting a $2.5 million "King of the Beach" event in December. Fifty players will descend on Atlantis Paradise Island for a chance to win a $1 million first place prize (cash prizes are paid to all 50 players). If you happen to be attending the event, it's a great opportunity to introduce your significant other to your DFS cohorts.
FanDuel is having a similar bash in December, but in Las Vegas. There's $10 million at stake in 4 giant tournaments. FanDuel's 2014 World Fantasy Football Championships offers another chance to show your spouse that fantasy sports is the real deal.
Designate A Time To Turn Off Your Computer
One of the best strategies for getting your spouse to accept your weekly fantasy football "habit" is to stick to a schedule. Commit to shutting off your computer at 8:00 p.m. each night. If you're playing on Saturday or Sunday, shut it down at 12:00 noon. That way, your partner other knows when you'll be available to her (and to your kids).
Pick a couple of days each week and designate them as "non-DFS days." Commit to doing absolutely nothing related to daily fantasy football – not even checking the previous night's results – on those days.
Not only will doing the above encourage your spouse to accept your DFS betting, but it will also provide a bit of balance in your life. It's very easy to spend all day and night at DraftKings and FanDuel, especially if you're on a winning streak. Unplugging prevents you from becoming a DFS hermit.
Your spouse, girlfriend or boyfriend may never completely share your excitement and passion about daily fantasy football. But taking the steps I've outlined above will go a long way toward making her (or him) more receptive to your fantasy sports "addiction."