Every daily fantasy football player dreams of cashing in a large field GPP (guaranteed prize pool) tournament. That's understandable given how much prize money is at stake. If you manage to land in the top 10, you can expect to receive a payout worth thousands of dollars.
But football GPPs are a tough nut to crack. It's hard enough to finish in the top 20%, much less the top 10. Spend too much time competing in big tournaments and you're likely to go broke. This is the main reason I recommend focusing the majority of your time on cash games (50/50's, double-ups, etc.). They're easier to win. In fact, a smart approach is to use the winnings from your cash game to fund your GPP endeavors.
It's important to know what you're getting into when you enter a large-field NFL tournament. You'll be facing a lot of very experienced team owners, some of whom will enter dozens of lineups. If you wade into these shark-infested waters unprepared, you'll be almost guaranteed to lose.
With that in mind, following are the 10 commandments of playing (and winning!) GPP football tournaments. Ignore them at your own peril.
Thou Shalt Draft A "Boom-Or-Bust" Quarterback
This isn't the time to draft a pass thrower based on his week-to-week consistency. You need someone who's going to shoot out the lights. You want a QB who doesn't just produce a respectable number of points, but has the game of his life.
Your quarterback is going to turn in the highest production of anyone in your lineup. Leverage the position. Roll the dice and slot someone who has the potential to outshine everyone else scheduled to play that day.
Fair warning: a QB with boom potential also comes with bust potential. Be aware that your man might have a terrible night. If he does, you'll have zero chance of landing in the top 10.
Thou Shalt Create A Solid QB/WR Stack
If your quarterback is a high-volume passer, his receivers are going to see a lot of action. Pick his favorite pass catcher and you'll grab more points for each successful play.
For example, suppose your QB throws to his favorite receiver, who manages to run the rock for a touchdown. You'll not only get points for the TD and passing yards, but you'll also get points for the reception and receiving yards.
Putting together a quarterback/receiver stack is a great way to earn "piggyback" points. These points can make the difference between winning and losing in a GPP.
Thou Shalt Focus On Upside
Each man in your squad (not just your QB) should have a high ceiling. He should come with a lot of boom potential.
Upside is critical in large-field tournaments. It's an asset. The only way to distinguish yourself from other team owners is for each of your players to have a fantastic day on the field. You need guys who are going to get a lot of touches. Each touch is a scoring opportunity.
The challenge is that players with huge upside come with huge price tags. They're usually studs. So be prepared to spend some cash. Also, look for underdogs with upside potential who are being ignored by the majority of the field. You may be able to pick them up at a discount.
Thou Shalt Welcome Volatility
Volatility and upside go hand in hand. It's difficult to have one without the other in a GPP. Again, you need players who offer high production potential to have any chance of cashing. The problem is, that potential comes with considerable risk (boom vs. bust).
Don't be afraid of volatility in large-field fantasy football tournaments. Welcome it. Embrace it. Volatility is what gives you the opportunity to compete successfully against experienced team owners who enter the contests with dozens of carefully-crafted lineups.
Volatility gives you hope. Players with a larger standard of deviation in their fantasy production hold greater potential of having a breakout night.
Thou Shalt Create Multiple Lineups
If competing in a GPP is tough, doing so with a single lineup is doubly so. You'll be facing team owners who've entered 5, 10, and sometimes over 100 lineups. What are the chances your single squad is going to beat all of them?
Entering multiple lineups in a GPP gives you more chances to cash. It's like having several lottery tickets instead of just one. Each ticket has the potential to carry the winning numbers. Having one hundred tickets increases your odds over having a single ticket.
The same is true for large-field fantasy football tournaments. The difference is that you have an opportunity to try different player combinations in the hopes that one or more will break out. You can try different QB/WR stacks. You can also slot different tight ends who offer varying levels of upside.
Of course, the downside to creating multiple rosters is that you have to pay for each entry. But if you can afford it, and you have a fair grasp of how to build solid lineups, the potential benefits outweigh the added cost.
Thou Shalt Slot A High-Volume Receiver In The Flex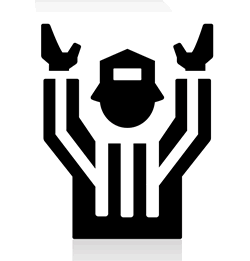 DraftKings requires you to fill a flex slot. This slot can be filled with a receiver, running back, or tight end. If you're playing in a GPP, your best option is to find a receiver who may have a terrific night and deliver big production.
You might be tempted to draft a running back as your flex player. Backs tend to be consistent, so there's a greater sense of comfort slotting one in this position.
But that'd be a mistake.
Remember, volatility is your friend when you're competing in large tournaments. To that end, as a rule, receivers show more variance in fantasy production than running backs. Embrace this uncertainty. It gives your squad more earning potential.
There are arguments for finding contrarian players for the flex spots as well such as a booming TE or a RB you sneak in there who happens to go off, but WR's usually offer the most upside.
Thou Shalt Draft Players With Low Percentage Ownership
Try to find players who aren't owned by half the field. At the risk of beating a dead horse, one of your biggest assets in GPPs is volatility. You need breakout performances from your roster.
The problem is, if you own the same players as other team owners, there's no way for you to spring ahead of them in terms of points. Your guys are their guys. And vice versa.
When you slot players with low-percentage field ownership, you give yourself a chance to stand out from the pack. Is there a risk your players won't perform? Is there a risk they'll bust? Of course. But that's part of competing in a GPP.
The most important point is that you need a way to distinguish your rosters from those of your competition. Find players with high ceilings who, for some reason, are being ignored by most of the field.
Thou Shalt Check Vegas Odds For High Over-Unders
Don't draft your lineups without first checking Vegas odds regarding the upcoming slate. Specifically, look for games with high over/unders.
An over/under is the total number of points oddsmakers expect to be scored in a given game. A low over/under means both teams are having trouble scoring. That, in turn, indicates the players on the two teams are producing low fantasy numbers.
A high over/under signals a potential shooting match. There are likely to be a lot of touches and scoring opportunities. If you can slot a QB and/or receiver scheduled to play in such a game, you may see higher-than-expected fantasy production at those positions.
Thou Shalt Draft A High-Turnover Defense
When it comes to drafting a defense for a GPP, look for turnover potential. You're not too concerned with how many points your D-team will give up to the opposing team's offense. Instead, you want defensive players who can intercept, force and recover fumbles, and take down the opposing QB behind the line of scrimmage.
These are reliable "gets" at defense in weekly fantasy football. The reality is, your defense won't offer the same fantasy production as your QB and receivers. But a strong D-team can bring home the bacon with interceptions, fumbles, and sacks.
Thou Shalt Closely Manage Thy Bankroll
I mentioned earlier that spending all of your time competing in GPPs is a good way to go broke. I wasn't kidding. It's tough to cash in large-field tournaments, particularly because the prize pool is split among the top 20% of the field. In other words, four out of five team owners lose.
And even if you manage to land in the top 20%, it doesn't mean you're going to receive a life-changing payout. You need to land in the top 10 to cash hard.
The point is, you should have a bankroll management strategy in place before you venture into NFL GPPs.
Think about how much money you can afford to lose without having to scramble to pay your mortgage. Also, think about your experience level. The more experience you have competing in GPPs, the better you're likely to do in them. That's important to take into account when deciding how much of your money to put at risk.
Figure out ahead of time how much of your weekly fantasy football budget will be spent in GPPs and how much will be spent in cash games. The simplest method is to decide on a percentage of your bankroll for both categories. Then, stick to those percentages.
If you're new to GPPs, I recommend an 80/20 split: spend 80% of your money in cash games and 20% in large-field tournaments. That allocation will allow you to participate in GPPs without risking your entire bankroll on them. As you gain more experience and see a greater percentage of wins in these events, feel free to shift a larger portion of your cash to them.
More Awesome Reads