How To Win One-Week Fantasy Football Tournaments At DraftKings
With prize pools reaching into the millions of dollars, large-field fantasy football tournaments at DraftKings are more popular than ever. There's no sign that their popularity will decline anytime soon. The current NFL season has aroused enormous interest among hopeful team owners who dream of winning 6-figure payouts.
Thousands of players are going to win. Dozens are going to win big. A few are likely to become millionaires by the time the dust settles. It's honest, legit and legal. Yes, DraftKings is legal and legit and is an American based company.
We talked recently about how competing in 50/50s and small leagues can be a ticket to making consistent, long-term profits at DraftKings. By contrast, we noted that GPP (guaranteed prize pool) tournaments are fun to play, but tough to win. Only a small percentage of the field cashes, while everyone else loses.
But that doesn't mean you should avoid them. In fact, it's a good idea to learn GPP tournament strategy and enter a few each week. A single win can fund your weekly fantasy football habit for months.
So let's take a close look at how to win GPP tournaments at DraftKings. With the NFL season already in high gear, now's a great time to join the fun!
Each week in the NFL season DraftKings has huge guaranteed prize pool tournaments. The most popular is the $3 tourney that has a $100,000 1st place prize. Join me this week. It is the most fun you can have for only $3.
Visit DraftKings
How Large-Field Fantasy Football Tournaments At DraftKings Work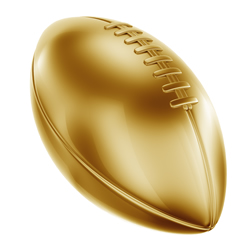 The biggest attraction of a GPP is the amount of cash up for grabs relative to the entry fee. DraftKings pledges a specific dollar amount for the prize pool and relies on attracting a huge number of entries to cover it. The buy-in is kept low to generate interest.
To see this in action, log into your DraftKings account and head over to the lobby. Filter the list of contests by clicking the tab labeled "GUARANTEED." Focus on one of the GPPs. For that event, take a look at the numbers in the following columns:
 Entries
 Entry Fee
 Total Prizes
Multiply the maximum number of entries allowed with the tournament's entry fee. The result will be a number that's slightly higher than the one displayed in the "Total Prizes" column. If the event fills to capacity, the resulting fees will cover the prize pool and DraftKings's profit (i.e. rake).
Joining a GPP is easy. Select the one you want to enter, draft your lineup and wait for the action to start. As with any other fantasy football contest at DraftKings, you can monitor your lineup's performance in real-time on the site.
As a general rule, the top 10-20% of the field wins a payout. But the payout structure is usually top-heavy. The top 1% of the winners take home a lot more money than the bottom 50%. We'll talk about this in more detail below.
Fantasy Football Tournament Strategy: A Bird's-Eye View
When you compete in 50/50s, you're not trying to win a gigantic cash prize. Half the field wins, and the amount they win is just south of twice the entry fee. For example, I'm looking at a Beginner NFL $10 50/50 at DraftKings that's scheduled to start in a few hours. Forty players can join by posting a $10 entry fee. Twenty of the players will cash, each earning $18.
You're not going to get rich playing 50/50s. But you can earn a consistent profit.
Large-field GPP tournaments are completely different. Here, you're definitely trying to win big. A first or second-place cash prize can literally change your life.
For example, DraftKings is currently hosting an NFL $2.2M Millionaire Maker. It's open to 92,400 players, each of whom must post a $27 entry fee. The first-place winner is going to receive a jaw-dropping $1,000,000 payout. The second-place winner will receive $100,000.
From there, the payouts drop quickly. Although 15,500 players will win a cash prize, two-thirds of the group will only earn $40.
If you're going to compete in a GPP fantasy football tournament at DraftKings, compete to win big. Don't aspire to make the bottom of the payout structure. Aim for the top.
As you'll see in a moment, that goal is going to influence your draft decisions.
On Seeding Your Lineup With The NFL's Biggest Names
One of the keys to winning large-field tournaments at DraftKings is taking risks. You need to introduce a high level of volatility into your lineup. With luck, that volatility can help drive your team's score into the top spots of the payout structure.
Most team owners are going to draft popular players for key positions. For example, they'll pick Manning or Brees for the QB, Matt Forte or LeSean McCoy for their RBs, and so on.
That approach is fine when you're competing in 50/50s. Half the field wins, and all of the winners take home the same payout. But in a large-field tournament, picking the big names won't cut it. Your lineup will be too similar to everyone else's lineups. Even if your team has a huge week, you'll still end up somewhere in the middle.
Remember, you're playing to win big. Now's the time to think like a contrarian…
How Taking A Contrarian Approach To The Draft Helps You
Being a contrarian means zigging when everyone else is zagging. In one-week fantasy football, it involves drafting players who are ignored by other team owners.
For example, suppose everyone is choosing Manning and Brees for their QB. Rather than following the pack, consider drafting players who have been less reliable, but have recently managed to produce a lot of points. Carson Palmer, Russell Wilson and Philip Rivers come to mind. They have lower salaries, which leaves you with more money to spend elsewhere. They might have a phenomenal week, outscoring the studs. If Manning and Brees choke, your team will have a much better chance of breaking away from the pack.
Is this a risky strategy? Sure, but that's the point. If you're going to compete in a GPP, you need to take bigger risks. You're fighting to grab a much bigger reward.
Should You Create Multiple Lineups For Each GPP Tournament?
You'll notice that DraftKings allows multiple entries in its large-field fantasy football tournaments. That means you have the option of creating more than one lineup. The question is, should you do so?
If you're entering a GPP with the same attitude you would have while buying a lottery ticket, then limit yourself to a single entry. You're basically relying on luck. But if you're competing to win and know what you're doing in the draft, creating multiple lineups gives you a few advantages.
First, you'll enjoy more flexibility with your draft selections. You can take bigger risks since your hopes aren't riding on one lineup.
Second, if your draft decisions are based on solid research, every additional entry increases your chances of winning. That being the case, you can afford to pay for several entries if you're shooting for a $10,000 payout.
The third advantage is an extension of the second one. With multiple lineups in play, you might cash multiple times. That would catapult your profits.
If you have the bankroll to support it, consider creating more than one lineup for each fantasy football GPP you enter. Note that you should only do so if you're willing to research the players and teams. Being a contrarian doesn't mean throwing darts at a board. It's still important to be methodical to give yourself the best possible chance of winning.
DraftKings Fantasy Football: When Stacking Pays Off
Stacking means picking more than one player on the same franchise. Fantasy team owners use this strategy to take advantage of productive pairings. For example, if the Saints are scheduled to play, they might pick Drew Brees and Jimmy Graham. The idea is that if Brees is having a great night, Graham will probably have a great night too.
It's worth noting that stacking isn't a flawless strategy. Not by a long shot. It could yield terrible results. For example, suppose Brees chokes. If that happens, Graham may not get an opportunity to produce. That could signal the death knell for your lineup.
So how do you know when stacking is a good decision in a GPP? You have to research the games. If you have your eye on a quarterback who's scheduled to play against a team that has been terrible at stopping passes, draft the QB and his top receiver. On the other hand, if the opposing team's defense has been shutting down QBs all season, stacking could prove disastrous.
Your odds of winning a large-field fantasy football contest at DraftKings are relatively low. The good news is that you can improve them considerably. Start with the suggestions outlined above. Enter a few GPPs and track your results. With some savvy, persistence, luck and a willingness to take risks, you could win a life-changing cash prize.
Think of it this way: a lot of folks are going to win big. Why shouldn't it be you?
More Great Articles and Content