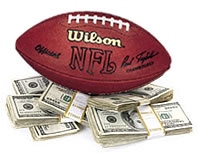 Think of this page as your quick start guide to weekly and daily fantasy football games. Below, we're going to show you exactly how to play fantasy football. Our beginners guide will walk you through the entire process. From signing up and creating your account to drafting your team and joining a contest. You'll learn some useful tips for quickly finding the games you want and links to help you build a solid lineup. This guide is focused on how to play fantasy football at DraftKings and FanDuel.
Updated 8/6/18
Fantasy Football Quick Overview
Legal in most states
USA based companies are the market leaders
Legit – Millions awarded weekly
Daily style fantasy football lead the explosion in popularity
$$ Real money games for all budgets. Play from free contests, $0.25, $1.00, $2.00, $5.00 up $10, $20 to $100 or $1000
Head to head contests up to thousands of competitors in huge tourneys
How To Start Playing Fantasy Football Right Now
It is easy to start playing daily style fantasy football right now. Here is exactly what you have to do. I am assuming you have already registered at one of our recommended fantasy sites.
1. Join a fantasy site and create your account.
2. Look through the lobby and choose a fantasy contest to join.
3. Build your team.
4. Kick-Ass and Take Names! (optional).
The joining of the site is easy so we won't cover that. Let's move on to building a team to play.
How Daily Fantasy Football Works – How To Score Points & Build A Team & Rules
Build Your Team
This example uses DraftKings.
On DraftKings you must draft players for the following positions:
QB
RB
RB
WR
WR
TE
FLEX (RB/WR/TE)
DST
*note no kicker on DraftKings, FanDuel does have a kicker spot if you prefer drafting kickers.
Scoring Points and Rules
Here is a comparison chart of fantasy football scoring between FanDuel and DraftKings, the two largest fantasy football sites.

| Fantasy Football | FanDuel | DraftKings |
| --- | --- | --- |
| Fantasy Football | FanDuel | DraftKings |
| Learn more in my Top Fantasy Sites List. | | |
| Team Size | 9 | 9 |
| Passing TD | 4 | 4 |
| Passing Yard | .04 | .04 |
| 300+ Passing Yards | 0 | 3 |
| Interception | -1 | -1 |
| Rushing TD | 6 | 6 |
| Rushing Yard | .1 | .1 |
| Fumble Lost | -2 | -1 |
| Receiving TD | 6 | 6 |
| Receiving Yards | .1 | .1 |
| Reception | 0.5 | 1 |
| 100+ Yard Receiving Game | 0 | 3 |
| 2 Point Conversion | 2 | 2 |
| Punt/Kickoff Return For TD | 6 | 6 |
| Sack | 1 | 1 |
| Interception | 2 | 2 |
| Fumble Recovery | 2 | 2 |
| Safety | 2 | 2 |
| Blocked Kick | 2 | 2 |
| 0 Pts Allowed | 10 | 10 |
| 1-6 Points Allowed | 7 | 7 |
| 7-13 Pts Allowed | 4 | 4 |
| 14-20 Pts Allowed | 1 | 1 |
| 21-27 Pts Allowed | 0 | 0 |
| 28-34 Pts Allowed | -1 | -1 |
| 35+ Pts Allowed | -4 | -4 |
*Draftkings adds NFL formats 2018 with slightly different scoring options
Scoring points with your fantasy players results directly from how your players do on the field. The basics is that the better your player does on the field, the more fantasy points they score. Each fantasy football site has slightly different rules for scoring. The goal is to build a team that scores more points than your competition. You have a set salary cap of $50,000 to spend building your team. You must draft all positions within your salary cap. For example, a top quarterback could cost as much as $9000. While a low ranked WR is as little as $4000.
Here is an article that goes over drafting your line up and spending your salary cap by position.
What Kind Of Fantasy Football Games Can You Play? What Cash Leagues Are Available?
Big Tournaments – Guaranteed Prize Pool Tournaments called GPP's – These are large field contests that attract thousands, and sometimes over 10,000 entrants. The entry fee is often low and the prize pool is huge.
The big daily fantasy football sites will run GPP's (guaranteed prize pool tournaments) with millions of dollars of prizes in one contest every week. At the time of this writing, FanDuel and DraftKings are both giving away over a million each and every week of NFL.
Here are some GPP strategy articles: FanDuel Football GPP Strategy and DraftKings tournament strategy part 1 and 2.
50/50 contests – These are considered 'cash games'. They are contests that that pay out to the top 50% of the field. For instance, a 50/50 game with 20 entrants and a $900 prize pool will pay out $90 to the 10 entrants who have the highest scores. The strategies for the cash games are different from big tournaments. See ideas on how to win 50/50 contests.
Head-to-head games – These are also considered cash games. They are contests in which you compete against one other team owner. The entry fees and prize pools for these games range from small to large. Some head-to-heads have a $10 entry fee. Others have a $5,000 entry fee. You can also create your own head-to-head leagues on FD and DK if you want to square off against a friend.
Qualifiers / Satellites – These contests give you a chance to win entry into later contests that impose larger entry fees. For example, let's say you pay $12 to enter a fantasy football qualifier for which the prize is a free ticket into a future event that imposes a $109 entry fee. If you win the qualifier, you'll get into the future event for free.
Multipliers – Double, Triple and Quadruple Up Games – These are considered cash games and they work as contests where the top "x" of the field double, triple or quadruple their money. These go up to 10x leagues.
Now that you're familiar with the different types of contests you can play, let's talk about the criteria you'll want to pay attention to when joining them.
Entry Fees, Salary Caps, Size Of Field, Prize Pool & More
In this section, we're going to break down the most important details to focus on whenever you're thinking about joining a contest. We'll cover entry fees, salary caps, size of field, prize pools, and payout schedules. Some of these items are intuitive. But give the following a careful read to make sure you're familiar with all of them.
From a bird's-eye view, there are 2 types of contests: free and real money leagues. The real money games require you to pony up an entry fee. The free games are called free-rolls. They're tournaments you can participate in without paying a penny. Winning a freeroll gets you entry into a larger contest where you'll have a chance to win a cash prize or something else. If you're thinking that you'll just play the freerolls all week, think again my friend. You'll eventually get the itch to enter a real cash money daily fantasy football game. The good news is that you'll find tons of games at both FanDuel and DraftKings that only require a $1 entry fee, or even a quarter at DraftKings. Things get exciting once you leave the shallow end of the freerolls and venture into the cash money contests. There you'll find a variety of daily fantasy football games, including large-field leagues, head-to-head games, guaranteed tournaments, qualifiers, multipliers, and 50/50s.
Entry fees – This is the amount you're required to pay to enter a daily fantasy football game. As we mentioned earlier, a lot of contests impose a fee of only $1. Some impose a fee in the hundreds of dollars. Both FanDuel and DraftKings display an "Entry Fee" column in their respective lobbies. Clicking on the column heading sorts the list of contests accordingly.
Salary caps – You're given a budget with which to draft your team. You're expected to fill your open positions without exceeding that budget. Salary caps are fun and frustrating at the same time. Learning how to use them effectively is a matter of being able to identify undervalued players. FanDuel displays the salary cap for each contest in the Lobby. The cap is usually set at $60K, though you can enter "expert" tournaments that use a $55K cap. DraftKings displays your cap while you draft your lineup. There you'll sometimes see a $50K cap used. You can read on ff salary cap allocation ideas and the basics of fantasy bankroll management.
Size of field – This is the number of entrants allowed to join a given contest. At FanDuel, the number is found under the column titled "Size." At DraftKings, it's displayed under the column titled "Entries." You can sort the contests by the number of allowed entrants by clicking the column headings at either site.
Prize pools – This is the amount of money that's up for grabs. In the case of qualifiers, the future event's entry fee – that's what folks are trying to win – is listed. FanDuel displays the amount under the column titled "Prizes." DraftKings displays it under the column titled "Prize Pool." Again, clicking the column heading sorts the tournaments according to the value in that column.
Payout schedules – The cash prize attached to a given contest is usually split among several people. For example, a tournament with 20 entrants might pay out a portion of the prize pool to the top 6 team owners. In other cases, the entire cash prize is awarded to the top-scoring entrant. Neither Fan Duel nor Draft Kings display payout schedules in the Lobby. But the details are easy to find. At FD, click the amount of the prize pool for the contest you're looking at (you'll see it listed in the "Prizes" column). At DK, just click the title of the contest itself. In both cases, a box will pop up that displays the schedule.
You now have more than enough information to jump into your first daily fantasy football contest. So, let's put the info to good use…
How To Enter Your First Daily Fantasy Football Contest
Here's where the rubber meets the road. Up to this point, we've given you a lot of book knowledge. But nothing can take the place of experience. From the Lobby of the site you're using – find a daily fantasy football tournament that appeals to you. We recommend going with one of the guaranteed tournaments that has a low entry fee, but the choice is yours. FD and DK display guaranteed contests a little differently. At FanDuel, you'll see a small blue box with a "G" to the right of the contest's title. The "G" means a guaranteed prize pool. At DraftKings, just click the large tab near the top of the page titled "GUARANTEED".
Let's go back to Fan Duel for a moment. Click the "Entry" column heading twice to sort the contests by entry fee. The games with the lowest fees should be listed first. When you've found a tournament that looks good, click the green box labeled "Enter" at the far right of the line. Over at Draft Kings, click the "Entry Fee" column heading to sort that list. Once you've zeroed in on a contest, click the black box labeled "Enter >>" at the far right.
You're in. Now it's time to start drafting your players.
Step-By-Step Guide To Drafting Your Team
Salary Cap Games
You have a certain budget, $50,000 and must fill all roster spots
Here is an example of playing in a salary cap game at DraftKings
$50k Salary Budget
You must draft: QB, RB, RB, WR, WR, TE, FLEX, DEF- FLEX position can be another WR, TE or RB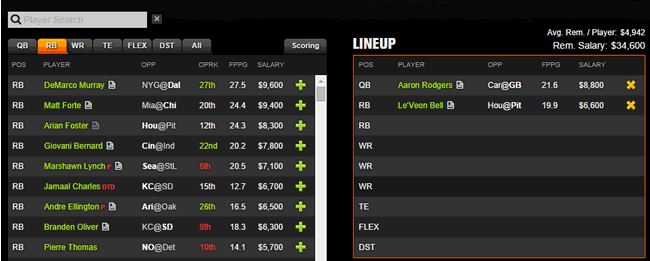 The process of drafting players is nearly identical at FanDuel and DraftKings. The available players are listed on the left side of the page while your roster – empty at the moment – is displayed on the right side of the page.
Let's talk cash.
You'll notice that each player is accompanied by a salary, which is displayed to the right of his name. You'll also see your budget listed above your roster. The trick is to put together a high-scoring team, filling each position in your lineup without running out of cash. This is where the skill part comes in as you must use your salary as wisely as possible. This newbies guide does not go into daily fantasy football drafting strategies, but more the nuts and bolts of how it works.
To add a player to your roster at Fan Duel, first select the green tab associated with the position you're trying to fill. Once you've found someone you like for your team, click the green button labeled "Add" located to the immediate right of his salary.
Drafting a player at DraftKings is just as simple. Click the tab associated with the position you're filling (the tabs are colored gray on DK). Then, click the green plus sign ("+") to the right of the player you want to draft. Your remaining budget (found above your roster) will dwindle by the amount of the player's salary the moment you draft him. You'll probably need to make a few changes to your lineup during the draft. To get rid of a player, simply click the "X" located to the right of his name on your roster. On FanDuel, the "X" is red; on DraftKings, it's yellow.
Once you've drafted your entire lineup, hit the big green button labeled "Enter" on Fan Duel or the big yellow button labeled "SUBMIT >>" on Draft Kings. Confirm your entry.
That's it. All that's left is to sit back and monitor your team's performance in real-time or check back after the games are over and see how you did.
What To Expect During Your First Daily Fantasy Football Contest
Assuming this is your first daily fantasy football game, expect to lose. You might get lucky and manage to do well enough to claim a payout. If so, fantastic. But go into your first contest with the right expectations.
After getting some experience in the freerolls and guaranteed tournaments, try your hand in the 50/50s. Opt for contests that have low entry fees to minimize your risk. Once you learn how to identify undervalued players, you'll find that playing in the 50/50s is a great way to slowly build your bankroll. After you gain some confidence, venture into some of the large-field daily fantasy football leagues that offer bigger prize pools. That's where you'll really be able to put your new skills to profitable use!
Is This Legal?
Fantasy sports are considered games of skill and explicitly legal. There are a few states that have laws against playing and if you happen to live on one of those few states you can not play for real money. See our site reviews for more information on each site.
Ready To Start Playing Daily Style Fantasy Football
The best real money fantasy sports sites can be found on our top 10 list. Since football is the most popular of all fantasy sports, they all offer it. Editors note My favorite site to play real money daily fantasy football is currently DraftKings. I LOVE that you can change out players if their game has not yet started. Opposed to FanDuel that locks your lineups after the 1st game begins regardless if your player does not play until Monday night.
I also published a tutorial on playing your 1st real money daily fantasy basketball tournament on DraftKings that you might like as well.
More Awesome Content