DFS MLB Quick Start Guide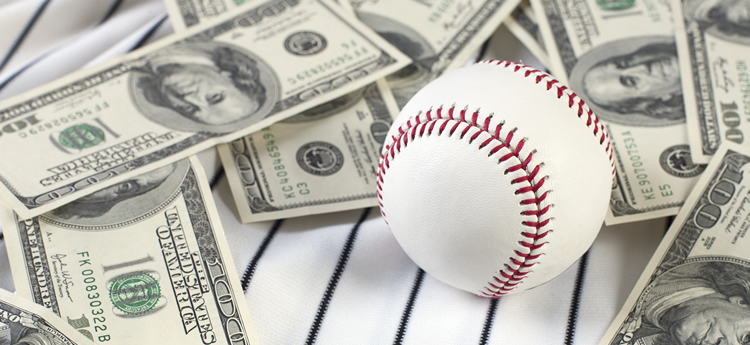 New Players – Now is the time to join a daily fantasy sports site and get in on all of the promotions, freerolls and bonuses Join me at
Draftkings
and take advantage of a deposit bonus and free entries into real money contests!
Below, I've put together a beginner's guide to daily fantasy baseball contests. It's a great intro if you've never played before. I'm also going to give you a few tips for creating a lineup that'll help you snag a piece of the prize pool in whatever league you join.
Before we jump in, let's deal with a question that's probably on your mind…
Is Daily Fantasy Baseball Legal? Even for Real Money?
Simple answer: Yes – absolutely.
Complicated answer: absolutely, but I'm not a lawyer. If you're concerned about the legality of playing daily fantasy baseball, talk to someone who has passed the bar exam in your state.
Here's my take on the matter…
The law basically says that you can participate in daily fantasy sports betting as long as a few specific criteria are met. First, the prizes offered in the contests need to be disclosed to the participants. Second, your chances of winning need to be influenced by some degree of skill. Third, the outcome of a contest can't be based on a point spread.
Does daily fantasy baseball fulfill those three requirements? Check, check, and check. It's also worth pointing out that the Unlawful Internet Gambling Enforcement Act of 2006 (UIGEA) actually exempts fantasy sports from the activities targeted by the legislation.
Having said the above, if you live in Arizona, Montana, Louisiana, Iowa, or Vermont, you might be out of luck. Those states are pretty draconian about how they define games of skill. (Don't blame me. Thank the politicians in your state.)
With that out of the way, let's get to the good stuff.
Daily Fantasy Baseball Contests Vs. Full-Season Leagues
I'm going to assume that you're not entirely convinced (yet) that daily fantasy baseball is for you. That's fine. But I have a feeling that you're going to change your mind in a few moments. Think back to the last time you played in a fantasy baseball league. You probably spent a lot of time pouring over player stats in preparation for the draft. When draft day arrived, you meticulously filled your roster with pitchers and hitters you felt confident about. You planned well and were pretty upbeat about your chances of winning.
Somewhere along the way, however, things probably went off the rails. Maybe your star pitcher tore his rotator cuff. Or perhaps your best runner twisted his knee while rounding second base. Or maybe your lineup just flat out failed to perform. Ultimately, you were basically stuck for the rest of the season.
That's why more and more MLB fans are starting to play daily fantasy baseball. In fact, it has become one of the hottest trends in fantasy sports, largely because it's fast, easy to play, and gives you a chance to win cash prizes on a daily basis.
But we're getting ahead ourselves.
Quick Comparison of "Daily Fantasy" vs "Full-Season Fantasy" MLB Baseball"
Level of commitment: With the daily leagues, you're committed for a day. Play when you want, if you want. With season-long leagues, you're in it for the entire season. Grinding every day to keep in competition whether you feel like playing or not.
Type of draft: Most of the daily contests impose a salary cap during the draft. You can have any player you want as long as you can afford him. Season-long leagues tend to follow a snake draft. You can have any player you want as long as your competition doesn't draft him first. (If you're a season-long fantasy sports fan, you already know the horror of watching your star picks get drafted under your nose.)
Time requirement: You can draft your daily fantasy baseball team in 15 minutes. In a full-season league, the draft can take hours or even days. (Ain't nobody got time for that!)
Chances to win cash prizes: Because the daily leagues only last a day, you have a lot more chances to win prizes. With entry fees as low as $1, you can play in several contests at once without blowing through your money. Compare that to season-long leagues, where you're only going to play in one or two at a time. That means you have fewer chances to win.
Daily fantasy baseball is probably sounding pretty good to you right now. Keep in mind, you don't have to give up playing in full-season leagues. You can do both. The point is that the daily contests offer a lot of advantages.
How To Play Daily Fantasy Baseball
To show you how easy it is, I'm going to lay out the process in a simple 6-step plan:
Step 1: Pick a good daily fantasy baseball site. Personally, I like DraftKings, The rake is reasonable, they have lots of guaranteed contests, and they make it easy to withdraw your winnings. You can see our top 10 fantasy sports sites here for more choices if you prefer. All the major daily fanatsy sports sites have MLB baseball.
Step 2: Deposit money into your account. Use Paypal or a credit card. Both options work great.
Step 3: Pick a contest. During the MLB season, you're going to see hundreds of contests at the three sites I mentioned above. Choose one with a low entry fee to get your feet wet.
Step 4: Draft your players. You need pitchers, hitters, and runners.
Step 5: Monitor your team's performance. You can watch the games on TV or monitor the leaderboard on whatever site you choose in real time. If you're pressed for time, just log off and check your ranking in the morning.
Step 6: Celebrate your win. Be optimistic. Someone has to win. Why not you?
As you can see, getting started is easy. The hardest part will be pulling yourself away from your computer.
How To Join A Daily Fantasy Baseball League
Let's quickly go through the process of joining a fantasy baseball contest at FanDuel. After you register your account and deposit money into it, visit the main Lobby.
On the left side of the screen, you'll see two box headers. One is labeled "All sports." The other, located underneath it, is labeled "All contest types." Click the box that's labeled "MLB" under the "All sports" header. Then, click the "All contest types" header.
You should now see a list of only the baseball contests.
Look across the column headings at the top of the list. Click the one that says "Entry." That will sort the games by entry fee. The games with the smallest fees should now be listed at the top.
Take a moment to look over the list and find one that appeals to you. Then, click the green button labeled "Enter" found on the far right of the contest line.
You'll come to a page that displays all of the information you might want about that particular contest. For example, you'll see the number of people allowed to join, how many have joined so far, your salary cap, the payout schedule, and the list of available players. You'll also see your lineup, which, at this point, should be empty.
Now take a look at the player list on the left side of the page. Moving from left to right, you'll see each player's position, name, the number of fantasy points scored per game (FPPG), the number of games played, which game he's scheduled to play in for the contest, and his salary.
Notice the small green tabs displayed across the top of the player list. Each tab signifies a position. You don't have to use them while putting together your lineup. However, I highly recommend it so you can keep everything organized.
Now, start drafting players. Be sure to keep an eye on your remaining salary. You'll find it at the top of your roster. The dollar figure will dwindle with each of your draft picks.

Once you've completed your lineup, give it a final look to make sure you're happy with it. Then, click the big green button labeled "ENTER" at the bottom. You'll see a confirmation screen letting you know that you're officially entered into the contest.
That's it. You're in. All you need to do now is wait for the games to start.
Daily Fantasy Baseball How To Score Points
Obviously, I can't guarantee that you'll win every contest you join. But I can give you a few tips that have helped me do fairly well. I'll go through them very quickly.
See this MLB DFS Chart To see how to earn points exactly but the short answer is:

| Pitching | DraftKings | FanDuel | FantasyDraft |
| --- | --- | --- | --- |
| Win | 4 | 6 | 4 |
| Earned Run | -2 | -3 | -2 |
| Strikeout | 2 | 3 | 2 |
| Inning Pitched | 2.25 | 3 | 2.25 |
| Hit Against | -0.60 | n/a | -0.6 |
| Base On Balls Against | -0.60 | | -0.6 |
| Hit Batter | -0.60 | | -0.6 |
| Complete Game | 2.5 | | 2.5 |
| Complete Game Shut Out | 2.5 | | 2.5 |
| No Hitter | 5 | | 10 |
| Loss | | | 0 |
| Perfect Game | | | 0 |
| Quality Start | 0 | 4 | 0 |
| Hitting | DraftKings | FanDuel | FantasyDraft |
| --- | --- | --- | --- |
| Single | 3 | 3 | 2 |
| Double | 5 | 6 | 3 |
| Triple | 8 | 9 | 5 |
| Home Run | 10 | 12 | 10 |
| RBI | 2 | 3.5 | 2 |
| Run Scored | 2 | 3.2 | 1 |
| Base On Balls | 2 | 3 | 2 |
| Stolen Base | 5 | 6 | 1 |
| Hit By Pitch | | 3 | 2 |
| Caught Stealing | | | -2 |
| Strikeout | | | -2 |
Earn points by your players:
– Getting hits
– Scoring runs
– Earning RBI's
– Stealing bases
– Pitchers earn by strikeouts
– Innings pitched
– Complete Games
– Shutouts etc..
First, pitchers are the ones who rack up points. If you're going to pour over stats and spend big, do it on your pitchers. The most important thing to remember is that you're not looking for someone who can pitch a shutout. You just need a guy who isn't going to give up too many hits or send walkers to the bases. Also keep in mind, a lot of pitchers perform great at home, but choke on the road.
Second, hitters can rack up big points on walks. A lot of fantasy baseball fans think they need to find sluggers. The reality is that sluggers strike out a good portion of their time at the plate. The last thing you want is to see your star hitter, the guy you spent a big chunk of your budget on, swing for the fences only to strike out. Be a contrarian. Look for players who are skilled at pulling walks and scheduled to go up against pitchers with high ERAs.
Third, scan the list of available players for young guys who have recently been brought up from the minors. Not only do a lot of those guys perform well in their debuts, but they also come with low salaries. Since you'll be working with a limited budget, you're going to need a few "cheap" players in order to afford the expensive ones.
You have everything you need to play daily fantasy baseball. In fact, you have everything you need to win. If you know your players, there's a good chance you'll earn a piece of the prize pool on your first contest. Just don't blame me if you get hooked on the experience!
Keep On Reading