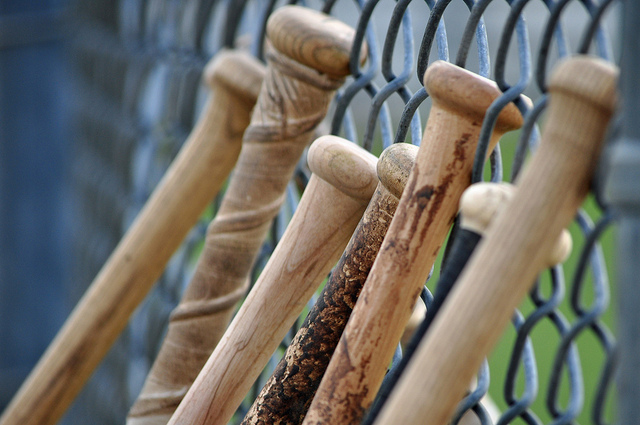 In daily fantasy baseball, pitchers get practically all of the glory. And rightfully so. Let's be honest. Pitchers make or break your lineup. They're the ones who rack up the most points. They're on the mound for the majority of the night, facing down hitters and keeping the opposing team's sluggers at bay. If you draft a couple of solid arms, you stand a fair chance of ending up in a payout position when the dust settles.
But that doesn't mean you can throw caution to the wind when selecting hitters. Although your pitchers will form the foundation of your team, building a roster with guys who are productive at the plate will have a major influence on your chances of winning. Your pitchers can't do the job on their own.
With that in mind, I'm going to give you several tips for selecting daily fantasy baseball hitters you can count on to put up points. Keep in mind that there are a lot of factors that will affect the performance of your lineup on any given night. Not all of those factors are in your control. Having said that, the following tips will give you an edge over most of your competition. That alone can catapult your lineup into the contest's top ranks.
Try something new at
Monkey Knife Fight
  –  MLB Opening Day is finally here and we are running our 
biggest 
HR Derby to date – 
$20,000 for Opening Day today!  
Simply play a $5 or more Home Run Derby contest and if all 3 players hit a bomb you win a share of the $20,000 jackpot!  Every Friday, starting tomorrow, another $5,000 will be up for grabs with the same rules. And if nobody wins, the jackpot carries over to the next Friday!
Identify Pitchers Who Have Been Giving Up Runs
Pitchers go through streaks. Sometimes, it's as if they can do no wrong on the mound. Every pitch they throw crosses the strike zone and ends up in the catcher's hands. Other times, they can't seem to do anything right. They give up runs like a stool pigeon gives up his friends.
The latter group is the one to focus on when you're drafting hitters. You want guys who are scheduled to go up against pitchers who have been choking on the mound lately. The easiest way to identify those pitchers is to look at their ERA averages over the last several games.
For example, let's say you notice that Daniel Castano of the Marlins has racked up a 6.70 ERA during his last 5 times on mound. Assuming he continues to perform at that level, you'd want to draft a few hitters who are scheduled to face him that evening. On the other hand, suppose you notice that Chicago's Kyle Hendricks has managed to deliver a 2.51 ERA. That's big trouble. You'd want to stay away from hitters who are scheduled to face him.
Look For Hitters Who Are On Streaks
If you're a baseball fan, you already know that all players go through streaks – not just the pitchers. When they're hot, they're hot for several games. That's why so many of them have strange rituals they perform before they hit the field or dugout.
Want some examples?
Wade Boggs was known to run sprints at exactly 7:17 p.m. Joe DiMaggio used to dash over to second base and reach down and touch it before running back to the dugout before each game. Moisés Alou used to urinate in his hands before going up to the plate. (To be fair, Alou claimed it gave himself a better grip on the bat.)
The point is that it's a good idea to draft hitters who have been on fire in recent games. Their streaks will eventually end. But if you can catch them when they're hot, you'll have a highly-productive player on your roster.
Find Hitters Who Have A Solid Record Against The Pitcher
Some hitters can't seem to get any traction when they face select pitchers. It's not that the pitchers are on winning streaks. Sometimes, the guy on the mound is giving up walks and runs left and right. But for some reason, certain batters tend to strike out against them.
There are a lot of reasons this type of thing can happen. It may be as simple as a left-handed batter facing a left-handed pitcher. If the pitcher throws a nasty curve, the ball will edge away from the batter, making it very tough to hit. That's just a matter of physics.
The problem might also be psychological. Baseball players are a superstitious lot. Once an idea digs its way into their heads, it makes a home there. If a batter has been struck out by a particular pitcher in each of his last 10 times at the plate, he may freeze up on the 11th time. It happens.
You want to draft hitters who have done well against the pitchers they're scheduled to face that evening. They already know they're capable of hitting off him. That gives them confidence, which, in baseball, is half the battle.
Review "Batter vs Pitcher" Statistics
This tip is actually an addendum to the previous one. The simplest way to find out how hitters have performed against certain pitchers is to review the numbers at DailyBaseballData.com.[1]
The data is posted each day for all of the pitchers who are scheduled to be on the mound that evening. The players who are scheduled to face each pitcher are listed underneath the pitcher's name.
You're going to see a ton of data. The good news is that most of it can be ignored. Focus your attention on the numbers in the "AVG" column. Look for hitters who have at least a .300 AVG against the pitcher.
Slugging percentages (the "SLG" column) and on base percentages (the "OBP" column) are also useful. But the numbers in the "AVG" column will tell you what you need to know.
One quick note: if you're used to baseball stats, perusing the numbers at DailyBaseballData.com will feel like second nature. If you're not comfortable with stats, you're in for an adventure.
Look For Hitter-Friendly Ballparks
A lot of ballparks seem as if they're designed to give batters an edge. Their outfields are huge, making them harder to cover. The fences are short, making it easier to hit runs. Some parks, such as Coors Field in Colorado, are known for their high altitude and thin air. That also make it easier to hit runs.
Data show that the following ballparks hosted the highest number of home runs in 2020:
1. Great American Ball Park (CIN)
2. Coors Field (DEN)
3. Rogers Centre (Toronto)
4. Angel Stadium (Anaheim)
5. Miller Park (Milwaukee)
6. Citi Field (NY,NY)
7. Yankee Stadium (NY,NY)
8. Oracle Park (San Fran)
9. Guaranteed Rate Field (Chicago)
10. Oriel Park (Baltimore)
Whenever possible, draft hitters who are scheduled to play in those parks.
That's not to suggest that players in other ballparks won't do well. But why not stack the deck in your favor? If wide outfields, thin air, and short fences will give your sluggers an advantage, you might as well exploit it.
Pick Up Solid Hitters Coming Off The DL List
You should also keep your eyes open for batters who are coming off the disabled list. There are a lot of guys on the list who are productive at the plate. Some of them are on the list due to injuries that are unlikely to impair their performance.
For example, the Astros's Brandon Bielak was recently on the DL list for a stomach bug. This is not going to have a lasting impact on his game. The Braves's Matt Adams was recently out for an illness. It too is unlikely to have a huge effect on his performance. If a hitter is out because he dislocated his shoulder, that's one thing. He may need time to start producing again. But if someone is out because he cut his finger or picked up a stomach bug, he should be able to produce on his first night back.
Where can you find the DL list? The best place to go is MLB.com. The site lists the player, the injury, how long they're expected to be out, and when they're due back. ESPN also lists injured MLB players, but doesn't always note the nature of their injuries.
Check In With Vegas
Vegas oddsmakers are pretty reliable, especially when it comes to over/unders. An "over/under" is a number that reflects the expected combined scores of two opposing teams. For example, suppose the Angels are playing the Yankees. Oddsmakers might predict an over/under of 10 for the game. That means both teams are expected to score a cumulative 10 runs.
Look for games with high over/unders; any game above 8 is worthy of attention. High numbers indicate that one or both teams are expected to post a significant number of runs. By drafting players who are on those teams, you'll stand a better-than-average chance of picking up easy points that night.
Here's the takeaway: pitchers play a huge role in the outcome of any daily fantasy baseball contest. But so do hitters. Use the tips I've outlined above to fill your lineup with productive guys who will increase your odds of grabbing a piece of the prize pool.
Related