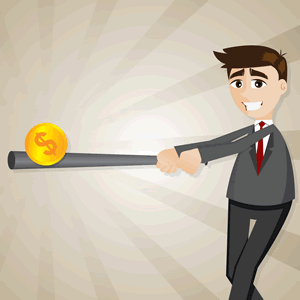 In a recent "quick start guide," I showed you how to identify high-scoring pitchers for your daily fantasy MLB lineups. Today, we're going to talk about the opposite side of the equation: hitters.
This is an area we've covered in the past. But those tips only dealt with the basics. Below, we're going to take a look at advanced strategies for choosing batters who will deliver the points you need to beat your competition.
First, we'll brush up on the fundamentals of hitter selection. That way, I'll know we're on the same page regarding basic draft strategy. Then, we'll dive into a few forward-thinking tactics a lot of team owners neglect. That mistake – and it's definitely a mistake – creates a huge opportunity for you.
Get in the Game at
DraftKings
– Free contests to try it out and entries as low as $.10 – Also New players at
MonkeyKnifeFight
can get a free $5 for signup (limited time)
The 80/20 Rule Of Fantasy Baseball Roster Construction
I've mentioned before that, player for player, pitchers generate the most points. That shouldn't come as a surprise. Take a look at the average number of fantasy points scored at different positions. Clayton Kershaw, starting pitcher for the Dodgers, logged an average of 30 points a game last season. Meanwhile, his teammates A.J Ellis (catcher), Yonder Alonso (1B) and Justin Turner (3B) logged, on average, less than 6 points.
With respect to raw point production, the game's best sluggers can't hold a candle to a starting pitcher who's on the mound for a respectable number of innings. That's the nature of the beast. That being the case, most of your time should be devoted to finding an excellent arm – or two if you're playing at DraftKings – for your lineup.
But that doesn't mean you can cut corners when it comes to hitter selection. You still need strong guys at the plate if you hope to finish in the top of your field. That what this quick start guide is all about.
Let's brush up on the basics…
Fantasy MLB Hitter Selection: The Basics Revisited
First, you obviously want to target guys who have solid track records at the plate – at least in terms of their fantasy scoring. For example, Miguel Cabrera, first baseman for the Tigers, averaged just under 9 points per contest last season. Paul Goldschmidt, first baseman for the Diamondbacks, logged an average of 9.6 points last season.
Those are strong numbers.
Second, you want to roster guys who are scheduled to face pitchers they've done well against in the past. For example, let's say J.J. Hardy of the Orioles routinely crushes the ball whenever he squares off against the Tigers' Justin Verlander. Short-list him if the Orioles and Tigers are scheduled to play and Verlander is starting.
Third, focus on hitters who are enjoying hot streaks. Keep in mind that streaks can end at any time. Predicting when they'll do so is almost impossible. But if a player has been doing well at the plate, why not take advantage of his momentum?
Having said that, there's a dark side to relying too heavily on streaky hitters. We'll get to that in the following section.
Fourth, double-check the disabled list before the start of the evening's first game. Doing so only takes a few moments and can save you a lot of heartache.
Fifth, whenever possible, look for solid hitters who are playing in hitter-friendly venues. Places like Chase Field and Fenway Park regularly turn singles into doubles, doubles into triples and triples into home runs. Why not give your hitting roster every possible advantage?
Those are the basics. Let's now take a closer look at hot streaks and why it's foolish to put your faith in them.
The Flip Side Of Picking Streaky MLB Batters
What I'm about to tell you is going to seem as if it contradicts the suggestion that you look for streaky hitters. Here it is:
You can't trust batting streaks. Despite all the data fantasy baseball produces, none of it offers insight into the factors that contribute to them. When streaks happen, there's little rhyme or reason.
Don't take my word for it. There's plenty of research that supports that fact.
Does that mean you should ignore hitters on hot streaks? Absolutely not! As I implied earlier, streaks create momentum. There's a lot of potential upside in riding that momentum. So take advantage of streaks when drafting hitters, but realize there aren't any data to help you forecast how long they'll last.
Speaking of data…
The Value Of Reliable Fantasy Baseball Stats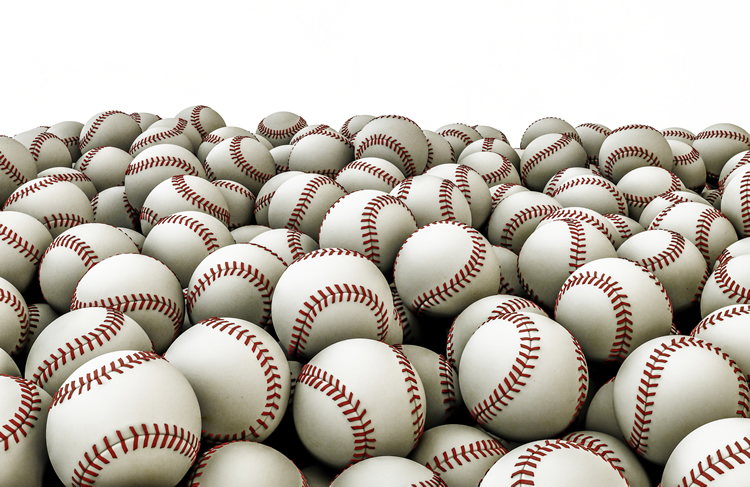 No other sport generates as much interest in statistics as baseball. Crunching numbers and analyzing percentages, ratios and averages, can literally be a full-time job. Assuming you don't have 8 hours per day to devote to it, you need to focus on the numbers that give you the greatest edge.
We're not going to get heavily into daily fantasy MLB stats in this article. It's a big area and deserves more attention than we can dedicate here. But stay tuned. We'll address fantasy baseball stats in detail in the near future.
For now, just realize that you'll need to identify the types of data that are going to help you roster strong, reliable hitters. Depending on your draft strategy, your key stats might include BvP (batter vs. pitcher), wOBA (weighted on-base average) and OPS (on base plus slugging), along with percentages that define a hitter's tendency to hit fly balls, earn walks and succumb to strikeouts.
We'll cover those numbers (and others!) in an upcoming article as the MLB season gets into full swing.
Righty/Lefty Splits: How Handedness Affects Performance
Whether a pitcher is right-handed or left-handed can have a huge impact on a hitter's performance. Avid baseball fans know that intuitively. Strangely, most daily fantasy MLB players ignore it when choosing batters.
Here are a few guidelines:
First, a left-handed batter will often have trouble hitting against a left-handed pitcher. Curves and sliders break on the outside, making them difficult to track and clobber.
Second, the same is true with right-handed batters facing right-handed pitchers. The outside break on a curve or slider can cause problems for the guy at the plate. Having said that, there are far more right-handed pitchers than left-handed pitchers. Most MLB players has had considerable practice hitting against them.
Third, and this is just a corollary from the previous two guidelines, batters tend to perform better against pitchers with the opposite handedness. A lefty in the batter's box can usually do well against a right arm on the mound, and vice versa.
When you select hitters, keep those three rules in mind. Pick right-handers if the opposing team's starting pitcher is a southpaw. Pick lefties if the pitcher is throwing right-handed.
Hitter Selection At FanDuel Vs. DraftKings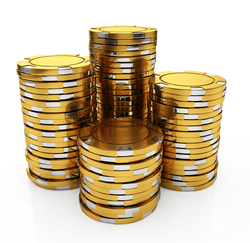 You already know that FanDuel and DraftKings, the two biggest and most popular daily fantasy sites, use different scoring systems. That's the case whether you're playing fantasy football, basketball, hockey or baseball. Discrepancies between the two systems can be exploited to great effect if you know what to look for.
Take a look at the number of points awarded to hitters at FanDuel and DraftKings for singles, doubles, triples and home runs:
FanDuel:
hits – 3 points
doubles – 6 points
triples – 9 points
home runs – 12 points
DraftKings:
hits – 3 points
doubles – 5 points
triples – 8 points
home runs – 10 points
At FanDuel, notice that a single is worth 25% of a home run (3 points vs. 12 points). At DraftKings, a single is worth 33% of a home run.
Last season, Turner (WSN) and Ozuna (ATL) lead the pack in singles. What does that mean? If you're playing at DraftKings, it might have benefited you to have these two in your lineup.
There are, of course, many other factors to consider. But it's useful to know how hitters have performed in various capacities given the different scoring systems used by FanDuel and DraftKings.
Here's another scoring difference between the two sites: the number of points awarded for walks.
FanDuel awards 3 points, or 25% of the points awarded for a home run. DraftKings awards 3 points, or 30% of a home run. Consider Bryce Harper. During the 2020 season, he managed to rack up 49 walks, leading the field in that category. Those walks would have given your score a bump at FanDuel (other variables remaining the same).
There are a lot of crafty ways to exploit the different scoring systems at FanDuel and DraftKings – for both pitchers and hitters. I'll cover some of them in an upcoming article. For now, just remember that the differences exist and there are plenty of ways to leverage them.
The new MLB season is here. Get a jumpstart on it by brushing up on your fantasy baseball draft strategy. Use the suggestions above to fill your roster with hitters who stand a better-than-average chance of accumulating serious points.
DraftKings is ready to launch several exciting fantasy MLB tournaments this year with millions of dollars in prize money at stake. FanDuel isn't far behind. Get ready to jump into the action as new leagues form all day long every day.
Keep On Reading