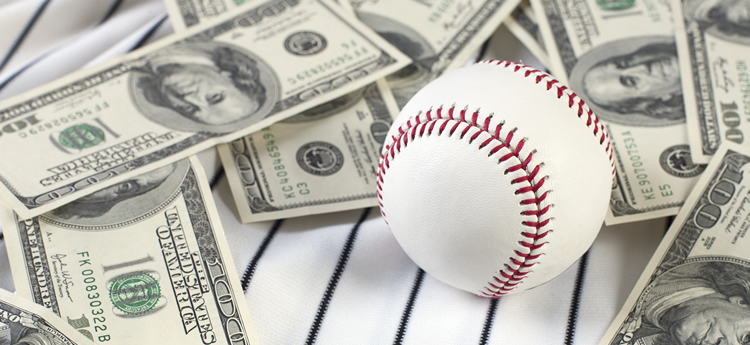 Guide To Choosing An Elite Daily Fantasy Baseball Pitcher
Your pitcher will make or break your roster.
If you have a great arm on your team, and he's having a fantastic night, you can easily rack up enough points to trounce your competition. That's true even if your lineup is filled with mediocre batters.
On the other hand, a pitcher who chokes under pressure can destroy your chances of winning. Having a roster filled with productive hitters won't matter if your man on the mound fails to deliver.
That's why successful daily fantasy baseball players spend a huge chunk of their time researching pitchers. They know that choosing an ace who delivers can make the difference between winning and joining the majority of team owners in the losing ranks.
We've covered some basic tips for selecting pitchers in the past. Below, we'll revisit a few of them and add several more that will help you solidify your fantasy MLB pitching strategy.
Let's highlight the key differences between DraftKings and FanDuel with regard to drafting pitchers.
New players – maximize your bonuses at
FanDuel
with my
tested valid promo code FREAK
.
Pitcher Selection: DraftKings Vs. FanDuel Scoring Overview
At DraftKings, you choose two pitchers. At FanDuel, you pick one.
That's a major difference given the extent to which pitchers contribute to your lineup's score. It should influence your draft strategy.
For example, if you're playing at DraftKings, should you roster two starting pitchers or stack a starter and reliever from the same team?
You'll also find differences in how pitchers score points.
| Pitching | DraftKings | FanDuel | FantasyDraft |
| --- | --- | --- | --- |
| Win | 4 | 6 | 4 |
| Earned Run | -2 | -3 | -2 |
| Strikeout | 2 | 3 | 2 |
| Inning Pitched | 2.25 | 3 | 2.25 |
| Hit Against | -0.60 | n/a | -0.6 |
| Base On Balls Against | -0.60 | | -0.6 |
| Hit Batter | -0.60 | | -0.6 |
| Complete Game | 2.5 | | 2.5 |
| Complete Game Shut Out | 2.5 | | 2.5 |
| No Hitter | 5 | | 10 |
| Loss | | | 0 |
| Perfect Game | | | 0 |
| Quality Start | 0 | 4 | 0 |
At DraftKings, they earn 4 points for a win, 1 point for a strikeout and 1 point for each inning pitched. At FanDuel, they earn 4 points for a win, 2 points for a strikeout and 2.25 points for each inning pitched.
Notice that DraftKings gives you twice the number of points for a strikeout. Also, notice the extra points for IPs? That's handy to know.
Last year, if you had rostered David Price (Tigers) or Corey Kluber (Indians), leaders in both categories, you'd have racked up extra points at DraftKings.
The takeaway: be aware of the differences between DraftKings and FanDuel, both in scoring and roster slots. Start thinking of ways to leverage them. (Stay tuned for some creative ideas in an upcoming post.)
7 Rules To Picking Pitchers That Score A Lot Of Points
#1 Rule – Be Willing To Pay For An Ace Pitcher
When it comes to pitchers, you usually get what you pay for. That's especially true with starters who tend to be reliable on the mound.
One of the keys to winning fantasy baseball is to roster a fantastic arm. You need someone who can strike out batters and pitch a lot of innings. The scary part is paying the price.
For example, a guy like Felix Hernandez (Mariners) is currently going for $11,200 at FanDuel (this amount changes daily). That's almost a third of your available salary. With 8 other slots to fill, spending that much may seem reckless.
But consider this…
Hernandez was a leader in innings pitched last season. He was also ranked near the top in strikeouts (SOs). Meanwhile, he was nowhere near the top in earned runs, unlike high-salary stikeout leader David Price. So yes, paying $11,200 to add him to your lineup may be unnerving. But he can be counted on to produce.
Remember, your pitcher is the key. Be willing to spend a few extra bucks to lock down a producer.
Rule #2 – Has The Pitcher Had Enough Time Off?
Starting pitchers (SPs) have limits in terms of stamina and strength – even the ones who juice. Typically, they'll throw up to 120 pitches before they're pulled. If they're getting killed by the opposing team's batters, they might get pulled much earlier.
They don't pitch every night. They're part of a rotation with three or four other starters. That's important because their arms can only take so much action before the odds of an injury skyrocket. Elbow tendinitis, inflammation in the rotator cuff and oblique injuries can ruin an ace's season.
Here's the thing to keep in mind:
Not every pitcher who's scheduled to play has had the same amount of rest. Some guys have enjoyed a week of downtime. Others are on a short rotation and may have only had two or three days. Be wary of drafting an arm that hasn't had enough time off.
Rule #3 – Batter Vs. Pitcher: Who's Hot And Who's Not?
This statistic has had a polarizing effect on daily fantasy baseball players. Some folks swear by it, claiming it's important to know how batters fare against specific pitchers. Others claim it's a complete waste of time. They argue there are so many factors that influence batter performance that BvP is practically irrelevant.
Which camp is correct? To some extent, both.
It's useful to know if a batter routinely chokes when he faces a particular pitcher. But because that batter's performance can be attributed to a variety of things, it's tough to know how much of it is due to the pitcher. That being the case, it's hard to put much faith in BvP.
Having said that, BvP does have value when it's used in the context of how a pitcher has performed against an entire team.
For example, Clayton Kershaw's (Dodgers) record against Phil Gosselin (Braves) last season may not mean much, especially given Gosselin's limited number of at-bats. But Kershaw's record against the Braves' full lineup can still offer valuable insight. If he's scheduled to face the Braves, knowing how he performed in that situation in the past will help you figure out if he's a good pick for your lineup.
You can obtain BvP stats, organized by player and team, at MLB.com.
Rule #4 – Beware Of Hitter-Friendly Parks
Not all ballparks are created equal. Some give batters a huge edge. Examples include Fenway Park, Comerica Park and Coors Field (among many others).
The reasons vary. For example, Coors Field's high altitude is blamed on the high number of home runs recorded there. Comerica Park underwent a redesign more than a decade ago which resulted in slicing 25 feet from the distance between home plate and the left-center fence. Fenway Park's design, which boasts a wide outfield, routinely turns what would otherwise be considered balls at other parks to singles and doubles.
The bottom line is to be cautious about drafting a pitcher scheduled to take the mound at a hitter-friendly ballpark. He'll have a much harder time shutting down batters.
#5 – Focus On Strikeouts And Innings Pitched
In daily fantasy MLB, your pitchers will generate a majority of their points in one of two ways (and hopefully both): strikeouts and innings pitched. It pays to roster an ace who can boast a great track record in both categories.
Here are some of the standouts from 2014:
David Price – SO = 271, IP = 248.1
Corey Kluber – SO = 269, IP = 235.2
Max Scherzer – SO = 252, IP = 220.1
Felix Hernandez – SO = 248, IP = 236.0
Take a look at their current salaries on FanDuel:
David Price – $10,600
Corey Kluber – $10,400
Max Scherzer – $11,000
Felix Hernandez – $11,200
The fact that their salaries are among the highest on the board isn't a coincidence. They have stellar track records where it counts (SOs and IPs).
Rule #6 – Roster A Southpaw
Left-handed pitchers can offer a lot of value in fantasy baseball. Why? Because there aren't very many of them. For that reason, batters spend less time practicing against them and as a general rule, have less experience facing them.
To be sure, there are a raft of batters who perform well against southpaws. But they're in the minority. They're the exceptions that define the rule.
It's worth noting that Clayton Kershaw, who many consider to be one of the best pitchers in the game, is left-handed. He has a tremendous amount of skill, and would probably be an awesome pitcher as a right-hander. But it doesn't hurt that he's a lefty in a game where most batters are accustomed to facing righties.
Rule #7 – Look For Low Totals From Oddsmakers
Oddsmakers predict over/unders, or totals, that reflect the number of cumulative runs two opposing teams will record during a game. When selecting a pitcher, low totals are your friend. They suggest the pitchers will be successful in striking out batters or preventing them from logging runs.
If you see a game for which oddsmakers have predicted an over/under of 12 or more, avoid the pitchers scheduled to play in it. The high total indicates they're expected to perform poorly.
On the other hand, a low over/under – for example, 6 or less – suggests the pitchers are likely to perform well. Adding one of the starters to your lineup could give you the points you need to finish at the top of the field.
There's a lot more to consider when drafting pitchers in daily fantasy baseball. The good news is that the time and effort you spend on research can pay off big. The right starting pitcher can help you leapfrog over your competition and win a healthy slice of the prize pool.
More Content You Should Read Right Now