There are lots of ways to categorize the thousands of daily fantasy football contests you'll see at sites like FanDuel.com and DraftKings.com. They can be assorted by sport (for example, football, baseball, and basketball), contest type (head-to-head games, qualifiers, and guaranteed tournaments), entry fee, and other criteria. For the purpose of this new players tutorial, we're going to focus on football, and make a distinction between small and large-field daily fantasy football tournaments.
We'll drill down even further in a few moments to describe the various contests that can be found under the "large field" umbrella. But first, a quick definition…
Big Weekly Fantasy Football Tournaments
The number that constitutes a "big" field of entrants is a matter of opinion. For some folks, any contest that allows more than 10 lineups is pretty big. For others, a tournament should have at least 100 or more owners fighting for a piece of the prize pool to be considered a large-field event. Still others consider any tournament with fewer than 200 teams to be relatively small.
For this tutorial, we'll define daily large-field fantasy football contests as those with at least 100 entrants. Keep in mind, that's an arbitrary guideline. The precise number of teams is less important than understanding the differences between small and large field tournaments, and the reasons to play in them.
With that in mind, let's start with a quick reality check.
Don't Be Afraid To Play In Large-Field Daily Contests
If you're new to daily fantasy sports betting, you may feel intimidated by tournaments with 500 or more teams. After all, the larger the field, the rougher the competition and the harder it will be to win a cash prize, right?
Not exactly.
First, daily fantasy sports is still a relatively new phenomenon. Most people are still getting used to the format. They're developing, testing, and tweaking their strategies as they figure out what works and what doesn't. Everyone's in the same boat, which means it's a level playing field. It's not like some of the high-profile poker sites where sharks infest the waters and lie in wait to ambush newbies. At sites like DraftKings.com, you have a good chance of actually winning.
Second, a lot of daily tournaments that attract a huge number of entrants pay out to a sizable percentage of the field. You don't have to come in 1st, 2nd, or 3rd place to receive a cash prize. As you'll learn below, some contests pay out to as many as half the team owners.
So don't be intimidated. You can always start by participating in the freeroll tournaments if you need a boost in the confidence department. Now that we've gotten that out of the way, let's talk about the different kinds of large-field contests you can join.
Types Of Large-Field Daily Fantasy Football Contests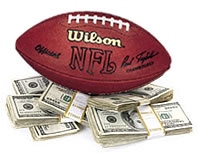 When you visit DraftKings, you'll be able to filter the list of tournaments by the number of entrants. But you'll quickly learn that that filter is practically useless. Here's why:
You can use it to find leagues with the following number of players:
2 players
3-6 players
7-10 players
11-20 players
21+ players
The problem is, all events with more than 20 entrants are lumped into the same category. That's hardly helpful if you're trying to find contests that allow 500 or more entries.
Fortunately, there's a quick and easy workaround:
In the Lobby, look below the "checkbox" filters labeled "Start Time," "Sizes," and "Entry Fee." You'll see a main row of tabs that lets you display contests by type ("Guaranteed," "Qualifiers," "Head-To-Head," etc.). Look directly underneath that row. You'll see a bunch of column headings, which, from left to right, are labeled "Sport," "Contest," "Entries," etc.
Click the heading labeled "Entries." Notice how doing so rearranges the list and shows the smallest-field contests at the top?
Click the heading again. The list of contests should now be rearranged with the largest-field games displayed at the top. Voila!
Let's take a look at the most common type of large-field daily fantasy football contest: the guaranteed tournament.
Guaranteed Tournaments

Guaranteed events tend to be huge. At the big sites like
DraftKings
(listed above), It's not uncommon for them to attract thousands of entrants. The defining traits of this type of contest is that they pay out their entire prize pool, and do so to a large percentage of the players.
For example, at the time of writing, DraftKings is hosting an NFL $15,000 Play-Action Guaranteed tournament with a $2 entry fee. The contest is capped at 8,625 entries. If you check out the contest details, you'll see that 1st place gets $750, 2nd place receives $450, and 3rd place gets $300. If you scroll through the prize payout list, you'll notice that even the person who comes in 1,800th place gets a payout ($4).
As a side note, the number of people who actually join guaranteed tournaments has no bearing on whether the events happen or not. Such contests do not get cancelled for low enrollment. If only 1,800 people join the above tournament, everyone will get paid.
This is a good example of why you shouldn't be daunted by large-field fantasy football. It can be a great way to build your bankroll.
Qualifiers
Qualifiers are tournaments in which the winner (or winners) receives free entry into a future paid contest rather than receiving an immediate cash prize. Oftentimes, the entry fee for the future event is substantial; gaining free entry via the qualifier thus has value to many players. For example, a qualifying tournament might impose a $2 entry fee and pay out free entry to a later contest where the entry fee is $500.
Some qualifiers are small, with only 4 to 5 entrants. Others are large with fields composed of 200 or more entrants. Some "pay out" to only the 1st place winner. Others pay out to the top 5 or 10 players.
Daily Fantasy Football Freerolls
Freerolls are free to enter. You're not required to pay an entry fee. If you win, you'll receive a free entry into a future paid contest, similar to a qualifier. Alternatively, you might receive DK dollars that can be used to pay the entry fee in a future tournament.
Freerolls attract a lot of attention. DraftKings doesn't place a limit on the number of entrants who are allowed to participate, so these events often draw thousands of players. As we mentioned earlier, if you're just getting your feet wet with daily fantasy sports, the freerolls are a great place to get experience. You can get comfortable with the format without putting your cash at risk.
50/50 Contests

These tournaments are popular because you have a huge chance of winning. We mentioned earlier that some large-field fantasy football tournaments pay out to as many as half the entrants. We were referring to 50/50 contests. As long as you're in the top 50%, you'll receive a payout.
Some of the tournaments are quite small with only a few entrants. Some of them are much larger, scaling upwards to 100 entrants or more. Here's a useful tip: if you're not great at putting together high-scoring teams, enter a few large-field 50/50 contests. Your chances of winning are higher with the larger fields than they are with the small ones.
The Secret To Playing In Large Field Daily Fantasy Football Leagues
A lot of people place a huge emphasis on their draft strategy. They figure that putting together a high-scoring team is the secret to making money with daily fantasy football.
In reality, that perspective is shortsighted.
Basic Ideas To Remember When Playing
To be sure, a good draft strategy is important. But the "secret" to doing well is knowing how to manage your bankroll. You shouldn't have 25% of your cash at risk on any given day. That's a surefire way to go broke in a hurry. Instead, limit your positions so that the total amount of your money at risk in a single day doesn't exceed 10% of your bankroll.
You're going to lose a lot of contests. But if you play things smart, you'll win plenty of them, too. The key is to limit your risk.
Here's what we recommend:
Start with a few freerolls to get some experience. Then, join a few large-field 50/50 contests. A lot of them only cost $1 to enter, and pay $1.80 to the top half of the field. Once you have some confidence, venture into the qualifiers and large guaranteed tournaments. With time, you'll get better and probably want to pit your skills against other team owners in the head-to-head leagues.
To summarize, don't let the number of entrants in a given tournament scare you. You'll find that it's often easier to win a payout from large-field daily fantasy football contests than from the smaller events.
Start getting some low-risk experience while building your bankroll today.