DraftKings Strategy – 10 Tips To Win at DraftKings (Part 2)

In Part 1, we discussed the first 5 keys to winning at DraftKings. Here they are for easy reference:
Adjust Your Draft Strategy By Contest Format
Tread Carefully When Drafting Sleepers
Check The Latest Injury Report
Learn How To Work DraftKings' Bonus Points
Establish Your Bankroll Metrics
In Part 2, we'll look at the final 5 keys to winning daily fantasy sports contests. By the time you've finished reading this page, you'll have a great foundation on which to build.
Two quick notes before we jump in. First, as in Part 1, I'll use football examples to clarify things (where necessary) even though the season has not quite started yet. But realize that all 10 keys can – and should – be applied to all daily fantasy sports.
Second, some of the items below beg for a more detailed explanation. I'll provide those details in future posts. To keep this page concise, we'll stick to the basics. Don't worry. That alone will give you an edge over a majority of the folks playing at DraftKings.
With that out of the way, let's get a jump on the rest of the keys!
Draft Multiple Lineups (When You Can)
Your daily or weekly spend is limited by your bankroll. You have limited funds at your disposal. That being the case, you need a way to reduce your risk while giving yourself the best possible shot at cashing. In the investment world, that's called diversification. It's a smart practice when you're playing daily fantasy.
Here's how it works:
Suppose you deposited $500 into your DraftKings account. In the Lobby, you see a number of juicy tournaments with big prize pools. Some have high buy-ins ($100 or more) while others have much more affordable ones (as low as $1).
Rather than paying $100 to enter a tournament with a single lineup, join one with a lower entry fee and draft several lineups.
For example, here are a couple contests I entered toward the end of the season, last season.
NFL $22K Gridiron (entry fee = $27)
NFL $17K Play Action (entry fee = $2)
If you have a ton of experience and a track record of consistent wins, paying $27 to enter the "NFL $22K Gridiron" might make sense. But if you're just getting started, you'd be much better off entering the "NFL $17K Play Action" with 13 different lineups. You would spend nearly the same amount in entry fees. But you'd be diversifying your risk.
Building multiple rosters also gives you greater flexibility. For example, you could test different QB/WR combos. Pair Patrick Mahomes with Julio Jones in one lineup and with Calvin Ridley in another lineup. You're bound to do relatively well with Mahomes in the QB slot. The key is that having multiple lineups gives you more than one shot at cashing.
DraftKings will let you create multiple teams for tournaments and qualifiers. You won't be able to do so for 50/50s (double-ups) and head-to-heads (H2Hs), but given the flat payout structure of those two formats, you wouldn't want to anyway.
Check Out Projections From The Oddsmakers
This is a tactic that most fantasy team owners continue to ignore. Vegas odds can reveal a lot of interesting details about an upcoming game. To that end, point spreads and over/unders can help you make smart draft decisions.
You can get odds online from a number of sources, however we have found that the lines from Bovada work for us. They are US friendly and have the latest odds, multiple types of prop-bets on individual players (which give us more insight) and are always open.
Check current NFL lines here
.
A good example could be this.
Let's say the Eagles and Redskins are scheduled to play. Let's say the oddsmakers predict 54 total points for the game and put the point spread as follows:
Eagles +3
Redskins-3
So, what can you discern from that information?
First, it's going to be a high-scoring game. Any total over 50 qualifies as such. That usually means the QBs are going to put up respectable numbers. It might also mean their receivers and running backs are going to have a good night.
Second, it's going to be a close game. A small spread indicates that both teams are going to contribute to the total. By contrast, if the spread were +/-7 or more, you'd expect one team to own the scoreboard.
Third, you can calculate how many points are likely to be earned by each team. How? Divide the total number of points in half. Then, divide the spread in half. Then, subtract the latter from the former.
So, going through that math…
Eagles +3
Redskins -3
Total points = 54
Here's the equation for the Eagles: (54 / 2) – (+3 / 2) = (27) – (1.5) = 25.5
Here's the equation for the Redskins: (54 / 2) – (-3 / 2) = (27) – (-1.5) = 28.5
You can expect both starting QBs to score two or three touchdowns during the course of the game.
Suppose you're entering a tournament. Now would be a great time to build more than one roster. You would create one lineup around Carson Wentz (Eagles) and a second lineup around Alex Smith (Redskins).
Then, find out how Wentz and Smith typically handle the ball. Do they throw a high percentage of their touchdowns? Or do they usually hand the rock off to their running backs? Those details will help you handcuff them to the right receivers or RBs.
Come Up With A Solid Draft Routine
If you're going to compete in only one or two contests per week, it's fine to approach each draft without a plan. You can take your time researching players.
That said, you're going to waste a lot of time and effort. That problem worsens exponentially when you start entering several contests a week.
There's a simple solution.
Veteran team owners develop and rely on a routine. They have a step-by-step process they go through for each draft. It might look like the following for an NFL contest:
Step 1. Note the teams scheduled to play.
Step 2. Look up QB/WR/RB/TE stats for the season.
Step 3. Check Vegas point spreads and over/unders. Calculate predicted points for each team.
Step 4. Check the most recent injury report.
Step 5. Look for stud QBs who are playing against a soft defense.
Step 6. Look for promising QB/WR and QB/RB pairings.
Ideally, you'd have a list of resources ready to go when it's time to build your roster. Bookmark your favorite sites for looking up NFL player stats, Vegas lines and recent injuries. If you use an online tool to crunch data, bookmark it as well. You want to be able to access your "tools" the moment you log into your account at DraftKings.
Having a routine streamlines the draft, saving you an enormous amount of time. It also ensures that you're consistent in your approach. That's critical. Once you find a reliable formula, consistency will be the key to building a winning track record.
Beware Contests With Big Buy-Ins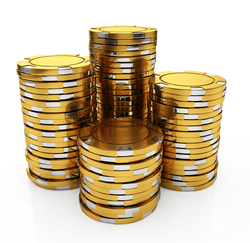 We touched on this briefly in Tip #6, but did so in the context of diversifying your risk. Now, we'll discuss it in terms of avoiding sharks.
Exceptions aside, you can bet that contests with high entry fees are filled with experienced daily fantasy team owners. If you have a lot of experience, that may not pose a problem. You can compete with confidence because you know what you're doing.
But if you're a beginner who's just now testing the waters, you're bound to find yourself outmatched, and eventually outplayed.
The guys and gals you'll face in contests with high buy-ins know what they're doing. They've competed in hundreds, maybe even thousands, of leagues and tournaments, and have developed a draft formula that works for them. They have resources that are all but hidden from novice team owners. In addition, some of them play full-time, which means they can devote hours to researching teams and players.
This is not to dissuade you from joining contests with high entry fees. Just realize those waters are often filled with sharks who can't wait to prey upon newbies.
That brings us to the final tip to winning daily fantasy sports at DraftKings.
Learn From Experienced Daily Fantasy Players
It shouldn't surprise you that daily fantasy sports are covered by a ton of experts. Millions of people play and there's a lot of money up for grabs.
Don't ignore the experienced voices.
Listen to interviews with fantasy team owners who consistently chalk up wins. Review picks and projections from players whose lineups seem to be a fixture in the top ranks of fantasy winners. Analyze the rosters of team owners who consistently win tournaments and 50/50s. Try to understand the reasoning behind their draft decisions.
Following the experts will make you a better daily fantasy player. And that means you'll start winning more of the contests you enter!
The 10 keys we've covered here and in Part I will help you create a personalized strategy that helps you to cash more often. If you haven't already done so, take the first step and register at DraftKings.
I'll leave you with a final thought:
Have fun.
Yes, you want to earn cash prizes at
DraftKings
, and do so on a regular basis. You might even want to generating enough income to do this full-time. But if you're not having fun along the way, what's the point?
Related Awesome Content