A Grinder's Guide To Building Your Bankroll
One of the biggest challenges people face when they start playing daily fantasy football is building their bankroll. It's common to lose most of the contests you enter when you're learning the ropes. That makes it very tough to build your bankroll.
But there is good news here…
If you learn how to draft a solid lineup, your early losing streak will eventually end. Your losses will taper off and you'll begin winning more and more games as you gain experience. That's when your bankroll really starts to grow.
You've probably heard that some daily fantasy football experts control six-figure bankrolls. They didn't get to that point without having a plan. More importantly, there's no reason you can't duplicate their success if you put in the necessary time. Below, we'll cover several aspects involved with building your bankroll. Note that there's no way I can realistically come up with a plan for you. Your path to DFS profits will reflect your personal circumstances and budget. Having said that, the information that follows will help you create one for yourself.
How To Take Advantage Of Daily Fantasy Football Freerolls
A freeroll is a contest that doesn't impose an entry fee. You can enter it without paying a penny. If you're getting started with one-day fantasy sports, entering freerolls will allow you to get experience without putting your cash at risk.
Most of these contests offer non-monetary prizes to the winners. For example, you might gain entry into a real money contest down the road. Because there's rarely a cash prize at stake, many DFS players ignore the freerolls. That's a mistake, especially when you're just starting out. Here's why:
Some freerolls do offer real money prizes. For example, DraftKings is currently hosting 4 fantasy football freerolls, all of which pay out cash prizes ranging from $3,500 to $10,000.
To find those contests, visit the DraftKings lobby and filter the list so that it displays only NFL games. Then, click the "ENTRY FEE" column heading to bring the freerolls to the top of the list.
Look under the "TOTAL PRIZES" column. Most of the entries will show $0. But notice that 4 of the contests offer a cash prize. Why not enter them for a risk-free chance to build your bankroll?
DraftKings isn't alone here. FanDuel also hosts freerolls each month, some of which pay out cash. Unfortunately, none of the latter's contests currently focus on the NFL. That's likely to change as we get closer to the NFL season.
One quick note:
At FanDuel, the monthly cash prize freerolls are usually open only to players who earn a specific number of FanDuel Points (FDPs). You earn FDPs by entering cash games that impose an entry fee. You receive the points whether or not you win the contests. Once you accrue a sufficient number, you can "redeem" them by entering the freerolls.
In the past, FD's real-money freerolls have offered cash prizes in the thousands of dollars. So they're definitely worth paying attention to.
On Playing Low-Stakes Contests And Earning Out Your Bonus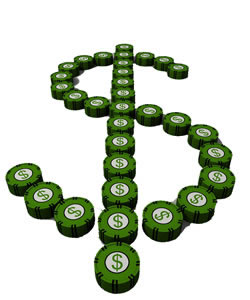 FanDuel handles your new-player bonus in a similar manner. The bonus is dropped into a "pending bonus" bucket right after you make your first deposit. You earn it out by entering cash games. FD releases a portion of your bonus equal to 4% of the entry fees. For example, if you pay $100 in entry fees, FanDuel will move $4 of your "pending bonus" balance into your live balance.
There are two ways to earn out your bonuses at FanDuel. First, you can do it quickly by entering high-stakes NFL contests. An example would be FD's NFL $100K Game Changer. It comes with a $1,060 entry fee.
Another example is FanDuel's $20K Sun NFL 50-50. It comes with a $1,065 entry fee, which is enough to release $42.60 in bonus money ($1,065 multiplied by 4 percent).
The second, and arguably better, approach is to compete in low-stakes fantasy football contests. That allows you to diversify your "portfolio" of games. Instead of risking over $1,000 in a single gambit, you can risk as little as $1.
The downside is that it'll take much longer to earn out your bonuses. But assuming you want to compete in DFS over the long haul (and assuming you're not risking your grocery money), there's no rush.
The low-stakes fantasy football contests are where the grinders hang out. A lot of these guys enter dozens of contests each week. They hope to cash in enough of them to earn a consistent profit over the long term. The entry fees are low – from $1 to $10 – which makes that approach possible.
One of the big advantages of grinding is that it gives you a cost-effective way to see how you stack up against your competitors. After competing in 20 to 25 contests, you should know whether you need to improve your research skills or draft strategy. It's better to spend $50 to learn that you're outmatched than blowing $1,000 for the same revelation.
Small Daily Fantasy Football Leagues Vs. Large-Field Tournaments
I've mentioned elsewhere on this site that small-field fantasy NFL contests are easier to cash than large-field tournaments. Among the smaller contests, one of the best places to build your bankroll is in the 50/50s.
Why? Because half the field earns a cash prize. Contrast that figure to the 20 to 25% of the field that cashes in a guaranteed prize pool (GPP) tournament.
To be sure, the amount won by each cashing player in a 50/50 is small; each winner receives just under twice the entry fee. That means you have to enter a lot of 50/50s to earn a worthwhile profit.
But the odds of winning are much better than they are in a GPP. If you're prepared to settle in and grind things out, you stand a good chance of generating a side income. And if you keep your winnings in your account, your bankroll will eventually be able to support your foray into higher-stakes contests.
Should You Enter High-Stakes Daily Fantasy Football Contests?
For simplicity, let's define a high-stakes fantasy football contest as one that imposes an entry fee of $100 or more. The high-rollers with six-figure bankrolls may consider $100 to be in the low-stakes category, but those guys (and gals) are at a different level. For our purposes, $100 is plenty rich.
The question is, should you risk that much of your bankroll at one time to enter these types of contests?
There are two arguments for competing in high-stakes games. First, you get a chance to build your bankroll quickly. Instead of grinding out a profit over several weeks and months, you can score a big win all at once.
For example, FanDuel is hosting a $1.2 Million Sun NFL Monster for the NFL opening week. It costs $200 to enter. If you come in 1st place, you'll win $120,000. Come in 10th place and you'll win $10,000. Even if you come in 150th place, you'll still win $1,000 – five times your entry fee. Of course, the odds of cashing are pretty slim given that you'll be competing against 6,600+ players.
The second reason to play in high-stakes games is that they're exciting. It's a rush to have a large chunk of money at risk, knowing you might win a huge cash prize for the trouble.
Grinders rarely enter high-stakes contests. It's too risky. Weeks of hard-won profits can be flushed down the toilet with a single loss.
Having said that, if you've built a considerable bankroll from competing in low-stakes games, there's nothing wrong with taking a calculated risk. Use some of your past winnings to pay the higher entry fee. You'll still be in the black, even if you lose.
If you haven't already done so, visit DraftKings and FanDuel and register your accounts. Take advantage of their new-player deposit bonuses. Then, create a plan to methodically increases your bankroll. Start with freerolls and gradually move into low-stakes, small-field daily fantasy football contests.
Remember, even the DFS high-rollers had to start somewhere.
More Great Reads