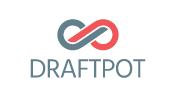 *Edit – 2017 update – Draftpot is no more as they did not operate for football last season.
*Edit – updated 2/25/2016 Note from editor: Draftpot has informed me that they are pausing their acquisition of new players right now to focus on the improvement of their product. They want to revamp their product and make it viable before investing any more money into acquiring new players.  Therefore I'm going to leave this review of them because it was my honest thoughts but I am going to re-direct my links to a different site.  You can type in their direct web address in your browser if you want to check them out.  Best of luck to the DraftPot team, I do really like what they have going and wish them the best of luck!
Draftpot is a small but quality daily fantasy site. They offer no salary cap games as well as salary cap games. My review of DraftPot will take a look at playing fantasy football primarily as it is football season as I first wrote this review. I update it through out the year as I play other games.
First things first, use DraftPot promo code: FREAK to lock in our exclusive bonus for DFS101's visitors. You will get a 100% deposit bonus up to $1500 and a free ticket to the $10,000 Shotgun contest. The "Shotgun is a $3 entry contest with $10,000 in guaranteed prizes. It is a no salary cap game, so you can roster whomever you choose.
print $reviewboxtitle?>
Deposit Bonus: 100% to $1500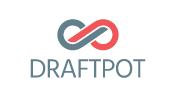 Here are the quick details:
Official Website: Draftpot.com
Promo code: FREAK
100% to $1500 deposit match + ticket into a the $10k Shotgun tourney this is an exclusive bonus for our visitors that sign up using our promo code.
HQ: New York, New York
Smaller in size but still great guaranteed contests
Games without a salary cap – called "Fan Mode"
Games with a salary cap – called "GM Mode"
Weekly freerolls for NFL 2015 season
DraftPot Guide For All New Players
Editors note – I have been looking for a quality small room to come on the scene in 2015 and Draftpot may be it. They have received millions in venture capital to begin 2015's NFL season. Additionally they do something different that the big sites are not doing. They have games with no salary cap just pick your players and fill out your team. Think who will score the most points for that position and choose them. No salary cap restrictions. It's gaining ground in popularity and new players enjoy the change of pace of having that nearly perfect team without a key player you wanted.
Signing Up – DraftPot Promo Code "FREAK"
This tested promo code locks in a bigger than normal bonus for ALL new players at DraftPot. Here is what you get
100% bonus up to $1500
FREE entry into the $10,000 Shotgun contest (no salary cap requirements, just pick your players)
Weekly freerolls
The DraftPot Lobby – Find A Contest
This is totally different looking than what I'm used to, but I like it. It's clean and you can easily understand what all the contests offer from the main lobby. Click the "i" button to see more information on each contest and the enter button to get draft your team.
You can filter the results by sport, by entry price range, by game type and pretty much anything you can think of. It's easy to filter and find contests you are looking for.
Fantasy Games Available
The standard salary cap games are available, but here is what sets them apart. They have games called "Fan Mode" which means no salary cap. Pick whoever you want for all positions.
Sports offered
Football
Baseball
Basketball
Hockey
Golf
Nascar
League of Legends
Build a Line-Up – I Played Fantasy Football
Whoa, this looks totally different than the DraftKings interface that I am used to.
They feature pictures of the players with icons for adding them to your line up. You can sort by position by clicking the position you want to fill on your lineup or on the links at the top of the page. It's clean and pretty self explanatory to build out a team.
This is called the 'Grid view' and it is the default view.
You can also choose list view.
This view is more in line with what I am used to. Both work and you can easily choose.
You have to fill the following roster spots:
QB
RB x2
WR x3
TE
FLEX x2
DEF
KICKER
Here is what it looks like when you click on a players info button.
Scoring for Football
They use PPR scoring where each reception counts as 1 point. Here is a screenshot of the scoring.


DraftPot Pro's & Con's
Pro's
Clean and easy to use
A lot of overlay in the contests right now (NFL 2015)- this happens because they must legally declare the prize payouts before offering the contest if it is guaranteed to run. So far in 2015 NFL they have not sold enough seats to cover the money they must award. This is good for the players, get in now while the getting is good.
Great bonus with our promo code.
Smaller and easier to win $$
No salary cap games is a nice fresh way to play
Negatives
Not time tested, they are new.
Minor bugs here and there which is fairly normal
Unlimited entry in most of their guaranteed contests. I understand, but would still like to see a cap. Once they have more users maybe this will change
Guarantees are not as huge as DK or FD but the contest size is much smaller
Final Thoughts about DraftPot
I'm impressed. For a small site they have their site together. It worked great getting signed up and into my first contest. I like some things that I am seeing.
I like the responsive customer support. I emailed them and was responded to quickly.
I love the current overlay. Seriously this is some low hanging fruit for active DFS players. Go get this easy money before it is gone. There is not a lot of overlay at FD or DK nowadays.
I like the weekly freerolls to try it out. I like that they have received 7 figures in funding and can provide a fantastic choice for a smaller DFS site. I've only played their football so far but I think that the earlier in the NFL season you can get signed up the bigger chance you are going to find for extra money in the prize pool. I believe it will be a bit easier to win than on the big sites.
I'll be playing there myself (Spry13), I hope to see you on the leader-boards!

DraftPot
My guide to Draftpot fantasy sports site for new players.
Date Published: 11/06/2015
A look at playing fantasy games at DraftPot.
Attn DFS101 users: Visit DraftPot.com and use promo code FREAK for the maximum bonus possible!
– Get up to $1500 in bonus money by using our promo code. 1st deposits also get a FREE entry into the $10,000 contest called "The Shotgun".