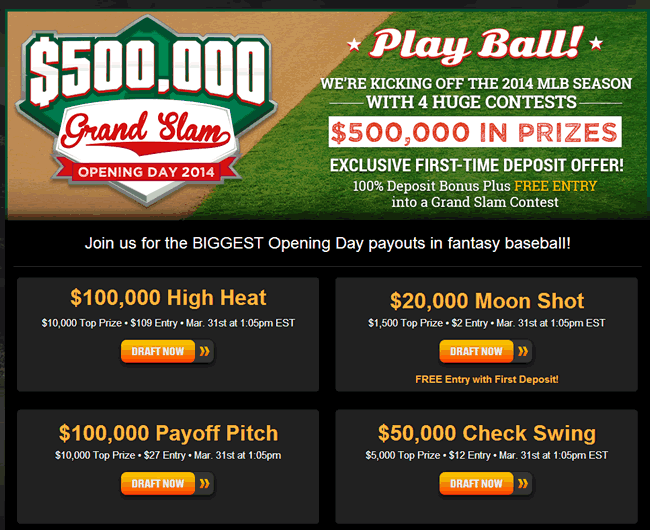 Playing MLB opening day fantasy contests are great because no one knows how anyone is going to do. Get in there and give yourself a chance at these one day
MLB fantasy contests at DraftKings
.
Major League Baseball in the United States has a season that dwarfs those of most other professional sports. The 2014 season officially kicks off on the last few days of March and lasts until the last few days of September. There will be seemingly endless opportunities to play daily fantasy baseball throughout the summer, but the one day with more prizes than any other will be opening day, or
March 31st
.
Draft Kings is offering a plethora of opportunities for players to walk home with a lot of cash on opening day. Officially, there will be around $500,000 in prizes offered on the first day of baseball's new regular season.
The special big daily fantasy baseball opening day events at DraftKings and all relevant information regarding them can be found below.
$100,000 High Heat
Start Date/Time: March 31st, 1:05 PM EST
Entry: $109
Top Prize: $10,000
$100,000 Playoff Pitch
Start Date/Time: March 31st, 1:05 PM EST
Entry: $27
Top Prize: $10,000
$50,000 Check Swing
Start Date/Time: March 31st, 1:05 PM EST
Entry: $12
Top Prize: $5,000
$20,000 Moon Shot
Start Date/Time: March 31st, 1:05 PM EST
Entry: $2
Top Prize: $1,500
Fantasy Advice For MLB Opening Day
Know The Competition Setup & Here Is How It Works
Despite entry fees and prize pool totals being different from competition to competition, the way in which you play is the same across all 4 events.
Salary Cap Style – each person drafting a team will start with an initial salary of $50,000. With this salary, the drafter will then select the best possible team and have them face off against the other players in the tournament.
Each team will consist of 1 of each of the following:
Catcher
Shortstop
1st
2nd
3rd
2 pitchers
3 outfield players.
Opening day is perhaps the most difficult day to play fantasy baseball simply because there is no way of knowing how players will perform. Unlike nearly every other gameday during the regular season, a drafter has very limited or no previous games to reflect on when picking players for his or her team.
It is in times like these where a drafter should put the most weight on the performance of their pitchers. Because it is the pitchers that will earn you the most fantasy points on most nights anyway, it only makes sense that they should be treated as the one or two most valuable players on your team. Not only that, but pitchers are coming off of an extremely long rest and will more than likely pitch a better game on opening day than they would during the remainder of the regular season on only 4 to 5 days' rest, maximum.
It is still important to key in on individual matchups too, as they will be the most telling factor for how well or poorly a given player will perform. Even a pitcher coming off of an extremely long rest like the off-season will have a hard time succeeding if he is pitching against a strong hitting team in a hitter-friendly ballpark. Just because opening day is the most difficult for drafting players does not mean you should stray away from the most fundamental aspects of daily fantasy baseball.
At the end of the day, matchups are everything, and without the proper research being put in beforehand, you are merely guessing or hoping that a player will do well. With little less than half a month to prepare, you should have ample time to draft a strong team for opening day.
Playing MLB opening day fantasy contests are great because no one knows how anyone is going to do. Get in there and give yourself a chance at these one day
MLB fantasy contests at DraftKings
.
Related
FanDuel Fantasy Basketball Promotions for March and April
DraftKings.com Review
Basics of Daily Fantasy Sports
How To Play Daily Fantasy Baseball