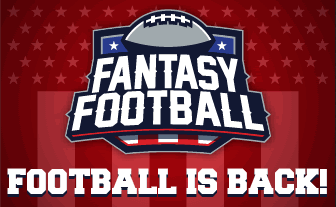 As we noted a couple of days ago, FanDuel announced their week 1 NFL football tournaments. Today DraftKings announces their big gpp's for NFL week 1. With just over 1000 hours until go it is time to start thinking about football!
Millionaire Maker – $10 Million Guaranteed – $2M for 1st!
Wow…
For a $20 entry you can take home $2 million for first and $1 million for second. Just take a look at those prize payouts! This is by far the biggest contest I have seen and I am sure this event will be advertised all across the sports channels.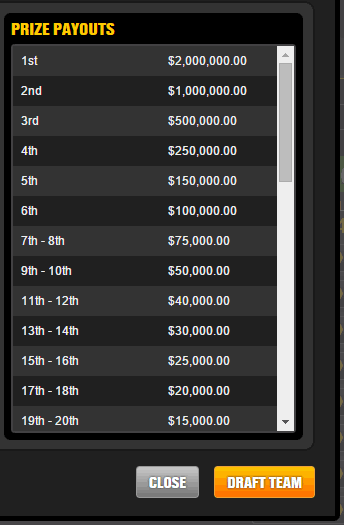 This is what is called a 'perfect line-up' contest. You are going to have to draft the perfect line up to win it because there are over 500 thousand entries. There are 572,500 to be exact. It's the proverbial long shot. Don't go nuts but it's worth a bullet or two depending on your risk tolerance.
There is $10 million guaranteed in this contest and they way that the law works with daily fantasy, it requires the site to advertise the prize payout BEFORE knowing how many people will be in the contest. This means that for them to guarantee it to run, they are risking that the contest does not get enough players to cover the $10 million in payouts.
*Payouts go all the way down to the 125700th place who wins $25
Let's do some math to break it down.
If the contest sells out: $20 per entry X 572,500 = $11,450,000
I bet it the contest will sell out, DraftKings will earn 1,450,000 in rake. ($11,450,000 – $10,000,000 = $1,450,000).
To break even DK needs to sell 500,000 entries. ($20 x 500,000 = $10,000,000)
Now of course there are expenses (see those commercials everyone??) that comes along with operating the site so don't think that the company is just going to pocket the 1.45 million and walk away banking, but you can see how the business model works for them.
For players, first place is a $2 million payout and second place earns $1 million. It's done for marketing because most players would much prefer a flatter payout structure. Less money up at the very top and spread that out through the finishing positions.
NFL $1 M Play Action – $3 Entry
This is the little brother of the $10 million guaranteed. It is the $3 entry with $100,000 guaranteed for 1st place and a total prize pool of $1 million.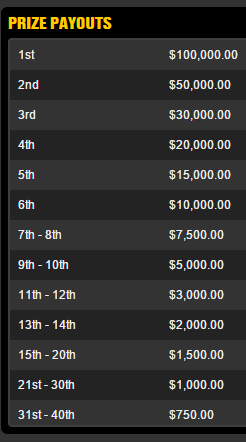 The entry is $3 for this contest so you can enter 6 line-ups in this contest for the same price as 1 line up in the $10 million GTD. There are a whopping 383.3 thousand of entries in this contest so you are once again going to need a perfect line up in order to win this thing.
Let's take a look at the payout schedule. You can see that if you can indeed put together the absolute best possible lineup then you are going to be paid handsomely for your effort.
Payouts go to 84950th place for a $5 cash.
Daily Fantasy Football 2015 / 2016 Season Is HUGE
With both FanDuel (details) and DraftKings now announcing their NFL plans it is clear that this year is going to be the biggest by far. Now is the time to get in while the getting is good. These companies are flush with cash from millions of investment capital and you should jump in and grab your piece of the pie. They are spending money attracting players and the boom is going on now.
These two sites are U.S based companies. It is totally legal, legit and payouts are fast and pain free. When you win you will get paid.
More Great Reads