DraftKings Host Fantasy Soccer World Championship
$20,000 to be won on the English Premier League
The English Premier League season comes to a climax on Sunday 24th May, the final round of fixtures all kicking off at the same time. This will make compelling viewing for a Sunday morning, where the Champions could be crowned, the Champions League places might be decided and at the other end of the table, the relegation issues might be settled. However, there is one other important issue that will certainly be decided that day – the winner of the Fantasy Soccer World Championship!
This Championship features 370 entries and is the largest fantasy soccer championship ever offered and the first that offers the chance to call yourself a World Champion at soccer. Here, we look at how you'll enter the Championship directly and the qualifying process. Next we detail the main event itself, looking at the prize pool and the games taking place on the day. Finally we detail the points scoring structure you'll find when playing daily fantasy soccer at DraftKings.
How to Enter
There are two ways to grab a place in the 370 player field. The first way is to buy in directly for $300. The tournament is open now, so you'll have the opportunity to reserve your place immediately, well in advance of the contest at the end of May.
The second way of securing a place is to play in a satellite event which will run all the way until the eve of the tournament on May 23rd. Direct satellites are running with entry fees of $5, $12, $27 and $55, the higher the buy-in the fewer opponents you'll need to beat to secure your place. You could in fact also qualify for as little as $0.25c, by playing a super satellite event where you can earn a $2 satellite ticket.
The Fantasy Soccer Main Event
The main event is had a $100,000 guaranteed prize pool, with 74 competitors all winning at least $600. Here is a rundown of the top 10 prizes:
1st $20,000
2nd $10,000
3rd $7,000
4th $5,000
5th $4,000
6th $3,000
7th– 8th $2,000
9th-10th $1,500
The key fixtures on Sunday 24th May include Chelsea taking on Sunderland at Stamford Bridge – a game they might need to win to claim the league title. All eyes could be on Manchester as well, where City host Southampton, a game that could be hugely important to both teams. Liverpool travel to Stoke, Tottenham have a tough tie away to Everton, Arsenal host W.B.A and Man United face Hull, four games that might go a long way to deciding the Champions League qualifiers. Aston Villa versus Burnley and Leicester against QPR look like two games that might be vital when it comes to deciding the relegation issues. Crystal Palace facing Swansea and Newcastle hosting West Ham complete the final day fixtures.
Daily Fantasy Sports Soccer
When playing daily fantasy sports soccer at DraftKings you'll be required to pick a roster of eight players, with no more than 3 of the players coming from any one team. You'll have a fixed salary of $50,000 which you'll use to choose 1 goalkeeper, 2 defenders, 2 midfielders, 2 forwards and a flex player (any outfield player).
How Does Daily Fantasy Soccer Work?
Here is position by position fantasy soccer guide for more in depth info. And here are the basics of how you'll score points: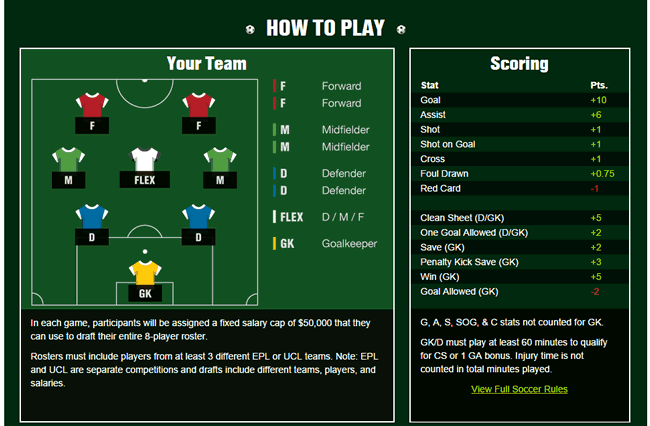 Goal = +10 PTs
Assist = +6 PTs
Shot = +1 PTs
Shot on Goal = +1 PTs
Crosses = +1 PTs
Fouls Drawn = +0.75 PTs
Red Card = -1 PTs
Saves (GK) = +2 PTs
Goal Allowed (GK) = -2 PTs
Clean Sheet (GK, D) = +5 PTs
One Goal Allowed (GK, D) = +2 PTs
Win (GK) = +5 PTs
Penalty Kick Save (GK) = +3 PTs
Strategy for the Daily Fantasy Sports Soccer World Championship
The final day of the season can be something of a strange one. Some teams will actually have nothing to play for, with their final position in the league table set whatever happens on the day. Of course, it could also be that the final game of the season could be huge for some teams. This will obviously have an effect on your selections, as the teams with nothing to play for could actually field a weakened team, maybe giving some of the younger players in the squad an outing, while the teams with something to play for will obviously play their strongest teams.
All ten games will kick off at exactly the same time (10am EST) so by midday on the 24th May, someone will be crowned World Champion.
More DFS101 Content