Leverage their massive database of player stats and information and lineup optimizing tools to build your perfect lineups.
Last Updated 8/8/2019
I had a membership during last NFL season and this is my review of FantasyLabs.
FantasyLabs.com Quick Details
Official URL: www.fantasylabs.com
Price: $69.95 per month for standard
5 Day Trial for $15.95
Sites supported: DraftKings, FanDuel, Yahoo!
For a limited time you can get the standard plan for $10 off, coming out to $59.95 per month!
What Is FantasyLabs
FantasyLabs has data driven daily fantasy sports tools that are easy to use and give you options. There are a number of tools and a wealth of data and information.
The tools includes player models that you can tweak to your liking easily.
Player projections from pro grinders.
Optimized lineups calculator that works smoothly with your tweaks to build a quality lineup just to name a few.
Custom formula for weighing and calculating and evaluating players for your teams.
Links to current news and injury reports.
Player top lists, ratings and premium weekly blog content focused on upcoming games.
Sports Covered
I use the Player Models tab the most.
Once you click that tab it pulls up a spread sheet listing of players sortable by many different options. I usually start by sorting by bargain players to find a few potential low cost guys for my team.
Here is a screenshot from their NBA Player Model Tools looking for bargain players.
These same player models are available for NFL and other sports as well.
You can look for bargain players across all positions. I find a few value players to investigate and then look at who the top projections are.
Plus the way their news and trends show up when you click the player names makes it surprisingly easy to get accurate and current info on all players. You can find this info on your own for free (except for their projections) but it is all in a nice and neat package.
I used their lineup optimizer tool to help build my lineups. I especially like their bargain player tool to find discounts on DraftKings and FanDuel. or find players that many may overlook.
Without any tweaking to the model provided, this is the optimized lineup the system used: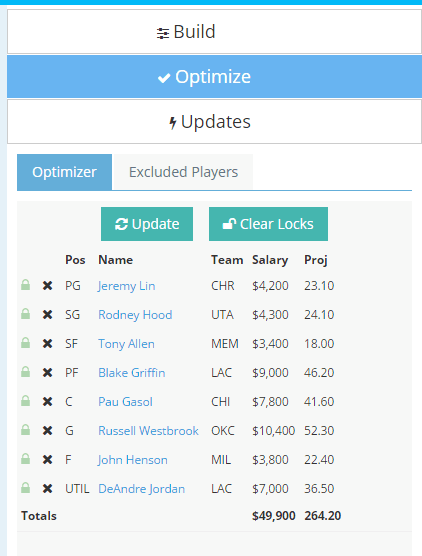 You can exclude players or lock in players and re-run the optimizer. If you want to tweak the model used to create the lineup just click on the 'Build' button at the top of the lineup and it takes you back to the page where you can now tweak the numbers that matter to you. Add or remove points based on a 100 point scale to build your optimal model.
It looks like this: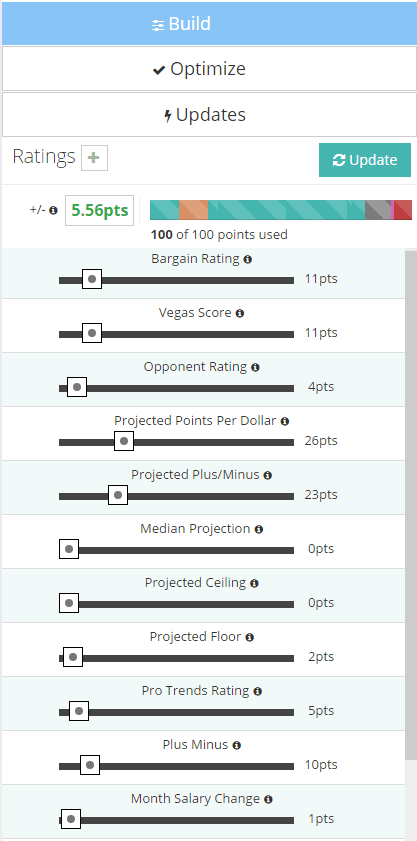 Update 1/15 New lineup builder and multiple lineups generation tool. View details:
Player information:
Let's take a look at Stephen Curry's Info Page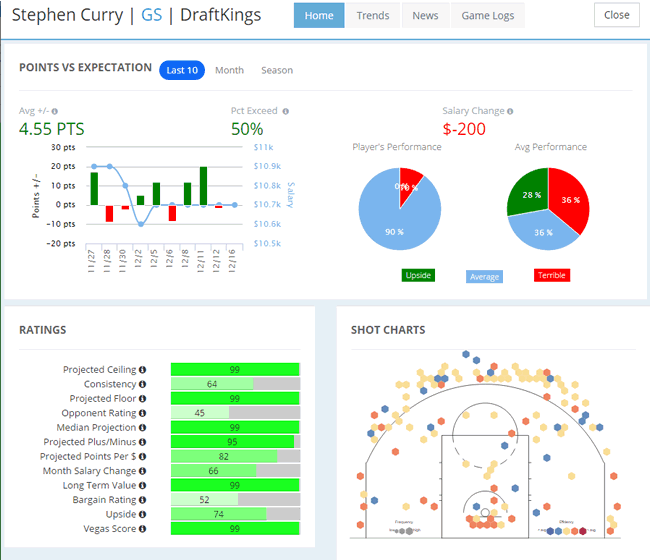 A Peek Behind The Curtain – Inside Look at FantasyLabs
Player models, trends lineup builders, projections, trends and optimizers, news, stats, data, pro models. The whole enchilada.
Examples and How To's
There are a ton more how to videos that can explain it better than I can. Check them out on their youtube tutorials playlist.
Fantasy Labs Final Thoughts
If you are playing daily fantasy basketball, baseball or football on a regular basis and your time is valuable then I believe you will find exceptional value from subscribing. I am sure with enough time to devote to the research you can find the majority of this data without paying for it from across various places around the web but FantasyLabs.com puts it all together for you in a nice and neat package. Late update, Mark Cuban invests in FantasyLabs.
More Great Reads