*updated spring 2023 – MonkeyKnifeFight has closed their doors effective 3/2/2023
What is Monkey Knife Fight?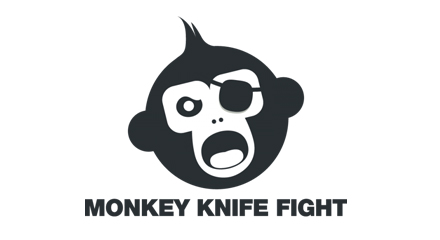 Monkey Knife Fight is a newer DFS site looking to earn some of your business by doing their best to just kind of stir things up a little bit and be just slightly different from the bigger sites you may be used to.
Started in 2018 and based out of San Jose, California, MKF taking the internet by a mini-storm and being backed by the likes of one Mr. Bam Margera. To see what they've all been up to as of late, you can check out some videos here.
How Do You Sign Up?
Signing up for Monkey Knife Fight is a really simple process. As you're looking at virtually any of the pages, up at the top you'll see a bright yellow "Sign Up" button. Just click on that and you are asked to create
and that window is all done. After that, a new window will pop up asking you for personal, but basic information. This will want your
Name
Physical Address
Birthday
Hit submit and you are done, account created and you are ready to go!
Account all created, look at the upper right hand corner. If you click on the little Monkey Logo, you are presented with some new options to check out!
What's New? – This option gave me a promo which was only good for the day I created my account. This may change for you!
Favorites – This is pretty self-explanatory, although it's doing nothing for me right now as my account is brand spanking new.
Favorite Teams – As above, I see nothing on there yet, but I can tell you that the Atlanta Braves will be on this list eventually. Fight me!
It does seem as though once you have some favorites all picked out, you can then sort by sport to take a look at all of your picks. That's nice.
Personalization – Clicking here will give you the option to choose your game mode, (Classic, All, or Fantasy), as well as give you the option to "Show Mode Switch on Game Page".
How Can You Deposit
Honestly, not a whole lot to talk about over here in this department. Over in the left hand menu you'll see the option called Add Funds that will, naturally, take you over to the deposit page. Looks like my options are
and there you have it.
How Can You Make a Withdrawal
Again, nothing to really talk about here. The choices are to make a transfer over to your
Checking Account
Savings Account
and there are your choices in that department. There is a message on this withdrawal screen that gives you this information –
ACH Cashouts are processed directly to your bank account. You will enter your bank account information and we'll initiate a payment within 1-3 business days. It will usually take another 1-3 business days to arrive in your account.
So, that said, be aware that it may take a week or so before seeing your money.
What Kind of Sports Challenges Can You Find at Monkey Knife Fights
National Football League
Major League of Baseball
NBA
Women's National Basketball Association
NASCAR
Soccer
Golf
League of Legends (for the uninitiated, it's an eSport)
For now, let's check out some NFL action!
Once again, over on the right hand side, you'll see a menu option titled, "New Game". Clicking here brings up some options.
Under 'Suggested' they show me games that the Falcons and the Saints are playing in as I had picked those as my favorites. 'Featured' is showing me 16 games all taking place between Thursday and Monday. 'All' is showing me, well, all of the available upcoming games.
Clicking on the upcoming Falcons vs. Vikings game brings me here
As you see in the image above, clicking on one of the upcoming games brings you to the page where you would choose the kind of contest you'd like to join, and it will show you what each contest is worth. The NFL contest choices are
Over/Under
Rapid Fire
Reception Connection
Hail Mary
Rush Hour
Go Long
Fantasy Challenge
with different options for each as far as how many players you want to pick which changes the prize if you win. For example, picking the Over/Under contest with 2 players and you'll have to pick both of your players correctly to win 2.58x Your Buy-in. Going with the Over/Under contest with 6 players will net you 31X your buy in!
Looking at the image above, we can see a couple of players that are currently injured. According to their website, if these players end up not playing, the wager is cancelled and your bet returned to you!
Now Let's Take a Look at a "RapidFire" Game
As you can see right above, I chose a 2×2 RapidFire contest. This mean that both of my 2 picks must come through in order for me to win. As for what I'm choosing, this is 'who is going to have the most passing yards' as well as 'who is going to have the most receiving yards', out of the choices they give you.
Like the Over/Under we talked about, there are bigger contests available. As I type this, there is a 5×5 contest going on right now. Also like the others, you only get to pick your players from the pool they give you, so it looks as though you may have to do some learning about players you don't like from teams you don't like, if you want to do well.
Now Let's Get a Look at a "Reception Collection" Game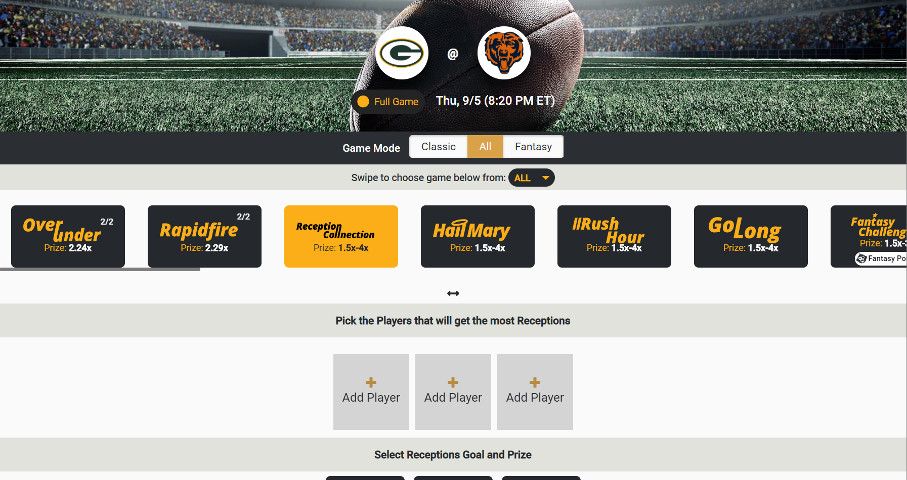 Unlike the other so far, it looks as though this one also offers different contests, where you will decide if your chosen players will get a chosen number of receptions with different where you will win a greater amount if you wager they'll get a greater amount of receptions.
Unlike the others though, all of these option are just on the one page.
Now Let's Discuss the Hail Mary!
Looks like the player are already chosen for you here, all you've got to do is bet on whether or not they will get X amount of Passing Yard Goals. Easy enough!
Looking at Rush Hour
You've got your players. They are all picked out for you, the hard work has been completed.
Now all you have to do is decide, are they gong to obtain X amount of rushing points?
And Lastly, We've Got the Fantasy Challenge
And again, the list of available choices are picked out for you. Your job is to decide if they're going to earn enough fantasy points to beat the estimate.
Is Monkey Knife Fight Legit and a Legal USA Company?
Legitimate and legal? Absolutely, as long as you live in one of the following locations.
| | | | |
| --- | --- | --- | --- |
| Alaska | Arkansas | California | Colorado</td |
| Connecticut | District of Columbia | Florida | Georgia |
| Illinois | Kansas | Kentucky | Massachusetts |
| Maryland | Michigan | Minnesota | New England |
| New Hampshire | New England | New Mexico | North Carolina |
| North Dakota | Oklahoma | Oregon | Rhode Island |
| South Carolina | South Dakota | Texas | Utah |
| Vermont | West Virginia | Wisconsin | Wyoming |
Those of you who are not in one of those places, make sure to contact your local lawmakers and thank them for keeping you safe from your money!
All kidding aside, the laws for gambling and fantasy sports seem to change quite often. If this list changes, we will update immediately.
Final Thoughts On Monkey Knife Fight
Monkey Knife Fight is a great choice for DFS players looking for somewhere less crowded than some of the bigger sites.  They offer new players a quality fantasy site.
I am playing myself in some of the NFL contests this year. Most of these contests seem to have buy ranges from $2 going up to $1000. With a few of them, that price can go from $2 to $250, or $2 to $500.
Many other DFS sites have limits on just how many people can enter a given contest. That doesn't seem to be the case with MKF amd that's a great thing on the off chance you happen to be running late getting into the action!
If you are looking for a little something new where a lot of the "work" has been cut out for you, there is absolutely no reason to check out Monkey Knife Fight. I know I'm ready to tackle the new NFL season and MKF is getting a fair shake from me!