James Gagnon continues his weekly NFL recaps after a week off from dealing with the hurricane. Welcome back James!
The tournaments have taken a small step backward in the size of the prize pools this week. But the 1st place payouts are the same. And DraftKings continues to role with the larger payout percentage. If you normally have to explain your DFS spending top the wife or to your kid who wants to go on that super awesome, not nerdy at all, field trip to the bug museum, then DK is the way to go. NOT Losing should be your first goal, and those payout rates creeping close to 30% will help achieve that goal.
When the rubber meets the road for the big pay day, however, FanDuel's tournaments give you the best shot at taking home First Place… if you can deal with that rostering a Kicker non-sense. When you compare the tournaments of similar entry fees between the two main sites; FD's $5 tourney pays $100K in a field of 235, 294, While DraftKings' $3 tourney has over twice as many expected entrants for half the payout to First Place. FanDuel's $25 tournament pays out $300K compared to the $1M in DraftKings' $20 tournament, but FD's tournament only has 70,588 expected entrants as opposed to DK's nearly 3.5 times as many with 245,600.
Fanduel and Draftkings Winners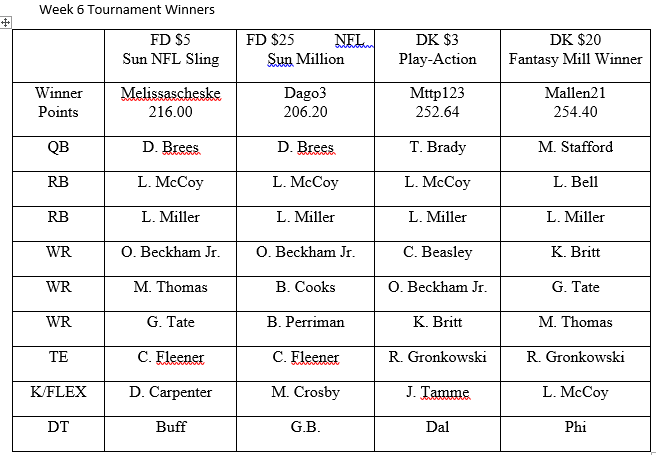 This wasn't your typical week for lineup building. Yeah yeah, everyone did a QB stack, old news.
What happened here that was odd was that teams leaned on and paid for running this week. McCoy came into the week hot and had a matchup against San Francisco at home. He was one of the most highly owned players because of it and he didn't disappoint. He just got injured in practice this week!
L. Miller had the home field advantage against a suspect defense, but his price point wasn't cheap and he's not a guy we've been able to trust this year…until this week.
Every winner had both Lamar and LeSean.
When you pay for this amount of RB help, and go above and beyond like mallen21 did with L. Bell, McCoy, and Miller, that means you need to save money elsewhere. Mallen21 didn't save money elsewhere with Gronk, but they did save money with K. Britt and the third or fourth? receiving option in New Orleans in M. Thomas.
Another player of note is Cole Beasley, Dak Prescott loves the guy. Dak doesn't have Dez right now, but he does still have Witten and Ezekial. Yet Beasley is a main part of this offense and I think his role will grow. And the best part about players like Beasley, the guys who play underneath or over the middle or out of the backfield, is that as long as they get on the field, they're almost matchup proof. No one's going to waste their shut down corner on a Beasley type player. So have fun with the little dude.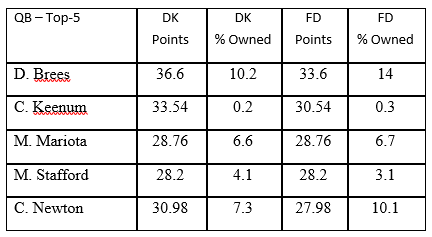 It's always good to see familiar faces like C. Keenum and M. Mariota on the top of the list. But seriously, go ahead and forget about Keenum…Tavon Austin is a better QB than him. Mariota has his games too, it's just too hard to predict when they're going to happen.
Someone who's not hard to predict is Drew Brees. The only thing that's tough with him is who do you stack with him? Mike Thomas seems to be a great cheap option. And Fleener is the tight end in the system that has made TE's look better than they are for years. This is a nice, cheap, 3-piece stack that should get you at least 40 points almost any week.
Cam Newton looks like he's going to be in shootouts for the rest of the season… similar to what Matthew Stafford's been doing his whole career. 3 of these top 5 are rosterable almost every week.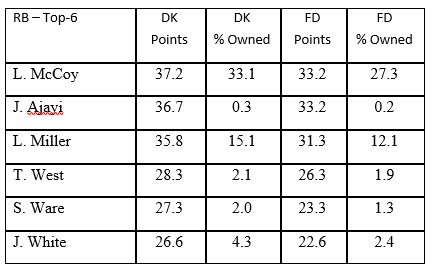 As I said earlier, McCoy's been on fire and that should continue next week against Miami. Unless it's crazy hot again and has players throwing up on the sidelines like in the Steelers game this week.
While we're in Miami, has Jay Ajayi taken over the job? With Arian Foster back and healthy? With 12 other RB's in the fold? I think it matters on the game flow, and since we can't predict that, stay away. Ajayi will be a power back to grind the clock with leads. He's a very talented back who can do almost everything well, but Miami didn't bring in Arian to stand around.
L. Miller still only has 1 rushing touchdown on the year, but he has 520 yards rushing on 125 attempts. That's a 4.2 YPC average. But most importantly, that over 20 attempts per game. Houston is feeding him the ball on the ground as well as through the air with almost 3 receptions per game and another TD. The best of L. Miller is yet to come.
Terrance West is the established starter in Baltimore right now…for what that's worth. Spencer Ware continues to play well for Kansas City, but J. Charles is back and K.C. needs to get right all around.
We can never trust James White in New England. We can barely trust L. Blount. And if Dion Lewis comes back healthy. See it with your own eyes and don't take New England's word for it, then D. Lewis is a legit option every week once he rounds into form. He might be a nice play down the stretch.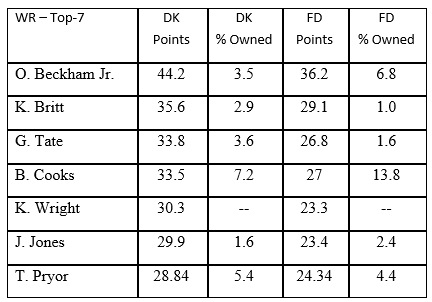 ODB proposed to kicker's net…after he laid down with it…after he made out with it to make up for hitting it. It's getting old. Let's hope he's done with the net and gets back to wowing us on the field.
T. Pryor Sr. seems like he's here to stay. He doesn't get the "shut him the eff down" treatment so he's exploiting basic plans. Britt and Wright used to play on the same team and had flashes of brilliance here and there. I'm not going to call this week much more than flashes, but they both have obvious talent and are in far different situations than they used to be in. Being the second WR on their team now, in run-first offenses, maybe that is helping them perform up to expectations that were there for them years ago. Maybe they also just got better…smarter…wiser…I don't know…Doc Gagnon is out for lunch after that analysis.
The numbers I find interesting here are the low owned percentages.
With J. Jones and ODB having such low ownership numbers, it leads me to believe two things may have happened. McCoy and Miller were just too cheap with too great of matchups to pass up. The other was that there were just too many poor passing options.
The RB's were a real thing. But the passing options weren't. A. Brown was extremely highly owned and he took a lot of people's top WR spot, but even his price was down a little bit. Beckham was playing against Baltimore, who have given up plenty of yards. Cooks is paired with maybe the best DFS QB ever and his numbers were low.
Let's see what next week brings us because I think this is a one week anomaly and Stud Receivers will be back on top of ownership next week. But it would be nice if things evened out a little bit.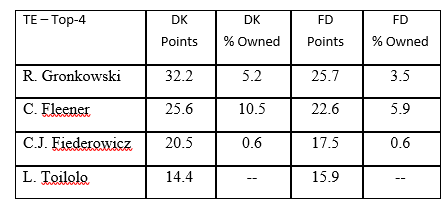 If you pay attention to me at all, you know I usually say to stay away from Gronk. This week isn't any different. He's not a safe pick. No TE is.
But you know who I'd rather have, Fleener at $3,400 cheaper and use that money as an upgrade at up to 3 positions. C.J. Fiederowicz could be the new hot thing in Houston, but Osweiler looks horrible. Toilolo actually looked really good, but he's so far down the depth chart it took a game against the Seahawks to fit him into the game plan. Take the easy matchups at other positions and then have fun guessing at TE.


With 30 defenses playing this week, if every defense was owned at the exact same numbers, it would come to 3%. The top three would equal 9%. K.C. was below my made up average, but the total of the top three in DraftKings was 16.2%, over 7% above the 9% total they would've equaled had they been evenly owned. Philly is an outlier, and still managed good points against a team that scored against them, but the numbers still prove to me that people who win spend on Defense.
Do not be cheap on D.