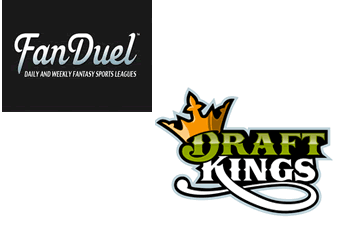 With football officially in our rear-view mirrors, it's time to gear up for the new daily fantasy baseball season. There's a ton of money at stake at FanDuel and DraftKings, the two biggest – and most popular – DFS sites.

New players – 
FanDuel
using
tested promo code FREAK
to lock in the max bonus for all new players.
The 2016 MLB season kicks off on April 5th as the Cardinals and Cubs square off against each other. But the real action happens the following day as the other 28 franchises jump into the fray.
What does that mean for you, the intrepid daily fantasy player? It means you're going to have an opportunity – actually, thousands of opportunities – to replace your daily NFL winnings. More than 2,400 ballgames are scheduled for the regular season. If you're willing to roll up your sleeves and research players, parks and other criteria, you can make an impressive profit.
Because it has been awhile since we've focused on baseball, we're going to go through the basics. We'll start with an overview, and then drill down into the nitty-gritty details of creating fantasy MLB rosters that win contests.
Before we get too deep into strategy, let's take a quick look at what's happening at FanDuel and DraftKings this season.
Daily Fantasy Baseball At FanDuel And DraftKings
FanDuel hasn't yet announced their 2015 fantasy MLB promotions. But that's going to change any day now. FanDuel is the industry leader in terms of action and payouts. DFS players expect massive promos with millions of dollars up for grabs.
Visit the FanDuel lobby and you'll see thousands of contests scheduled for April 6th. Every contest format, from head-to-heads (H2Hs) to large-field tournaments, is represented. You'll also find contests at every buy-in level, from $1 to over $1,000.
DraftKings managed to beat FanDuel to the punch this MLB season. It announced a number of exciting fantasy baseball promos, including its $500,000 Slugfest extravaganza. The first-place winner will walk away with $50,000 and major-league bragging rights.
Like FanDuel, DraftKings is scheduled to host thousands of contests on April 6th. You'll find H2Hs, double-ups, GPPs, and more, with buy-ins ranging from $0.25 to over $10,000.
You don't have to wait until April 6th to enter the contests. You can start building your lineups today. Just be sure to double-check them on game day so you won't be surprised by late scratches and last-minute injuries.
Daily Fantasy MLB Essentials: A Bird's-Eye View
FanDuel and DraftKings have different roster requirements. The former gives you 9 slots to fill. The latter gives you 10.
Here's the position breakdown at FanDuel:
1 x pitcher
1 x catcher
1 x 1st base
1 x 2nd base
1 x 3rd base
1 x shortstop
3 x outfielders
Here's the breakdown at DraftKings:
2 x pitcher
1 x catcher
1 x 1st base
1 x 2nd base
1 x 3rd base
1 x shortstop
3 x outfielders
The only difference is that you need to draft 2 pitchers at DraftKings and only 1 at FanDuel.
You should also consider the parks scheduled to host the games. Some parks are pitcher-friendly. Others are hitter-friendly. Knowing which is which can save you a lot of heartache and frustration.
Weather conditions can heavily influence player performance. It's not just a matter of whether rain is expected during the game. Wind can also play a role. One of the nice things about FanDuel is that you can check the weather forecast for the day's games directly from the draft window. It's very convenient.
Those are the basics: Get familiar with each fantasy site's roster requirements. Then, whenever you enter a contest, check the parks and weather forecasts for each game.
Let's now turn our attention to stats.
3 Critical Daily MLB Statistics To Research
Baseball is a statistician's dream. No other sport generates as much data. That's important as a fantasy MLB team owner. The more data you have at your fingertips, the better you'll be able to forecast each player's point production.
Here are the 3 most important statistics to track if you want to win at fantasy baseball:
#1 – Weighted On Base Average
Weighted on base average, or wOBA, goes much further than on-base percentage, which, frankly, is a pretty poor way of measuring a hitter's value as an offensive player. wOBA does a much better job. It measures offensive value based on the player's hitting prowess as well as his ability to get on base. Importantly, it values each hit differently.
If you're into sabermetrics, you're probably already familiar with wOBA. If you're unfamiliar with it, now's a good time to get up to speed.
#2 – Batter Versus Pitcher
This statistic measures how effective a hitter is against a particular pitcher. BvP is actually composed of a group of statistics, including batting average, on-base percentage, slugging percentage, and other data points. It's a good idea to check the numbers for each player you roster.
ESPN presents the data in a convenient table for each batter. To see how the data is organized, check out the BvP numbers for Mark Teixeira here.
#3 – Walks, Hits & Home Runs
These 3 numbers reveal how a player has performed at the plate throughout the season. Think of them as support for the wOBA (ref. #1 above). Ideally, you want to analyze walks, hits and home runs as percentages in relation to plate appearance.
For example, take a look at the numbers for Mark Teixeira. Last season (2014), he was at the plate 440 times. He logged 58 walks, 95 hits, and 22 home runs. Divide each data point by the number of plate appearances to convert the numbers into percentages:
walks = 13%
hits = 22%
home runs = 5%
Now that the stats are in percentage form, you can compare them to those of other players. That allows you to evaluate their performances side by side.
Are there other statistics you should take into account when building your fantasy MLB lineups? Oh definitely! We'll cover them in detail in a future post. For now, concentrate on the 3 stats outlined above.
The Importance Of Fantasy Baseball Scoring Systems
FanDuel and DraftKings use different scoring systems for daily fantasy baseball. It's important that you're familiar with them. The differences in how hitters and pitchers earn points at both sites can help inform your draft decisions.
Here's the breakdown for hitters at FanDuel:
1st base = 1 point
2nd base = 2 points
3rd base = 3 points
Home run = 4 points
RBI = 1 point
Run = 1 point
Walk = 1 point
Stolen base = 2 points
Hit by pitch = 1 point
Out = -0.25 points
Here's the breakdown for hitters at DraftKings:
1st base = 3 points
2nd base = 5 points
3rd base = 8 points
Home run = 10 points
RBI = 2 points
Run = 2 points
Walk = 2 points
Stolen base = 5 points
Caught stealing = -2 points
Here's the breakdown for pitchers at FanDuel:
Win = 4 points
Earned run = -1 point
Strikeout = 1 point
Inning pitched = 1 point
And lastly, here's the breakdown for pitchers at DraftKings:
Win = 4 points
Earned run = -2 points
Strikeout = 2 points
Inning pitched = 2.25 points
Hit against = -0.6 points
Walk = -0.6 points
Hit batter = -0.6 points
Complete game = 2.5 points
Complete game shut out = 2.5 points
No hitter = 5 points
One of the first things you'll notice is that DraftKings' scoring system is much more complicated for pitchers than FanDuel's system. You should also notice a few differences in how hitters earn points between the two sites.
There are a number of crafty ways to exploit the differences, which I'll cover in the near future. For now, just realize that the scoring systems vary, and thus warrant slightly different draft strategies.
MLB Promotions for 2015
DraftKings Is Expected To Pay Out $300 Million This Season!
Fantasy football still generates the lion's share of action at FanDuel and DraftKings each year. That's not going to change any time soon. But it's a mistake to focus exclusively on football and ignore fantasy MLB. A lot of money is going to be paid out in the months leading up to the 2015 World Series in October.
DraftKings has announced that it plans to pay out more than $300 million this season. Here are some of the major tournaments scheduled on the site:
– $500,000 Slugfest (1st place: $50,000)
– $100,000 Moonshot (1st place: $10,000)
– $200,000 Perfect Game (1st place: $30,000)
– $100,000 High Heat (1st place: $10,000)
– $40,000 Double Up (Every winner doubles his/her money)
With DraftKings expected to shell out $300 million, expect FanDuel to pay out even more. It's the 800-lb. gorilla of the DFS industry. Stay tuned to this blog for details on FanDuel's 2015 fantasy MLB tournaments and promotions.
Now's the time to get ready for the new baseball season. A lot of team owners are going to make a ton of money this year. If you're willing to put in the work, there's no reason you can't join them!
More Great Content You Should Read