Always wanted to get into fantasy sports, but find it too complicated? Hey, don't get down on yourself, you're far from alone. Even a lot of die hard sports fans who know their favorite sports inside and out struggle to wrap their minds around fantasy sports.
But what if it didn't have to be that way? What if there were an easier way to bet on fantasy sports? What if it were so simple and straightforward that even a complete newbie could jump right in tomorrow and potentially make a profit? That is exactly what Daily Number makes possible.
What is "Daily Number"? DFS App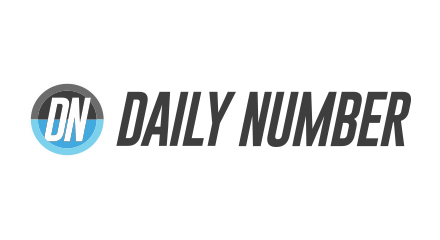 Daily Number is a cool new app created as an alternative to traditional DFS platforms like DraftKings or FanDuel.
You may have seen some of their ads featuring Richard Sherman who is actually the co-founder.
The thing that makes Daily Number different from other fantasy sports platforms is that it is easy. In just two quick steps, you can get your fantasy team set up and place your wager for a chance to win.
Visit DailyNumber and download the app from the official website for free.
Obviously I have gotten big into fantasy sports over the years, but I'm not going to lie. When I first got into DFS, I found it pretty complicated. It actually took me a while to really learn the ropes.
And today to be honest there are way way way better players than me on Draftkings and Fanduel that kick my ass on the regular. Sure I'll toss in a few lineups in a GPP to get lucky but grinding out cash game lineups only to play against totally optimized professionals most matches is a no for me dog.
That's why I'm excited about the Daily Number.
So I am really excited to introduce Daily Number to our audience here on the site.
How Does It Work?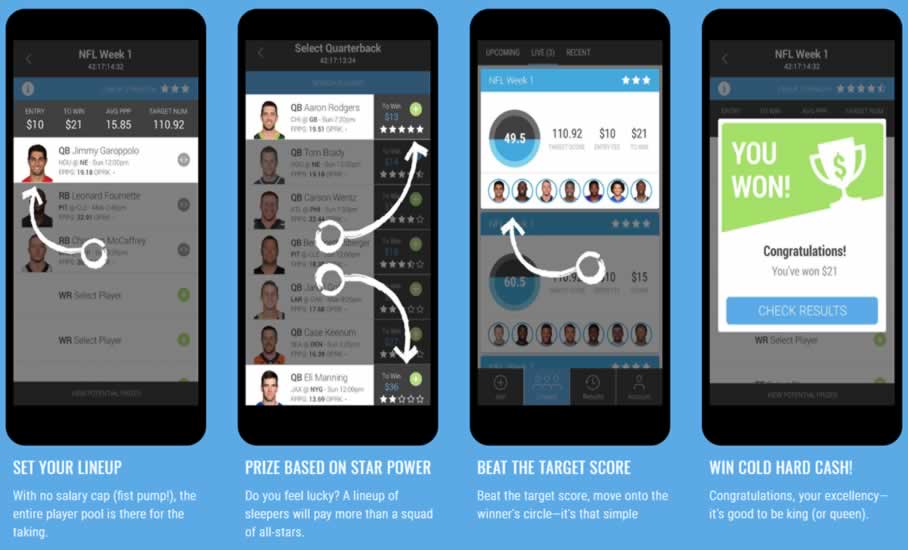 Beat the Target Score = Win – That's It
Like I said before, Daily Number was designed to be simple, streamlined, and hassle-free. There are just two steps:
Choose your lineup – you can draft anyone you want
See if you can beat the target score, referred to as the "Daily Number." If you do, sweet! You win a payout, plain and simple.
It's pretty cool. If you draft a team full of all-stars then yes you will win but you will win a smaller payout.
If you draft a team of "scrub players" and they end up winning then you will win a bigger payout.
It's up to you to determine how stacked your team should be to beat the daily number.
You do not compete against other players. Just against the house. The daily number.
Can Anyone play? Which States Can Play For Real Money
In a way, yes. Anyone and everyone are welcome to play for fun!
However, you must live in one of the following states to play for real money.
AK
AR
CA
CO
CT
DC
FL
KS
KY
MD
MN
NE
NM
NC
ND
OK
OR
RI
SC
UT
WV
WI
or WY
Those of us in other states, like my home state of Georgia are not able to play for real money, yet. It is still pretty damn fun to play for free!
Standout Features
Aside from the awesome simplicity of Daily Number, there are a few other features and advantages which make it stand out from the crowd.
Fast and easy sign-up. All you need to do to get started is input your mobile number on the homepage and hit "Submit." You will be sent a link to download the app to your device. Register your account and you'll be able to begin.
There is zero salary cap. That means you can literally put whoever you want on your team. You have total freedom.
If you pick unlikely winners, you will get a much bigger payout. That means that a selection of players who beat the target score based entirely off of skill will net you much more than one where every player is an all-star.
This is where your in-depth knowledge can really pay off. Those with a passing knowledge of a sport do not stand to win nearly as much as those who can pick out obscure players with outstanding performance.
Play against the house. Focus exclusively on your strategies without worrying about what other players are up to. It doesn't matter if they win or lose—it has no impact on your outcomes.
Wager on NBA, MLB, or NFL.

Fast and easy deposits and withdrawals. With a $5 withdrawal minimum, your funds are always accessible to you.
One thing you should note is that once you set up your lineup for a contest, it is fixed. You cannot change it. If you do feel the need, your only option is to cancel it. Thankfully, you can do this up until lock time and then start over. But after lock time, your entry is locked in, and cannot be adjusted or cancelled in any way.
DailyNumber Scoring Chart (NFL)
| Play | Points |
| --- | --- |
| Play | Points |
| Passing Yard | .04 |
| Passing Touchdown | 4 |
| Interception Thrown | -1 |
| 2 Point Passing Conversion | 2 |
| 300+ Yard Passing Game | 3 |
| Rushing Yard | .1 |
| Rushing Touchdown | 6 |
| 2pt Rushing Conversion | 2 |
| 100+ Yard Rushing Game | 3 |
| Passing Reception | 1 |
| Receiving Yard | .1 |
| Receiving Touchdown | 6 |
| 2 Point Receiving Conversion | 2 |
| 100+ Yard Receiving Game | 3 |
| Punt Return Touchdown | 6 |
| Kickoff Return Touchdown | 6 |
| Fumble Lost | -1 |
| | |
How To Get Started
You already know the gist of signing up, but here is a quick rundown of the steps, including how to play once you are registered:
Editor's Note – Want to save some time and make it even easier? Skip steps 1-3. You can absolutely just download the app from the Google Play Store or the iOS Store.
Navigate to the Daily Number homepage.
Look in the upper left for the box labeled, "Receive Link to Download App."
Put your mobile number in the box and press "Submit."
You can now download the app to your device and install it.
You will need to create a DailyNumber account in order to play. While paid contests are only for users aged 18 and up, it is worth noting that you can join the site if you are as young as 13 if you want to participate in the free contests.
Fill in your legal name, your mailing address, your phone number, and your birthday. You will also need to choose a username as well as a password at this point.
Next, you will need to make a deposit. DailyNumber accepts a number of different methods, so choose whatever is most convenient for you.
To play, pay the required entry fee for each contest. This is as simple as choosing to enter a contest. After you have finished entering, the app will automatically deduct the fee from your deposited funds. What if you cancel? In that case, you will get your entry fee back.
Choose your lineup, and then wait to find out if you beat the target score.
If you beat the score, your winnings will be credited to your account.
Want to make a withdrawal? You can do so through ACH bank transfer or check. A credit or debit card can be used to make a deposit, but cannot be used to withdraw. The minimum amount is just $5.
Create Your DFS Lineups and Start Winning Today on DailyNumber
Ready to experience the fun (and profit!) of daily fantasy sports without all the complications or hassles, and without needing to compete against other players? Get started now on DailyNumber. Have fun, and good luck!
Daily Number FAQ
The basics for Daily Number are of course super simple, but you probably still have some questions about how it all works. Below, you can read through answers to some frequently asked questions.
Q: How does scoring work?
A: Just navigate to the "Rules" page on the DailyNumber website, and you can see exactly how touchdowns, passing yards, and other plays are scored. The process is totally transparent, so you should always understand how your win or loss was calculated.
Q: What does it cost to register on DailyNumber?
A: Registration itself is free! You only need to make a deposit when you are ready to play in the paid contests. For the free contests, no deposit is required.
Q: Are there any bonuses?
A: Sometimes DailyNumber does run promotions. Be sure to keep up with emails and updates from the site if you sign up for them so that you do not miss a bonus. There may also be referral opportunities available.
Q: How do I contact support?
A: You can reach DailyNumber's customer service team through email. Be sure to whitelist the address. At this point, there does not seem to be any way to contact the team live, but you can also reach out through social media on Twitter, Facebook, and Instagram.
Q: What if the lineup I create achieves a score which is exactly equal to the target score?
A: If that should be the case, it will be considered a "tie" by the app. DailyNumber will award you for this with the exact same payout you would have received if you had surpassed the target score.
Q: When will I find out whether I have won?
A: First, you need to wait for the contest period to end. After that, the site usually will notify the winners within 1 day.
Q: I made a mistake when I was putting together my lineup. What do I do?

A: There is no way to submit a change to a lineup once it is completed, so you will need to cancel the lineup altogether and begin again. Once you cancel, your entry fee will be returned to you. You can then simply enter again, this time creating the lineup you want. The only exception is if lock time has gone into effect. At that point, all bets are final.
Q: What if someone else's lineup achieves a higher score than mine?
A: It doesn't matter! You are not being scored against any of the other participants—only against the target score. You need to develop enough of an edge to beat that score, but you do not need to concern yourself with whether you are better than the other players.
If you have more questions about DailyNumber, you can always contact the app's friendly customer service team. If you are ready to play, just click on the link below to register your account!