DraftKings Sign Partnership with the NHL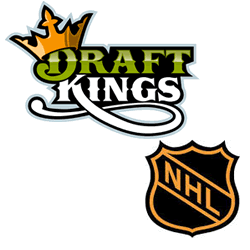 Last week DraftKings announced a multi-year partnership with the National Hockey League. As part of the agreement, DraftKings will become the official Daily Fantasy Game of the NHL, which will lead to the company receiving prominent brand placement across NHL.com, NHL Mobile and the NHL's twitter and Facebook feeds, as well as at other digital media. They will also sponsor the "Fantasy Players to Watch" segment on NHL live, a signature show for the league. Video previews for regular season match-ups will also be sponsored by the daily fantasy sports site.
Hockey enthusiasts will be able to enter free contests at DraftKings where they'll be able to win trips to the biggest events in the NHL, including the 2015 Bridgestone NHL Winter Classic, 2015 NHL All-Star Game, 2015 Coors Light NHL Stadium Series and the 2015 NHL Awards.
In addition to the partnership with the NHL, DraftKings has also partnered with a number of NHL clubs, meaning they will have a presence at both national and local level. DraftKings have a similar deal in place with the New England Patriots of the NFL
"We are pleased to partner with DraftKings, a leader in daily fantasy sports," said Keith Wachtel, NHL Executive Vice President of Global Partnerships. "Recognizing the direct correlation between fantasy sports and fan engagement, we look forward to providing our fans with a new opportunity to extend and enhance their NHL experience each and every day of the season."
"The National Hockey League is a best-in-class organization, and DraftKings' daily fantasy hockey players are some of their biggest fans," said Jeremy Elbaum, Vice-President of Business Development at DraftKings. "DraftKings is proud to partner with the NHL to bring premium new experiences to the League's enthusiastic fan base."
The NHL at DraftKings – A Quick 101 How To Play
DraftKings offer National Hockey League contests on a daily basis. These contests involve picking a roster of players that will score points for achievements on the ice. This roster will include three wing players (either left or right), two centers, two defensemen and a goalie – you'll also pick an extra utility player who can play in any position apart from goalie.
When picking the roster, each player will be allocated a salary for that particular contest and you will be allowed to spend a maximum of $50,000 on these players, which equates to an average of $5,555 per player. The top players in the league will demand a salary in the region of $9,000 – $10,000, so the skill in daily fantasy sports is picking the right mix of these star names along with some of the players who demand a much lower salary.
You'll find numerous NHL contests at DraftKings, where you'll be able to choose both the entry fee and the number of other contestants you'd like to face. For example, you could enter a $2 tournament where you'll face over 4,000 other players, with a top prize of $1,000 to the winner and prizes all the way down to 900th place. You could also choose to face just one other contestant in a head to head, where the winner takes all. The choice is yours.
Having entered a contest and set your roster, the game will go live when the first match-up of the day begins. One of the great aspects of DraftKings is that you'll be able to follow your status live, so if one of your players scores a goal, or your goalie makes a save, the leaderboard will be updated to show your latest ranking.
The players will score points as follows:
Goal = +3 PTS
Assist = +2 PTS
Shot on Goal = +0.5 PTS
Blocked Shot = +0.5 PTS
Short Handed Point Bonus (Goal/Assist) = +1 PTS
Shootout Goal = +0.2 PTS
Hat Trick Bonus = +1.5 PTS
Goalies only will accumulate points as follows:
Win = +3 PTS
Save = +0.2 PTS
Goal Against = -1 PTS
Shutout Bonus = +2 PTS
The contest will end when the last game of the day comes to a conclusion. At this point the leaderboards will be finalized and the prize money paid out to the successful players.
Related Content