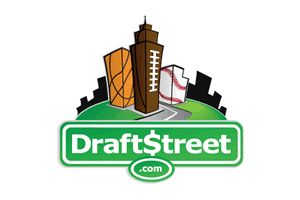 This review of DraftStreet covers the important things you should know before playing here. You will also see exactly how to create your account and enter your first game at DS. Let's get to it.
Update July 15th 2014 – DraftKings acquires 100% of DraftStreet

I will leave this review of DraftStreet for posterity, however as of July 15th, 2014 the games at DraftStreet have been bought out and players moved to DraftKings. Visit my DraftKings review for more info.
Editors note: My favorite thing about DraftStreet is that they are the only large fantasy site to offer snake style drafts and a pick em style game in addition to their salary cap games. The other large fantasy sports sites only offer the salary cap games. If you want to play a roto style draft or a special pick a player from a list of players per position style game the DraftStreet is for you.
DraftStreet 101
The company behind DraftStreet was founded in 2009. In 2010 they launched the DraftStreet.com website and began offering real money daily fantasy sports contests. They are a pioneer in the industry and one of the three largest fantasy hosting sites in existence today. DraftStreet has a fantastic reputation and are well known in the industry.
Sports Offered
Football (NFL, College)
Basketball (NBA, College)
Baseball (MLB)
Hockey (NHL)
Golf (PGA)
This is a fairly standard line-up of sports offered.
The unique thing is that they offer the following types of contests:
Salary Cap
Snake Draft
Pick-Em
Survivor Style
These variations of contests are a unique feature to DraftStreet and not offered at the other sites!
Snake Draft – You pick, someone else picks, someone else picks and so on. No salary cap and each player can only be selected once. It is more of a standard type draft that you might be familiar with during traditional style fantasy. These play like sit-n-go tournaments and are almost exclusively offered at DraftStreet. They are the only site of the big sites that offer this type of contest.
Pick-Em – This is a very fun and entertaining way to pick your fantasy team. You select a player from a list of players available at a certain position. No salary cap, no snake draft. Just from a list of 7 guys, you pick 1. Then you get another 7 guys for a different position and pick one from there. You fill up your team with the best picks from the list of player to choose from and create you team this way. They are the only site that offers this style of fantasy contests from the big 3. These are about as easy to do as any fantasy contest out there.
Survivor Leagues – These are three day leagues with only the strong surviving. The top half of the field survives and moves on to continue competing for three days. Those who survive day 1 battle the other survivors in day 2. The survivors again battle on day 3 to declare victors. Half of the field is eliminated each day. Points start over each day. Other than to determine if you survive that particular day or not a previous score does not benefit or hinder you in the next days draft.
These three unique styles of competitions make DraftStreet a favorite for players of all levels and experience.
Once you create an account (which is a simple process of entering in your name, email, address and confirming some details) the lobby is fairly self explanatory.
There are filters to include or exclude sports and then refining filters where you can sort down by numbers of opponents and range of buy-in. There is also a site wide chat box along the bottom right where you can talk to other players and challenge one another to a match.
Choose a contest and click 'join'. From there you can easily create your team and get basic info on each player. Additional details are available by clicking on full profile button.
To draft a player, just click on his name from the list at the bottom of the screen and then click 'add player on the details screen that pops up at the top. It is very smooth and easy.
Your Account – Your Contests
It is simple to find your current contests as well as your past history performance. You will see a detailed break down of your past games, how you did and can see how you've done against other competitors. They keep a monthly running leaderboard with the top players listed. You will see players like CONDIA and Notorious atop the leaderboard many months.
Editing players is easy and click of the mouse.
Final DraftStreet Thoughts
They were one of the pioneers to the daily fantasy sports industry and have evolved into an industry leader. They offer a fresh of uniqueness with the variations of games that they offer. We recommend all players have an account at DraftStreet.

DraftStreet Fantasy Sports Site
New player review of DraftStreet
DraftStreet Fantasy Sports Site Review
Date Published: 02/06/2014
Learn the in's and out's of playing fantasy contests at DraftStreet and find out what sets this site apart from the competition.
print $reviewboxtitle?>
Deposit Bonus: none