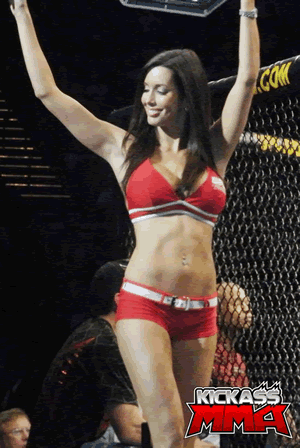 If you spend most of your time betting on the major daily fantasy sports (football, baseball and basketball), you may have missed DraftKings' launch of fantasy mixed martial arts. It happened back in December. MMA contests suddenly appeared on the DK boards, giving DFS fans a chance to bet on their favorite fighters.
But like fantasy NASCAR and fantasy golf, UFC contests receive less attention than they deserve. That's good news because it means a lot of the savviest DFS players on DraftKings haven't yet descended on the tournaments, 50/50s and small leagues. The contests are still filled with players who lack experience at putting together winning MMA rosters.
The scent you're smelling is opportunity. There's a lot of money at stake in mixed martial arts and the competition isn't nearly as ferocious as it is in the major sporting events.
I'll show you how to take advantage of that opportunity below.
Let's start by covering some of the reasons you should be playing fantasy MMA. I'll then answer the most common questions I get asked about the sport (in a fantasy context). Finally, we'll wrap things up with several tips on how to create a UFC roster that outscores your competition.
4 Reasons To Play Daily Fantasy MMA
If you're a mixed martial arts fan, you don't need a reason to compete. The fact that DraftKings offers the sport is reason enough.
But let's say you're not a huge MMA fan. You don't watch UFC bouts on a regular basis. And you can't name more than a few fighters off the top of your head. Are there still reasons to play?
In the words of Francis McDormand in the film Fargo, "Yah, you betcha!"
#1 – No "In-Game" Injuries To Worry About
Like a lot of DFS players, I love fantasy football. Having said that, football can be frustrating at times. It's totally disheartening to watch one of your star players get injured during a game. If he's on the bench, he can't earn you points. I cringe whenever my QB gets sacked by the opposing team's defensive line because there's always a chance he's not going to get up.
You don't have to worry about that in mixed martial arts. No one sits on the sidelines if they get injured. If Erick Silva suffers a broken arm or dislocated shoulder, that's it. The bout's over. If you bet on his opponent, you win.
#2 – Fewer Players To Keep Track Of
If you've been reading my articles, you know I'm a huge advocate of researching players before adding them to your lineups. The problem is, that can be a ton of work in football or basketball, where there are literally hundreds of guys hitting the field on any given game night.
That's one of the great things about fantasy MMA: there are only a couple dozen fighters to track for each night. You'll still need to do some research, of course. But you'll spend less time doing it.
#3 – DFS Fans Are Still Learning The Ropes
Mixed martial arts is still a relatively new thing in daily fantasy. Consequently, there aren't many experts giving out reliable advice. For every 20 sites that cover fantasy football, you'll be lucky to find 1 site covering the UFC.
Fantasy fans are still learning what works and what doesn't in MMA. That gives you more time to put together a winning draft strategy.
#4 – High-Octane Entertainment
Admit it. There's something very compelling about two guys locked in a cage unleashing their rage on each other. The civilized part of us may want to look away, especially when the blood starts to flow. But our lizard brain keeps our eyes pinned on the carnage.
Heck, it even roots for more.
There's no denying that mixed martial arts is highly entertaining. People of all ages and both genders are drawn to it on an almost primal level. The only thing more exciting is betting on your favorite fighters and rooting for them to win.
You now have several good reasons to start betting on MMA contests at DraftKings. Let's now take a look at some of the most common questions DFS fans have about the sport.
Frequently Asked Questions About Fantasy MMA Contests
Since fantasy UFC bouts are still pretty new to the DFS world, fans have questions. That's understandable. Below, I'll answer the most common ones I've come across.
"Where Can I Play In UFC Fantasy Contests?"
There are only a few DFS sites that currently offer mixed martial arts contests. They include DraftKings, KounterMove and MMAPlayground.
I stick to DraftKings and recommend you do the same. DK is one of the biggest and highest-profile fantasy sites in the business. The only way they can maintain that status is to offer a 100% reputable and legitimate service. There's a reason you never hear about people getting scammed by DraftKings.
"How Does Fantasy MMA Work At DraftKings?"

I covered some of the fundamentals on this page. But here's a quick recap:
Each contest involves a 5-fighter roster. Your fighters earn points for executing specific moves, such as takedowns and sweeps, as well as wins.
Regarding wins, the earlier in the bout they happen, the better. Consider: a victory by decision will earn you 25 points. A first-round win earns you 100 points.
For more details on DraftKings' MMA scoring system, be sure to read my overview here.
"Does FanDuel Offer Fantasy Mixed Martial Arts?"
Currently, no. FanDont.
That's sure to change down the road if there's enough demand for it. FanDuel is one of my favorite DFS sites because they're ultra-responsive to their customers and they are the largest site overall out there.
Rest assured, I'll give you a heads up when UFC contests become available at FanDuel. Until that time, I strongly recommend sticking to DraftKings.
"What Types Of Fantasy UFC Contests Are Available At DraftKings?"
DraftKings hosts MMA contests in every format. You can join large-field tournaments with guaranteed prize pools and thousands of competitors. Or you can focus on small cash games (head-to-heads, double-ups, etc.). You'll also find a long list of multipliers, satellites and qualifiers.
Additionally, DraftKings labels many of its UFC contests as appropriate for beginners. The entry fees are low ($1 to $27), the field sizes are small (under 50 players with a few exceptions) and the prize pools are guaranteed.
"Which Contest Formats Should I Compete In?"
I recommend trying all of them, especially if you've never played fantasy MMA. But start slow. Join a few 50/50s and tournaments to get a feel for what works and what doesn't in those two formats.
After you get a bit of experience under your belt and have created a basic strategy that works for you, test yourself by joining a few head-to-heads. Just make sure you join ones with low entry fees. The last thing you want to do is lose a huge portion of your bankroll to an experienced fantasy MMA player.
Eventually, you'll develop a taste for a particular format and want to spend most of your time in those waters. A word of caution: if you happen to fall in love with large tournaments, keep in mind they're much harder to win than cash games.
"How Do I Build A Winning Fantasy UFC Roster?"
That's a big topic unto itself. To that end, I'll give you some actionable advice below.
5 Tips For Creating A Winning Fantasy MMA Lineup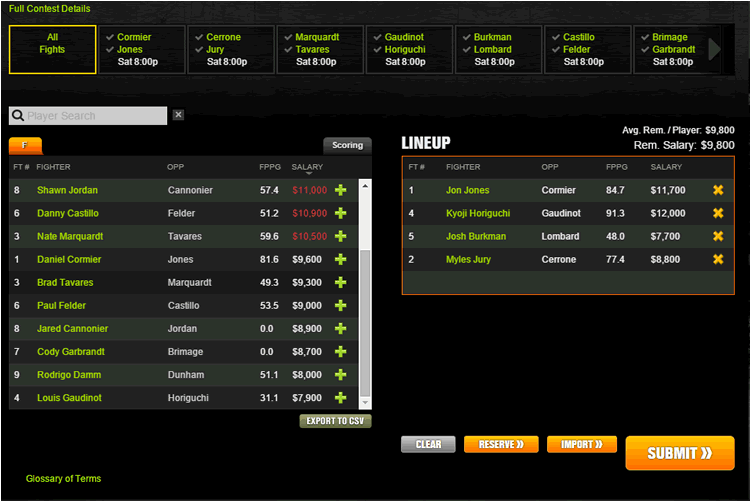 As I mentioned earlier, there aren't many mixed martial arts fantasy experts out there offering reliable advice. Most folks are still learning the ropes. That being the case, every solid tip you can dig up gives you an important advantage over your competition.
I'll get you started in the right direction. Here are 5 suggestions to help you build fantasy UFC rosters that pummel your competition.
#1 – Look For Fighters Who End Bouts Early
I mentioned above that at DraftKings, you'll earn 100 for a 1st-round win. That's huge. So look for guys who have racked up a large number of first-round finishes.
It's true that every strike, advance and takedown will earn you points. But we're only talking a couple points here and few points there. A first-round knockout trumps that by a country mile.
#2 – Pick Up A Couple "Safe Bets"
When I say "safe bets," I'm referring to fighters who consistently deliver a high number of offensive moves. They're not like Frank Mir, who regularly finishes his opponents in the first and second rounds. Instead, they're workhorses. They go the distance and rack up a respectable number of points along the way.
This suggestion might seem like it contradicts tip #1. But the reality is that fighters who log a lot of first-round wins are expensive. You probably won't be able to afford more than one. Picking 2 or 3 "safe bets" allows you to conserve your budget while filling your roster with productive assets.
#3 – Don't Confuse Round Finishes With Fantasy Points
The fighter who wins a round won't necessarily earn you the most fantasy points. That's important to keep in mind with mixed martial arts at DraftKings. Because bouts are head-to-head, it's easy to fall into the mindset of worrying about which fighters take rounds.
Here's the takeaway: the outcome of a round often has little correlation to how well your fighter performs from a fantasy perspective.
Suppose you've drafted Cain Velasquez, a skilled defensive fighter. His style may allow him to win rounds, but he doesn't deliver a ton of fantasy points. Remember, DraftKings doesn't award points for blocking or absorbing strikes.
#4 – Draft Fighters With Strong Offensive Chops
Offensive-minded fighters aren't just exciting to watch. They also amass a lot of points and often emerge as victors. Guys like Conor McGregor and Nick Diaz are formidable combatants because they're not afraid to lash out at their opponents.
Does that leave them vulnerable to attack? Sure. But more often than not, their assaults deliver a lot of fantasy points.
Take a look at DraftKings' MMA scoring system and you'll notice there's a heavy emphasis on takedowns and knockdowns. You need fighters who are willing to attack and press their assaults.
#5 – Check Vegas Odds On Upcoming Fights
It's always a good idea to check oddsmakers' predictions before you finalize your lineups. That's true for every sport and mixed martial arts is no exception.
The good news is that it's easy. All you have to do is visit Bovada on fight night to pick up the latest odds.
Final Thoughts On Competing In Fantasy MMA Contests
Mixed martial arts is becoming increasingly popular on DraftKings. Now's the time to jump in and get some practical experience under your belt.
Start with a few low-stakes 50/50s to get your feet wet. Get accustomed to the format and familiarize yourself with each fighter's stats. Then, join a few fantasy MMA tournaments with larger fields and bigger prize pools. Once you're comfortable in that format, jump into a few low-stakes head-to-heads.
This is a great time to have fun competing for cash prizes in MMA while waiting for the new fantasy NFL season to kick off!
More