DFS 101 contributor James Gagnon gives us another look at this weekends fantasy NFL plays and some of the best lineups from last weekends games.
Hurricane Matthew.
I wanted to get that out of the way since you're probably hearing a ton about it and I didn't want you to miss a chance here. Actually, this hurricane could affect us here in the DFS world. While it should be done with Florida by Sunday, it could head straight up the coast and affect some games up north (even though one new projection has it curving back around to smack Florida twice).
In DFS baseball you have to worry about weather constantly but this just doesn't happen much in football…outside of the last two weeks in Tampa, which were just weird. Games that might be affected by Hurricane Matthew:
Sunday @ 1pm Washington @ Baltimore – let's be honest, you have to worry more about the Ravens' fans than some storm named Matt. Kirk Cousins has had a tough time getting the ball downfield as it is, so this could be right up their alley with the short passing game they implement. Even with Baltimore's Justin Forsett debacle, they have plenty of options running the ball and Pitta and Steve Smith Sr both look healthy.
New York Jets @ Pittsburgh – Heinz Field's turf has had past issues with holding up in the rain, so this game could be affected whether there's a direct hit or not. Any time the Jets play, you can't be surprised with some type of ugliness and the same will hold true here. If this does turn into a "mudder," the Steelers just so happen to have two of the best running backs in the NFL right now.
Tennessee @ Miami – All will be good here as Miami spent $500 million on a roof…woops, never mind, it doesn't seem to be finished yet.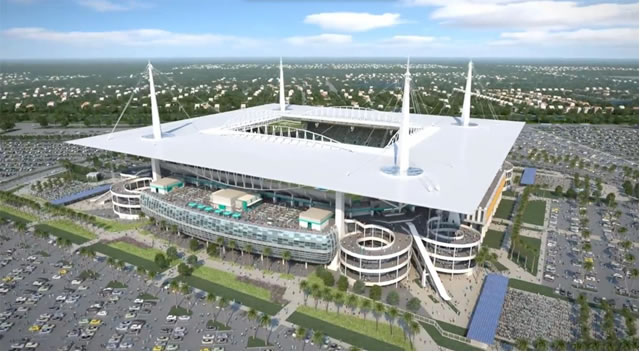 Draftkings and Fanduel Football Tourneys – Week 5
You should notice that the payout structure in these companies seems to be changing as you used to have to be around the 20% mark to cash. We're now looking at numbers in the high twenties, which can be seen as good and bad. The good is that you obviously have a better shot at winning. The bad news is that you win less from the bottom almost all the way to the top-10. It's almost like Talladega Nights now; "if you ain't first, you're last."
Winning Lineups From Week 4 at FanDuel and Draft Kings
Look at that, a QB/WR stack won everyone here money. Matt Ryan and Julio Jones combined for a total of around 80-90 points depending on the site. No matter, when you get those types of points out of two players, you only need about 50 points out of your other 7 players to win.
With a matchup against what was expected to be a tough Panthers defense, Matt Ryan was owned by less than 2% and Julio Jones less than 10%. Isiah Crowell was another player owned among three of the winning teams that was lowly owned across the board.
In FanDuel, jonnywod72 and siksidn25 both overcame the drafting of J. Howard and a third receiver with lackluster performances due to them having the top QB, RB, QR, and 2nd ranked WR this week in M. Crabtree. They also got help out of their kickers and defenses as Seattle and Buffalo were both at the top of defensive scoring in week 4.
Siksidn25 won 1st and 2nd with different lineups in the $25 tournament for $300K. His winning lineups from the $25 tournament also placed 3rd and 6th in the $5 tournament for another $30K. Not a bad Sunday at all.
The scoring was obviously higher at DraftKings because they offer a Flex position instead of the Kicker, as well as a full point per reception and yardage performance bonuses (compare scoring here). Even though chiguy123 only got 9.8 points out of his Flex player, T. Riddick, he more than made up with it in RB performances by I. Crowell and M. Jones. Not to mention having 3 of the top 4 WR's.
Steiniscool placed E. Royal in his Flex spot and scored 20+ points, but was so lowly owned, he helped win by differentiation. Steiniscool is the only one here who didn't have a top defense. J. Reed was able to make up for that loss being the highest scoring TE by approximately 7 points.
QB's week 4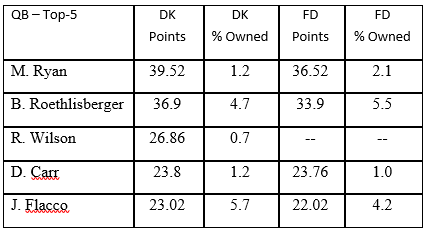 Matt Ryan continued his 2016 success with a 500 yard outing, bringing his weekly average to 29.7 points on DraftKings. This might change with a matchup in Denver this week, though the Talib news might bring discipline and could obviously help Atlanta. Regardless, Ryan is only the 6th most expensive QB this week and leads all quarterbacks by over 6 points per week.
Big Ben had a great week against a defense that was expected to be better than they are. So go ahead and remember that the Chiefs D kind of sucks. Same goes for the Jets(well, their offense isn't helping much) as Russell Wilson and two bad legs looked good. People were afraid of him as his ownership numbers were so low, I could barely find him in winning lineups, but he looks fine and they're using J. Graham to the best of his ability.
We also had a mini shootout in Baltimore between the Ravens and the Raiders. D. Carr has amazing receivers and a coach that has no problem putting the balls in his hands. Flacco, coming back from the torn ACL, is rounding into form and it isn't a coincidence that his weapons are getting healthy too.
Runningbacks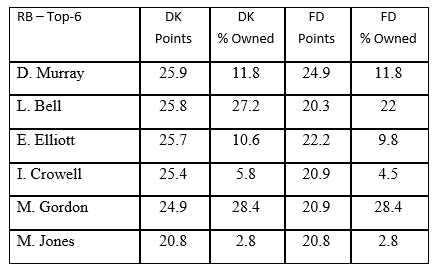 After a down year in Philadelphia, D. Murray is proving to us again that he is a good back and wasn't just a product of an amazing offensive line in Dallas.
E. Elliott is benefiting from that offensive line right now, though his talent is unquestionable. I still don't understand how he has a 6-pack for a stomach and still has that pudgy face.
I. Crowell is emerging as a respectable back who is finally getting more touches all around. Some of that has to do with injuries and issues with his offensive support, but as long as he has T. Pryor keeping defenses honest, Crowell should be a decent option. And is still a great value being priced outside of the top-20 RB's.
What I love here is the love for LeVeon with his ownership rates north of the twenties. M. Gordon was also highly owned with a great matchup, but something funny is happening with San Diego right now… I'm not sure P. Rivers likes winning.
Best WR's week 4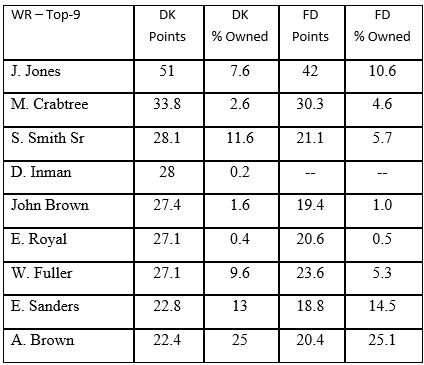 Julio Jones and Antonio Brown were the most expensive wide receivers this week and they were both worth their price. I'm just kidding, Julio outperformed his price by a long shot.
E. Sanders made the list again. With his defense and young QB, I figured Kubiak would lean more heavily on CJ Anderson, but it doesn't matter what's happening with the RB and QB situation in Denver because Sanders is the man.
Will Fuller has also become a mainstay in the top WR's and is benefiting tremendously from Lamar Miller and DeAndre Hopkins drawing coverage. D. Inman seems to have done the same as New Orleans focused on stopping T. Benjamin and M. Gordon, and he should be a good option going forward.
Some of the comments during the game concerning John Brown were that he has had a slow start to the season by design from the Cardinals because of his concussion in the pre-season. This seems true as his opportunities have definitely lacked up until, especially considering his talent, but the fact still remains that he has had some opportunity and hasn't been great. Given his somewhat high price, I would wait to see more out of him before fully trusting him.
Steve Smith is the other WR here that finally showed his potential. Smith is old. Smith is coming back from a "horrific Achilles injury." Blah blah blah, they don't have many options on that team and little Smitty still makes opposing defenders look ridiculous.
Oh, and don't worry about Eddie Royal. No way he does this again this entire year. Is there? No, there isn't.
Tight Ends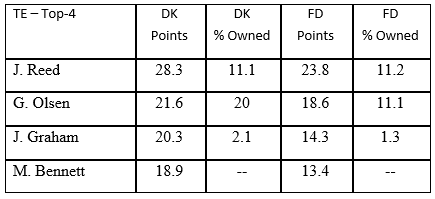 The top two scoring tight ends just so happened to be highly priced. I usually suggest finding value among tight ends, as J. Graham and M. Bennett were sort of cheap and a Hunter Henry(just off the list at number five) was among the lowest priced TE's. When they score, they're obviously worth their price.
But when you can get guys like Graham and Henry, who were both expected to be good options, for so much cheaper, you have to make sure you scroll to the bottom of the list for options.
This isn't a new idea, and anyone with a brain already knows this, but the first thing I do when filling a position is scroll through and look at the injuries(just to make sure I didn't miss any news) and then I go and look at the replacement player's price.
Not all replacement players are the same. Matchups matter.
But getting a starter, while saving thousands in salary can help.
The issue here is that DFS doesn't have many noobs any more. There is so much information out there that a cheap play like H. Henry was owned by over 10%, which is high for a TE not named Gronkowski. I, personally, like to differentiate with players in "skill" positions who have a much higher chance at hitting homeruns. TE is a safe punt position for me.
Defense


I shouldn't have to tell you much about these three defenses. All of them are good in real life, yet looking at the ownership of L.A. and Buff, regardless of matchup(because they were very cheap options), I guess I do have to tell you about 2 of these defenses. So there, I just told you. While I'm at it, Minnesota's defense would've been on this list with their performance against the Giants Monday Night. Don't forget about them either.
I just so happen to live along the East Coast of Florida so I'm going to go start sandbagging my house and hope I don't lose power this weekend. If I do, don't be surprised if you hear a knock on the door from some dude who hates high-priced tight ends.
To those of you also in the hurricane zone, be safe.
Jump in the game this week! Try a smaller site like
FantasyDraft (my review)
and take advantage of a very nice deposit bonus. Good luck out there!