I like FanDuel and this is a sweet promo.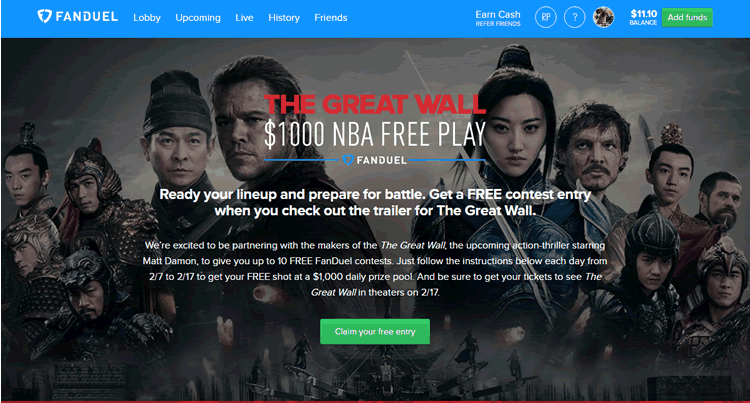 Awesome free-rolls. I played in the one yesterday and here were around 1400 players. I cashed (yeah c'mon).
These freerolls are available at
Fanduel here
and
Draftkings here
for the next few days. Just click those links, watch the video and then get in the freeroll.
I don't even play fantasy NBA but I'm taking part in these.
Here is how to get a totally free seat into the Fanduel $1000 NBA free roll.
Free Seat? Watch A Video
Ok, free but includes watching trailer for the new movie The Great Wall. Decent looking movie too.
At the end of the video there is an in-video link to click (note to self, make sure we utilize this for video marketing in future).
Then, after clicking I landed where I draft my team here:


Since I know absolutely nothing about NBA I went to Fantasy5x5.
I'm just going to go with the optimized lineup that was created over at Fantasy5x5.com (See my Fanduel NBA Lineup Optimizer tool review here). I literally took 20 seconds creating my team yesterday and it min-cashed. If I knew what I was doing with NBA I think I could really grow to like this site.
Here is the out of the box optimized lineup from Fantasy5x5 for tonights (2/8) Fanduel roster. It min-cashed for me yesterday!
Good luck out there, I hope to see you on the leaderboards!
What To Do Now?