Updated For the 2015 Masters – $1 Million Guaranteed 1st Place

New for 2015! Join me in the
Masters Millionaire Maker
with a $20 buy-in and a $1 Million 1st place prize! It's legal and legit. Join me (Spry13) and take a shot at a million bucks!
Be sure and Draft your team by April 8th as rosters lock early on April 9th!
The following article was first published for last years Masters promotion.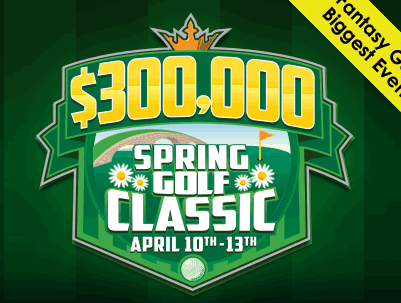 With the masters a little more than one month away, Draft Kings has just rolled out the big contest for the most prestigious golf tournament of the year, The Masters. Being a native of Georgia and a huge fan of this golf even every year, I am going to try and qualify for this tournament and see if I can add that next level of excitement this year.
DraftKings has called this the $300k Spring Golf Classic.
April 10-13th
$300k total prize pool
$200 direct buy-in
Qualifiers begin at $0.25
1680 total entries
1st place wins $100k
Congrats baloo3101 for taking 1st overall and the $100k.
Here
are the results.
Masters Fantasy Golf Contest For Real Money
Golf fans and casual golf fans who enjoy a bit of a gamble will want to get into this tournament $300k guaranteed on a $200 buy in event for one week fantasy golf is impressive. As mentioned in my top 5 secrets the daily fantasy experts don't want you to know, this is a promo you will want to be a part of.
I will not get into the full details of how it is totally legal in most states, you can click the link on the sidebar for more on that if you are interested but this is a way to really get into watching this years masters.
Qualifiers are going on now. Here is what it looks like.
So you can qualify cheaply. The $5 and $12 entry points look pretty good to me.
Are you planning on playing?
How The Contest Works
You draft 6 golfers under a $50k salary cap. If those golfers score the most fantasy points as set by DraftKings in the real money fantasy golf games then you win.
Enter or qualify for $200 into the contest
Pick 6 golfers With a $50k Salary Cap
The top tier golfers are over $10k salary. The inexpensive golfers are $4.8k or so
Your 6 golfers score fantasy points playing in the Masters
You earn fantasy points by the players getting pars, birdies, eagles, going on streaks (3 birdies in a row is bonus points) and finishing highly in the tournament. See fantasy golf details page for a full layout and check the rules directly on DraftKings site. I've also put together 6 quick tips to winning fantasy golf contests at DraftKings.
Cheer on your golfers and watch how you do live on DraftKings.com during the 2014 Masters
Good luck duffers!