Daily Fantasy Sport – NFL Week Sixteen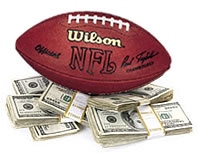 The playoff picture finally has some solidity about it, especially in the AFC where we now know that the Patriots, the Colts and the Broncos are all divisional winners, although it is still far from certain which of these three will play the wild card weekend. In the NFC, the Cowboys took a massive step to the Eastern title, with a win in Philadelphia at the weekend. Here are my picks for the penultimate weekend of the season.
Even if your regular season fantasy season is over,
FanDuel
and
DraftKings
still have huge games every weekend. Join me this weekend for as little as $0.25 in the quarter arcade at DraftKings!
Quarterbacks
Drew Brees – New Orleans Saints $8,300
At 6-8 you'd expect the Saints to be out of the playoff reckoning, but instead they lead the NFC South. Brees was excellent against the Bears on Monday night, with 3 touchdowns and 375 yards and his best two games of the year have come in his last three games. This week sees Brees face a great match up in the Falcons, who have given up more yards to the pass than any other team in the NFL. All of this points to the $8,300 salary of Brees looking great value.
Tom Brady – New England Patriots $8,000
After their division clinching win against the Dolphins at the weekend, the Patriots will be full of confidence and will surely be too good for the 3-11 Jets. The Jets are 20th against the pass and Brady had a very solid game against the Jets earlier in the year with 3 TD's, no interceptions and 261 yards. Brady is the fifth most expensive quarterback on DraftKings, but I would be surprised if he isn't higher than 5th in performance this week.
Running Backs
Eddie Lacy – Green Bay Packers $7,300
The Packers face the Titans this weekend, a team ranked 32nd against the rush. Lacy however is something of a dual threat, as he carries for 67 yards per game and catches for 28 yards per game – with 12 touchdowns combined. Lacy rushed for 97 yards and a touchdown last week and another performance like that would be good – I expect better however.
C J Anderson – Denver Broncos $6,900
CJ Anderson is the workhorse running back for the Denver Broncos right now, with 82 carries in the last three games, averaging over 100 yards per game in those outings. Those kind of figures would normally warrant a higher salary than $6,900 – especially if you add into the mix that they face the Bengals, a team ranked 24th against the rush.
Tre Mason – St Louis Rams $4,600
Mason hasn't exactly set the world alight this year so far this season, bit is somewhat solid with 66 yards per game – but when playing in St Louis he is 10 yards better per game. However, this pick is more about the defense than Mason himself, with the Rams facing the Giants, who are 30th against the rush. At $4,600, Mason is an ideal pick if you're running short of salary – you may gain a couple of points receiving as well.
Wide Receivers
Marques Colston – New Orleans Saints $4,600
This is my first quarterback/wide receiver match up this week. At $4,600 Colston is $1,100 cheaper than Kenny Stills – and I feel this is too much of a difference. With just one less catch this season and ten less yards, Colston has 4 touchdowns to Stills' 3, and has been targeted 14 more times this season. For me, the Brees/Colston combination is the way to go for the Saints with a combined salary of $12,900.
Julian Edelman – New England Patriots $6,500
I've decided to also team up Tom Brady and Julian Edelman this week. Edelman had a good game last week with 7 receptions for 88 yards and a touchdown and caught for 141 yards the week before. All this points to this combination being one on form right now, and the match-up is great this week. The Brady/Edelman combination has a combined salary of $14,500.
Calvin Johnson – Detroit Lions $8,700
Calvin Johnson is averaging 85 yards per games this season and has six touchdowns. This week the Lions face the out of sorts Chicago Bears who have lost the last three games, a team ranked 23rd against the pass – just three weeks ago Johnson caught for 146 yards and two touchdowns in the first match-up against the Bears. There is no doubt that Johnson and the Lions will be fully focused this week for this vital encounter.
Tight End
Rob Gronkowski – New England Patriots $7,000
Gronkowski is my third New England pick this week. Gronkowski made full use of his 3 receptions last weekend with a touchdown and 96 yards. This tight end is the man in the red zone, and the Patriots will surely spend plenty of time there this weekend – with 11 touchdowns already this season, it would be very surprising if Gronkowski doesn't score at least a solid amount of points this week.
Defense/Special Team
Buffalo Bills $3,500
The Bills have won 3 of their last 4 which has pushed them into playoff contention with just a couple of games remaining. Needing a win this week, the Bills couldn't have it easier than a match-up against the Raiders, a team who went back into 'normal' mode last week, after a surprise win over the 49'ers two weeks ago. Only 4 teams in the league have given up less points than the Bills, so I'd be surprised if the Raiders trouble them much.
Keep On Reading