The more I play in the weekly fantasy golf tournaments at DraftKings the more I like them. If you have been reading the articles on DFS101 for a while then you may already know but last week was my first ever fantasy golf tournament. I entered $7 or so worth of tournaments and won about $50.
I promptly spent all of that, and more on entries for this past weekend at the Cadillac Championship at Doral. I put together two line-up's. Here they are:
I built the one on the right first. Of course I managed to enter the team that scored less into more contests and bigger contests. Had I reversed the entries I would have won considerably more money.
Speaking of money, here is how it went:
A total profit of $352.50. I'll take it!
However, I really want to qualify for the $300k GTD fantasy contest for the Masters this year.
Let's take a look at how close I came to winning a seat.
The top 2 finishers got a seat. So close, yet so far. To give you an idea of how close this was, if just 1 of my golfers would have hit a birdie instead of par it would have been a 2.5 point swing for me for the win and the $200 seat. It was close. Real close.
Here is How Fantasy Golf Plays Out
Contests Lock Thursday Mornings (before 1st tee time – I recommend drafting Wednesday evenings)
You draft 6 golfers under a salary cap
Players earn points for each hole
Contests last 4 days / 4 rounds
Players earn points for tournament finish
About 3-4 hours after the golf tournament ends payouts are made
Having a team in competition for the big money in daily fantasy golf is extremely fun. Maybe because it is in the moment, but I am enjoying DFG as much if not more than daily fantasy football. No joke, it is extremely fun. Especially at DraftKings where you can earn a lot of points and have your team run up and down the standings and leaderboards.
Qualifying For The Masters Fantasy Golf Tournament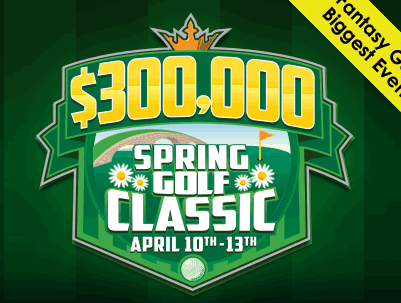 This is the contest I want to qualify for. It is a $200 direct buy-in and a $100k 1st place prize.
Pretty awesome, to say the least. I am going to continue to play satellites up until the week of the masters. By then I hope to have earned myself a seat. I suppose that I could use my winnings from this week to buy myself a seat, but I plan on playing fantasy PGA every weekend this season!
Related