I've been waiting for this for a long time. PGA contests are coming to FanDuel "this winter". They are kicking off the launch of the new product with a contest called the "FanDuel Golf Tee Off Classic".
In the Fanduel Golf Tee Off Classic you can win a trip for 3 to play a round of golf with Jerome Bettis. The BUS.
Pretty cool prize. You, two of your closest golf buddies and Jerome Bettis playing a round of golf.
Once football season is over, I usually lose money playing fantasy golf. I'm glad to see this come to FanDuel as they are planning / trying to merge with DraftKings. You can read the press release here from FD themselves.
FanDuel Golf Tee Off Classic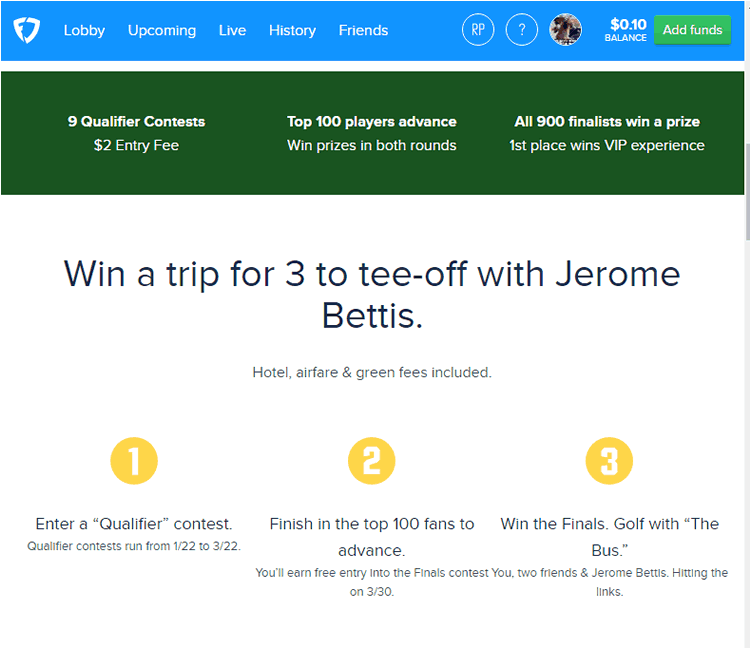 To kick things off, FD is hosting a three part contest where you can win a trip to play a round of golf with the legendary Jerome Bettis. Qualifiers start out at $2. I'm going to give this a try as I haven't played much at FanDuel. However I am about through with DraftKings.
Join me in the qualifiers starting on the 22nd of this month! Sign up to FanDuel here. Create an account and make a deposit. Fantasy golf almost always kicks off EARLY Thursday mornings and run through Sunday, covering four rounds of play.
Keep On Reading