James Gagnon continues with our weekly recaps and previews of the upcoming week of DFS.
FanDuel and Draftkings NFL Week 4 Big GPP Tourneys
The tournaments are growing after the expected week1 drop-off, which is good for us. Well depending on how you look at things, and if you're looking these words that I write, then you probably think it's a good thing.
Is it though…is it?
Because even a guy like me who gets paid to analyze the data and write this little article doesn't always win. But let's just say it's a good thing; obviously, the bigger the tournament, the bigger the top payout.
What I really like is the fact that DraftKings and FanDuel have been out of the news for the most part this year compared to last year when we all feared the local governments shutting down our states and our ability to spend our money.
Pay atention to the trends; especially the max entrants and prize pools.
Last Week (NFL week 3) Winning Lineups
As you can see, papagates won the $3 DraftKings tournament for a payout of $25K, but he entered that same lineup in the $20 tournament to take home a share of $1.2 million because he tied with cmo_22wesley(who had a completely different lineup and still somehow tied, which is a hard thing to do.)
Papagates entered 120 lineups into each tournament so I would consider him a shark. Cmo_22wesley had 9 entries, but that's still not really shark level. Papa having to split with Cmo, I'm sure, was a huge pain in his ass. But who cares, I'm not a fan of sharks…I don't write this article for sharks and they don't read this article anyway, as they're way smarter than me.
But they're not giving away their secrets, and the stuff they sell is still not all their tricks. So I reiterate, have fun and spend what you can and temper your expectations… and if you feel like it, go buy some of the sharks stuff, some of it's actually pretty good.
As for the players involved here, I say it over and over again, you have to hit on D to win and getting 35 points from Kansas City helped a lot of mediocre teams cash. It definitely helped these teams separate themselves from the tier 2 pack to put them at the top of the payouts.
While there aren't any players owned across the board, it's a mix of the same players owned on all teams.
Landry continues to get tons of looks and is extremely talented. Pryor is coming into his own and showing off some of that talent he wasted at the end of his college career.
T.Y. was owned on 3 of the winning teams and I'm sure the owners were jumping off the couches when he broke tackles for that last minute winning touchdown catch and run.
You see 4 different tight ends across four different lineups because there are so many guys with potential now. As you see, none of them paid for the top guys.
Lastly, every single lineup here had a QB/WR stack. You can win without one, it's just easier to win with them…as long as they're the right one.
A quarterback can't have a big day without help from his receivers(I shouldn't even have had to type that), so when you choose a quarterback, you should always have trust that one of his receivers will play well. If you choose a quarterback and hate all of his receivers, then move on and find a different QB.
QB's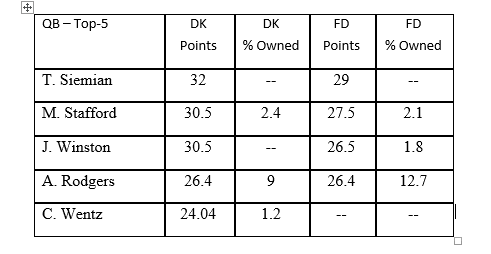 I don't have the percentages Siemian was owned in either league because I went through tons of info and lineups and I couldn't find him anywhere. He was so lowly owned that I couldn't find him. With the offensive talent around him, I'm not sure this should be a normal thing. His defense will keep him out of shootouts but he has one of the best WR Duo's in all of football and if you watch him for one quarter, you can see that he can play.
Kubiak will keep loosening the reigns and the 2nd year QB will be a monster down the stretch…get him now while he's cheap.
Stafford and Rodgers are usually too expensive for me, except when their matchups are a near lock. And when they play each other, there's usually plenty of points to go around.
Jameis' defense is piss-poor and he might be this year's Bortles with all the extra garbage comeback points. He's actually a better QB than Bortles, so he's a guy to pay attention to all the time and not just when the matchup is right.
Now, there's Wentz. The dude looks good. The Eagles look great All of a sudden Eagles fans are talking about how good their team can be instead of how bad they suck. I, personally, think Eagles fans are out of place when they're not miserable.
No one goes to the zoo to see short giraffes or fat lions, you go to the zoo to see them boo and throw stuff at their own team.
That analogy took a turn. Back to Wentz; he's good but his receivers are suspect and the game plan is to spread the ball around. You have a better chance to win when you can combine a QB with one of his receivers and Ertz might be your best combo, which isn't saying much. His defense will keep him out of come from behind situations. And Carson will come back to earth and eventually have some stupid turnovers.
RB's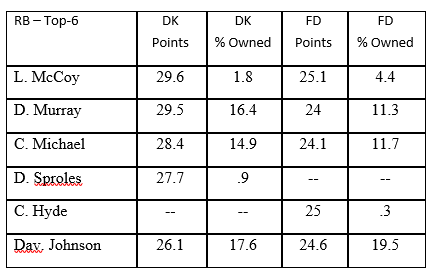 Running backs are the toughest to predict, especially with the amount they can cost you.
Top RB's can be a key to an opposing team's game plan, as we're seeing with Gurley. His talent would normally break through, but he's defeated and it shows on the field and he has yet to crack a top spot.
I like to get guys who can catch the ball well, but there are so many specialists these days, a guy who is good at receiving will still get passed up by a far inferior RB just because they're a little faster and can catch a little better.
If you look at the tournament winners' teams, you see 1 "stud," or high-priced back, mixed with a cheap, fill-in guy. Someone who's there due to injury or specializes and gets on the field due to his specialist nature. If a cheap guy hits to a small extent and the money you saved is spent well elsewhere, that's the key to winning. Another "duh statement," but you really have to look at your cost/point projection comparison when determining who to pick. Combo 1 of RB-4700 and WR-7300 or Combo 2 of RB-5800 and WR-6200.
WR's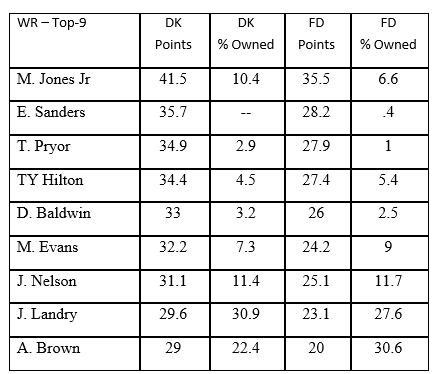 Marvin Jones Jr. earned a lot of people money this week and even made some in Detroit forget about Megatron for a bit. Until he un-retires and plays for the Patriots and then they'll all remember him and hate him.
Anyway, Jones looked great, but that was against a beat up Packers secondary that had Stefon Diggs go off on them the week before.
The Pack are on BYE this week, but keep an eye on whomever is facing them until they get their starters back AND prove they can stop the pass.
While I'm on the Packers, Jordy Nelson is coming along and looking healthier and healthier each game. Rodgers is throwing the ball to spots Jordy normally would catch, but they're still a little out of sync. If they get back on the same page, Jordy and Cobb will be great plays and D. Adams will be a nice cheap filler play.
Evans, Hilton, Pryor, Landry and all young talented studs who will be getting a lot of targets so pay attention to them all year long.
TE's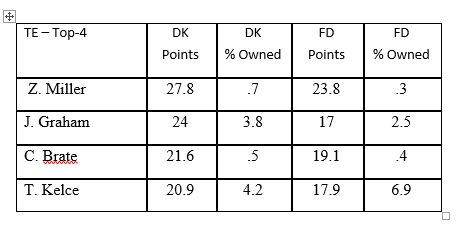 Who the hell is Brate?!?!
Oh yeah, another guy on that Bucs team whose defense can't stop anyone.
You know how I feel about that…and Jameis…and now that Sefarian-Jenkins is gone, Brate will be a great value.
Z. Miller is the only route runner in Chicago worth a damn, according to Chris Collinsworth's commentary.
Seattle's looking for anything to get them going and that includes Jimmy Graham. He looked pumped and as long as they look his way in that offense, we know how talented he is.
Another TE to keep an eye on is the Henry kid in San Diego. That offense is a juggernaut and the kid has tons of heart and ability. After his mistake in the Colts game, I expect him to have a huge game against the Saints Sunday afternoon.
DEFENSE


Refer to the beginning of the article, and almost everything I've ever written for my feelings on defenses.
More Great Reads