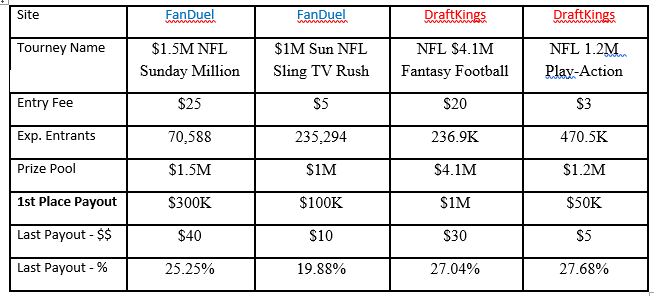 The tournaments seem to be leveling out in Pool Size, Entrants, Payouts, and Payout Percentages so let's get into how to should spend your money on these tourneys.
First things first, the smart way to spend your money is to spread it across different types of tournaments. If you play GPP's, you should try to supplement your 70-80 percent chance of loss by playing Cash Games, where your chance to win can increase by up to 30 percent.
You should do this especially if you're one of those people who always find yourself just barely cashing or just outside of the cash. I know how frustrating it is to look at lineups that needed only a few points to cash or hit the next tier of payouts in a GPP.
With that being said, lineup building should be done very differently in Cash and GPP tournaments, but if you have already done your research, then adapting your strategy accordingly shouldn't be difficult. Jason Spry goes more deeply into how to differentiate your strategy between tournament types here.
Another decision to make is if 5 – $20 entries are better than 33 – $3 entries. Simply put, if you enter DraftKing's $20 Fantasy Football Millions 5 times, your probability of winning the 4th place prize of $50,000 is 0.0034%. 20 entries in DraftKing's $3 Play-Action tournament give you a 0.007% probability of winning the $50,000 grand prize.
You don't have to be a math whiz to realize that your chances at winning the $50K more than double by playing more entries in the cheaper tournament.
The two issues that this math doesn't account for is that you have absolutely no chance at winning one million dollars if you only play the $3 tournament. The other issue is that with five-hundred thousand players as opposed to two-hundred and forty thousand entrants, the average score to win is higher than the fourth-place finish needed to match in the more expensive tournament. This doesn't change the probability of winning, however.
Last Weeks Fanduel and DraftKings Tourney Winners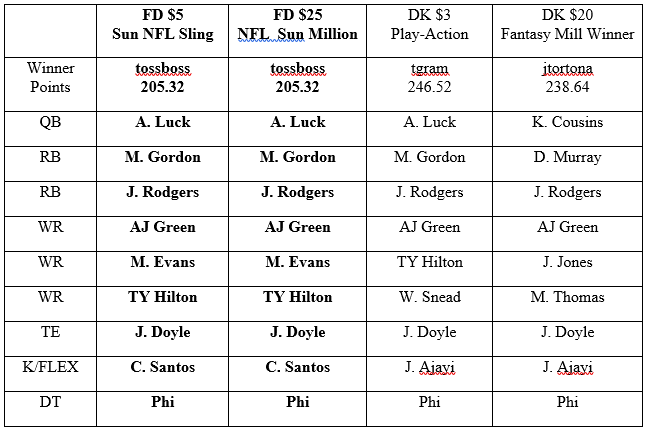 For fun, jtortona's lineup would've finished 3rd in the Play-Action tournament for $15,000.
So if you took my last paragraph to heart and only played $3 entries instead of $20 entries, I would've cost you $985,000…pre-tax of course.
So I'd like to add on that I also like to still play in the more expensive tournaments, just to a lesser extent. I usually play all my $3 entries first and take the lineups I like best and use them in the $20 tournaments. I also play a couple of my longshots. The other thing I suggest in the $3 tournament is to play the same lineup multiple times.
Tossboss did one of these things as he obviously won both FanDuel tournaments by entering the same lineup in each.
A player that was key in a lot of lineups this week was C. Santos. I'm just kidding, I don't care about Kickers.
There were four "real" players here used across the board; J. Rodgers, AJ Green, J. Doyle, and Phi Defense. AJ Green was a duh play, especially with a great matchup against Cleveland.
J. Rodgers got his second start in a row for Tampa and they're running the wheels off him with 24 and 30 attempt efforts. With D. Martin still in question and Tampa playing Oakland next, J. Rodgers should still be a nice play. He's no longer a cheap play as his price has rose from 3,000 to 5,800…and with Martin possibly in the fold this week, he won't be worth the price of the 11th most expensive RB.
J. Doyle had a nice week with 10 balls thrown his way, but his average in the 6 weeks was prior equaled less than 4 targets per game. At a price of 3,500, he's still worth the chance that he's gaining the trust of Luck and the Colts as a legitimate option in their offense.
As for Philadelphia, their the highest scoring defense among the sites. While their 24 point output this week increased their average a full two points, they were still averaging 11.6 points per week, and now have double digit totals in 5 of 6 weeks. They're the fourth most expensive defense this week with a primetime Sunday night matchup against the Dallas Cowboys; I'm not confident they'll keep it up.
QB Ownership Percentages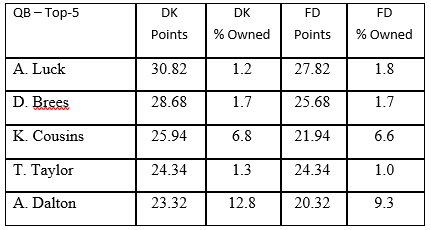 Look at these ownership percentages, LOOK AT THEM!
Sorry, I didn't mean to get all Mommy Dearest on you but A. Luck and D. Brees were owned less than 2% in each conference.
I understand that their matchups may have been perceived as tough, but these are two of the best Quarterbacks in the league. Also, their matchups weren't that tough. Tennessee has proven tough to run, or is that just because they've become easy to pass on? That question will be answered this week as they take on Blake Bortles and the completely inept Jaguars offense this Thursday. As for the Chiefs, outside of one game against the Jets, they've given up 271 yards passing per game and 24 points per game.
Now, Colin Kaepernick was matched up against the Buccanneers who actually have better numbers than Kansas City, and Kap was owned by 4.6% of entrants. What I'm getting at here is, take these matchups with a grain of salt.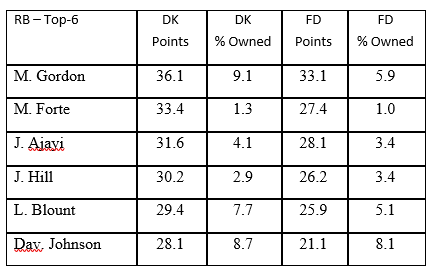 It looks as though Jay Ajayi has arrived and is the clear cut starter in Miami. But we'll have to wait another week to see the ex Boise State Bronco run again as the Dolphins are on BYE NFL Week 8.
Blount, Forte, and Hill are all matchup plays who get snaps vultured by specialists, but they're all extremely talented backs. Forte tends to be the most expensive as he does play in all facets of the game. You'll need to pay attention to the Patriots' expected game plan…and Dion Lewis' health, before rostering Blount. And Hill is also on BYE this week.
Two running backs on this list who are matchup proof are David Johnson and Melvin Gordon. David Johnson gets the respect of the sites and is usually sits atop the most expensive backs list. Gordon, on the other hand, is the 12th priced RB this week, 2,000 less than Johnson. Gordon has scored the third most points out of running backs playing this week, has 2 more touchdowns than D. Johnson, and is matched up against a Denver defense that gives up almost 120 rushing yards per game.
This isn't to say Johnson isn't worth top billing. Carolina's rushing against numbers are great, but that's because they can't stop anyone through the air and they give up a ton of points. With Arizona's lack of a TE and injuries at WR, Johnson could be a great play in DraftKing's with their full point per reception.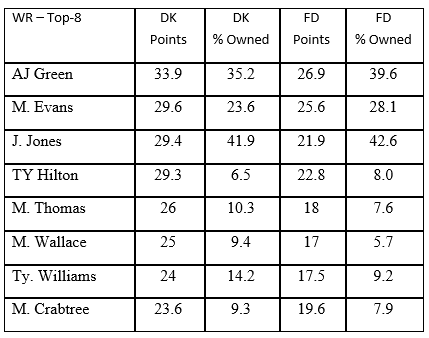 It was a nice week to be able to roster high-priced receivers.
If you look at the four winning lineups above, you'll notice 10 of the top 12 receivers owned were on the expensive side. AJ Green is a play regardless of who he's going against, but when it's the Browns, you should find a way to get him. Julio was set to be in a shootout with San Diego and may not have performed up to his ownership levels, but he didn't let down either. There was some trepidation around TY(unwarranted I thought) but he went out and continued playing well as he only has 2 single-digit scoring games in his seven played. AJ Green is on BYE this week, but the other three have great matchups…and high salaries to go along with the great matchups.
Luckily, values can always be found at Wide Receiver. Guys like Wallace, Thomas, and Ty Williams will always be there. Wallace is having a renaissance of sorts, which is surprising to me since he doesn't have much help in another receiver to draw away coverage. He also doesn't have a running game. What he does have is wheels and a QB who can throw bombs.
The other Mike on this list, Thomas, came into the league with high hopes and is living up them. And he's still getting better. New Orleans hasn't been able to stop anyone on defense for almost a decade, so their offense can't ever let off the gas. His main issue is that he plays with two other very good-to-excellent receivers. Tyrell Williams looks to have stepped into the main role that San Diego has been hoping someone would take over, unfortunately he has to play the Broncos and their ridiculous secondary.
Someone to keep an eye on this week will be Davante Adams. He's priced as the 4th most expensive Packers' receiver and the 29th overall with a salary of 4,900. Julio Jones tops the list at 9,600. I'm not comparing the two, I'm just reiterating that there is value if you make sure and do your research and scroll down the list. In what should be another Falcons shootout, rostering Adams might help you afford Julio. But expect to be in the company of a lot of other DFS players.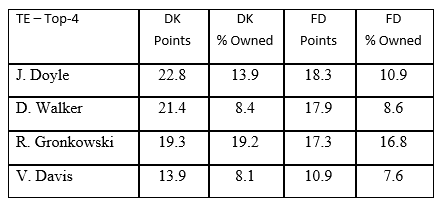 Alright, this will be my last time advising against Gronkowski…maybe. I stated in an earlier article that if I look to stack a quarterback and receiver and I have a tough time finding receivers to stack with that QB, that I'll usually stay away. Brady/Gronk is obviously not hard to do. But it's very expensive. Also, where are the other receivers for Brady? Edelman's not playing up to his normal numbers this year. Hogan's been OK. Bennett was injured. And they still don't have a back proficient at catching the ball. Of course you can own Gronk without owning Brady, but he's the focal point of every defense they play for right now.
Doyle is becoming more of a part of the Colts' offense and his price point is right. Hunter Henry is another guy who was starting to emerge, but when the rubber met the road against the Falcons this past week, Antonio Gates was the one who was more heavily involved in the attempted comeback. Vernon Davis still has some left in the tank and is an option as long as J. Reed is on the bench.
Delanie Walker is a player of immense talent, but remains over 3,000 cheaper in salary than Gronk due to a few factors. One is health. Another is the game plan Tennessee implements as a run first, run second, run again type team. Last, he doesn't have much help to take away attention in obvious passing situations.

Philadelphia has a great defense but they haven't been getting much publicity. Minnesota has been the talk of the town. Philadelphia showed they belong in the conversation as one of the best defenses in the league. Even if it was against the Vikings offense.
Baltimore has had tough matchups this year(Giants, Raiders, Redskins) yet they're still the 8th ranked defense in daily fantasy points scored per game. They've scored double digit points in 3 of 7 games and have never cost more than 3,000. They're someone to keep an eye when looking to save money at Defense.
And here I am ending this article on the Seahawks, a boring article that was still more entertaining than that travesty in Arizona. That's it, I'm finished, I refuse to comment any more on a tie.