There are two categories of contests for one-week fantasy football (and all daily fantasy sports for that matter):
cash games and guaranteed prize pool, or GPP, tournaments
. It's important to know which type you're playing because they warrant applying different draft strategies.
A lineup that crushes your competition in a cash game can land you at the bottom of the field in a GPP, and vice versa. One of the worst mistakes you can make in DFS is entering the same roster in both contest categories.
In fact, doing so is a surefire recipe for losing.
Here's the good news: once you understand the differences between cash games vs. GPPs, and learn how to create lineups that cater to the nuances of both, your odds of winning increase dramatically.
Below, we'll define both categories of contests. We'll then cover the most important tips for drafting fantasy football lineups in each of them.
Let's start with cash games.
What Types Of Contests Are Considered "Cash Games"?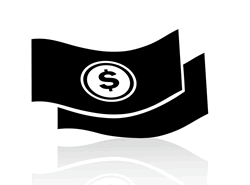 The easiest way to distinguish cash games is to think of them as being anything other than a large tournament. That's an overly-simplistic definition, but it'll suffice for our purposes.
The most common types are 50/50s and head-to-heads. A 50/50 is a contest that pays out to the top 50% of the field. There can be anywhere from a few participants to several thousand. A head-to-head, or H2H, is a contest whereby you compete against one other team owner. The winner takes all (less the DFS site's rake, of course).
Other types of cash games include double-ups and multipliers.
Double-ups work the same as 50/50s. The main difference is that slightly less than 50% of the field cashes. But those who cash receive double their money since no rake is taken by the DFS site.
This type of contest is so similar to a 50/50 that the two terms are often used interchangeably.
Multipliers give you a chance to win a multiple of your entry fee. For example, let's say you "buy in" with $10. If you win, a 3X multiplier would pay out $30. A 10X multiplier would pay out $100. Compared to a 50/50 or double-up, you have less chance of winning since the field percentage that gets paid is comparatively smaller (ranging between 8% and 30%).
My advice to new cash game players is that if you plan to play $20 per week worth of cash game plays then you would be better served playing 20 different H2H matches (running the same lineup in all of them) than playing in one $20 50/50.
Why?

Because in a large 50/50 half your 'mediocre' lineup is either going to cash or not. In 20 different H2H competitions you same lineup will beat some of the competition even if you don't beat them all.
Cash game fantasy football is a great way to build a bankroll and slowly increase your DFS bankroll.
Now, let's take a look at GPPs.
Guaranteed Prize Pool Tournaments Defined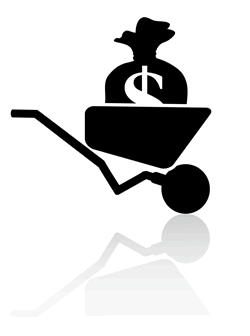 There are three defining traits of a GPP. The first two are the size of the field (i.e. the number of entrants) and the size of the prize pool.
Some of these tournaments draw a quarter of a million entrants and pay out more than $1 million to the top winner. Most GPPs pay out less, with some paying as "little" as a few thousand dollars to first place.
There is a "Quarter Arcade" contest every week at Draftkings that literally costs a quarter to play. Of course you can also join in the weekly NFL freeroll (usually available) even if you don't have any money on your account already.
The third defining trait is that the prize pool is guaranteed.
For example, DraftKings is currently hosting a Beginner NFL $120K Play-Action GPP. The site guarantees it'll pay out $120,000 to the field even if the number of entrants fails to reach the maximum number allowed to play. The same goes for its NFL $4.44M Fantasy Football Millionaire GPP. DraftKings is guaranteed to shell out over $4 million, even if it fails to draw in the maximum number of entrants.
Now that you know the differences between fantasy football cash games vs. GPP tournaments, let's talk about how to create productive lineups, starting with the former.
Cash Game Strategy: 7 Keys To A Building Your Fantasy NFL Cash Lineup
What follows isn't meant to be a comprehensive guide to cashing in fantasy NFL 50/50s, H2Hs, double-up, and multipliers. Rather, these are the seven most important tips for putting together lineups that'll improve your odds of winning.
Remember, nothing is guaranteed. That said, these tips will give you an edge over one-week fantasy football players who ignore them. And believe me, there are plenty of players who do exactly that week after week.
#1 – Slot A Stud Quarterback
You need a stud QB in your roster.
You want someone you can count on to produce. This isn't the time to get clever, drafting a sleeper who might bust. Your QB is your insurance policy in cash games. Be ready to spend for someone who's expected to post a large volume of points.
#2 – Look For High Floors
Winning 50/50s and double-ups is all about playing conservative. Remember, half (or nearly half) of the field gets paid. While high ceilings and plenty of upside are sexy, they're not as important as high floors. You can find projections from tons of different sources.
A high floor signals reliable production. That's valuable when you're grinding it out in cash games.
#3 – "Good" Is Good Enough
Suppose you're competing in a 50/50 with 100 entrants. You don't need to land in first place. You can place 50th and get paid the same amount as the first-place winner. So don't spend hours trying to put together the perfect lineup.
It's unnecessary. Moreover, it'll suck up valuable time, which will prevent you from creating multiple rosters.
Good is good enough.
#4 – Vary Your Fantasy Football Lineups
There's no single perfect lineup. There are only lineups that give you a solid chance of landing in the top half of the field.
So if you plan to enter multiple 50/50s, double-ups, and other cash games, don't use the same roster. Use variations. Hedge your bets by slotting different QBs, receivers, and backs.
Remember, there's more than one stud QB playing each week. There are also numerous reliable receivers and backs playing each week. Switch it up.
#5 – Draft Consistent Receivers
Fortunately, there's a lot of consistency at wide receiver. Week-to-week production is fairly predictable.
The trick is to focus on guys who are usually targets for their respective QBs. A receiver who gets a lot of touches is highly likely to convert those opportunities into fantasy points.
In my opinion, you want to draft at least one stud at this position. Fill the other two slots – both DraftKings and FanDuel require you to draft three receivers – with value plays who offer high floors.
#6 – Follow The Crowd – Chalky Plays Are Good In Cash Games
If everyone drafts Matt Ryan, do the same. If most of the field slots DeMarco Murray, put him in YOUR lineup. If you notice a high percentage of entrants picking Julio Jones, it's a good idea to follow their lead.
This isn't the time to be a contrarian. Follow the crowd when picking star players. That way, your roster won't fall behind when those stars produce.
#7 – Watch Out For Sharks
Fantasy football head-to-heads are a lot of fun. It's you against another team owner. But be wary about who you're squaring off against. There are a lot of very experienced DFS players who wait around for newbies to enter H2Hs. For them, it's easy money.
Both DraftKings and FanDuel have made it easier to identify experienced players. Look for badges that indicate successful track records. If you're new to cash games, the last thing you want to do is compete against someone who has entered thousands of contests and won thousands of dollars in payouts.
Let's shift gears and talk about weekly fantasy football GPP strategy.
GPP Tournament Strategy: 7 Factors To Keep In Mind
In order to have any chance of winning an NFL GPP tournament, you need to take an entirely different approach to lineup construction than the one we just discussed. GPPs are all about high ceilings, high upside, high variance, and taking risks.
Following are the top seven things to think about when creating rosters for large-field fantasy NFL tournaments.
#1 – Think "Boom Or Bust"
You need to roll the dice. Because the payout structure of a GPP is so top heavy, you have to take risks to finish high enough that you'll get paid.
To that end, you want players who are going to turn in the best performances of their season, or totally bust. You're not looking for anything in between. A mediocre performance is the same as a terrible performance in a GPP: it's a losing proposition.
#2 – Note The Payout Structure
Familiarize yourself with how the field gets paid in a GPP. As many as 30% of the entrants might receive a payout. But don't get too excited. The payouts are tiny at the bottom half of that structure. You need to land in the top 20% (sometimes the top 15%) just to win twice your entry fee. In some GPPs, as little as 10% of the field gets paid anything at all.
What if you want to hit a significant payday (say 10X your entry fee)? You need to land in the top 0.3%.
Make sure you know where you need to land in order to cash. Forewarned is forearmed.
#3 – Single Entry Vs. Multiple Entries
One entry isn't going to do you any favors in an NFL GPP. You'll be going up against experienced team owners who'll have created hundreds of lineups.
Can you win against those odds? Sure. Anything's possible. But you're better off entering multiple lineups. Each one gives you another chance to win.
It's like participating in a large raffle. You can definitely win with one ticket. Anything's possible. But your chances of winning increase significantly with each additional ticket you buy. The same goes for entering lineups in a football GPP.
#4 – Learn To Love Variance
Variance scares a lot of novice weekly fantasy football players. It's the antithesis of predictability. That being the case, it's understandable that it makes folks uncomfortable.
But variance is our friend in GPPs.
Think of it this way: if variance didn't exist, you'd be able to forecast each player's performance with perfect accuracy. In that case, daily fantasy wouldn't even exist. The lack of predictability is what gives you a chance to win.
Predictable fantasy production is important in cash games. But it has far less value in large-field tournaments where the payout structure is so top heavy. Remember, you want boom-or-bust players in your lineup. That translates into high variance.
Learn to embrace it.
#5 – The Role Of Ceiling
A player's ceiling is the most number of points he's likely to score during a given game. For example, Aaron Rodgers might have a ceiling of 31 against Jacksonville. Antonio Brown might have a ceiling of 28 against Washington.
High ceilings are crucial in GPPs. You don't want to mess around with players who have unimpressive ceilings going into the week's slate. Instead, take chances on high-ceiling players, even if there's a chance they'll fail to deliver on game day.
Remember, with GPPs, it's boom or bust.
#6 – Stacking QBs And Receivers
Stack your QB with his favorite receiver. If you have both of them in your roster, you'll receive double the points for each touchdown they score. You'll earn on your QB and his receiver, including points for both passing and receiving yards.
That leverage can prove vital for winning GPPs.
#7 – Percentage Ownership – Look for low owned, contrarian plays.
Remember earlier when I recommended following the crowd when drafting players? That was for cash games. In GPPs, you want to do the opposite.
You want to fade players who are owned by a large percentage of the field, and instead draft those who are being ignored. That's where you'll find the breakout performances you need to leapfrog over the majority of your competition.
Use the tips above to boost your odds when competing in fantasy football cash games and GPP tournaments at DraftKings and FanDuel. Don't be surprised if your win/loss ratio shows a marked improvement!
Keep On Reading