It's a fact that Tiger Woods is still the biggest draw in sport. At the Masters at the beginning of April, there were many storylines. Rory McIlroy was looking for a career grand slam and Jordan Spieth made all to win his first major championship, but if there was a green jacket for the most headlines generated during the week, then Tiger would have won by a landslide. This event by DraftKings offers you the chance to attend the 'TigerJam' which includes a poker tournament, a concert, a private golf exhibition and an invite to the private Tiger Jam reception – a truly brilliant prize.
At
DraftKings
you can constantly find a huge list of on-going promotions. It really is a prime time to be playing DFS.
Qualification For DFS TigerJam Contest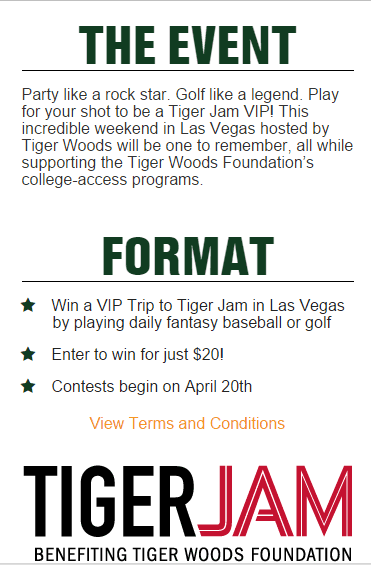 DraftKings will be hosting a number of qualifying events in the lead up to the TigerJam. Each of these will offer just one ticket to the event with a maximum of 66 players aiming to grab the elusive prize. There is an entry fee of $300 to each of these events and direct buy-in is an option. As well as winning a package if finishing first in the qualifier you'll also pick up $1,000. Second place is worth $800, third place will pick up $600 and players finishing 4th or 5th will receive their $300 stake back (to have another go?).
You'll also be able to play in a satellite to a qualifier for just $20 – these satellites running on both daily fantasy golf and baseball.
The Prize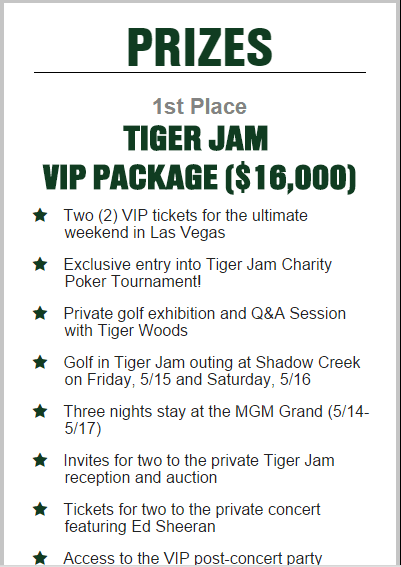 The TigerJam takes place in Las Vegas, Nevada between May 14th and 17th. Not only does this contest offer one of the best prizes in daily fantasy sport, but you'll be able to share it with someone, as every winner gains 2 VIP tickets to the weekend. There are many aspects to the weekend. Firstly, you'll have entry to the exclusive TigerJam charity poker tournament which will be a great experience for all involved. Next up, you'll be invited to a private golf exhibition and question and answer session with the man himself – this possibly being the highlight of the weekend for most. You'll also play golf at Shadow Creek on the Friday and Saturday. Next up you'll have tickets to a private concert featuring Ed Sheeran, as well as tickets to the post-concert party. Finally you'll have invites for two to the private TigerJam reception and auction.
As you can see, the three days will be jam packed and you'll move from one amazing experience to another. Is there a better prize in daily fantasy sport? There really is something for everyone here. Obviously golf fans will be in heaven, but with the concert and the poker tournament and the private reception, this prize will appeal to the vast majority of daily fantasy sports players – this being an experience not to be missed. This can all be yours for a relatively small stake of just $20 – sounds like a bargain to me.
Shadow Creek Golf Club
Shadow Creek golf club was built in 1989 for a reported cost of $60 million, financed by casino owner Steve Wynn. To make the course in the desert, three million cubic yards of dirt were dug up from the desert floor and placed around the perimeter, making the course truly private. An estimated 21,000 trees were planted around the course, both around the outside and on individual holes. The course has a green fee of $500 and plays host to a number of PGA tour professionals, celebrities, professional athletes and local dignitaries, with names such as Michael Jordan and John Elway on the lockers in the clubhouse. It is said to be one of the most exclusive golf clubs in the US.
The Tiger Woods Foundation
The TigerJam will benefit the Tiger Woods foundation. The aim of the foundation is to allow college access for low income students. There are learning centers across the US, where scholars from grade 5-12 partake in a curriculum that includes science, technology, engineering and math, all the time gearing up for college.
The foundation also supports the Earl Woods Scholarship Program, which provides a support system as well as the scholarship. This includes mentors, workshops, internships and staff support all with a one to one philosophy. This will ensure the 100% success of the students.
You Want To Read More!