NFL Week 10 – The Week That Made You Go "hmmmmm"
James Gagnon recaps NFL week 10 at FanDuel and DraftKings
Ownership was all over the board. Peyton Manning gets benched. The Lions win in Green Bay. And Zach Miller was the TE to own from Chicago. Hmmm…
Peyton's injured and the Broncos have a good enough record in a weak enough division that they can afford to throw Brock Ossweiler out there a few weeks and lean on the run game and the defense until Peyton's healthy enough to lead them into the playoffs. I don't know how long that'll be, and I don't think Ossweiler is a great option, but he does have enough weapons around him to put up some numbers for what his price point will be. The Bronco's receivers' values take a dip, while the rushers get a positive bump.
The entire Green Bay offense needs to be avoided in DFS play.
At home, against the Lions, this was as good as it should've been for the Packers. They're throwing out new WR's with no experience because the guys they've been using on the year aren't getting the job done. When your hopes are on Ty Montgomery, that isn't a good sign.
On the flip side, after being outscored 115-46 and going 0-3 to start the season, Chicago has 4 wins in their last 6 games with their 2 losses in that span both being by a field goal. While most of the offensive players had a down week against a strong St Louis defense, the Bears have still scored an average of 26 points per game over their last 6. Cutler, Alshon, Martellus, and Jeremy Langford or Matt Forte will be good values moving forward.
Ownership Levels
On DraftKings, the highest owned player was Allen Robinson at 46.10%. 3 of the 20 highest owned players were defenses, whereas defenses are normally much more spread out. Rob Gronkowski made the list at 16, being owned by 15.3% of owners in the Millionaire Maker. His price point usually keeps his ownership much lower than that, and actually usually lower than 10%.
Of the highest owned players, 3 of 5 were running backs; DeAngelo(42%), Gurley(33.80%), and J. Starks(31.7%). All should've been highly owned and all were huge letdowns. While guys like Charcandrick West and Jeremy Langford were both owned less than 4.3% and scored a combined 71.3 points. Ah, if only.
Landry Jones got the start in Pittsburgh and scared owners off of Antonio Brown(4.7%) and Martavis Bryant(6.5%). Big Ben came in for an injured Landy and saved the day as Brown scored over 40 points and Bryant over 30. One or both were mainstays on a lot of winning teams.
How The Millionaires GPP's Were Won
DraftKings
tlewia hit on almost every player, and even took my advice to stick a "Monday Night Bullet" in there with Cinicinnatti defense. Kirk Cousins has been good for a few weeks now and had a great matchup against a New Orleans D that's given up 13 passing TD's over their last 3 games. They spent on AP and Gronk, who rewarded them with decent value. Again, they lucked out a bit with Martavis Bryant having Big Ben enter the game to throw to him, but tlewia took a big hit on two guys who were projected for far bigger games, at least target-wise, in Kamar Aiken and Allen Robinson. Without a doubt, where tlewia won their money was by going with C. West and J. Langford. 2 backs going against what were supposed to be tough matches and both runners provided big games on the ground and through the air.
FanDuel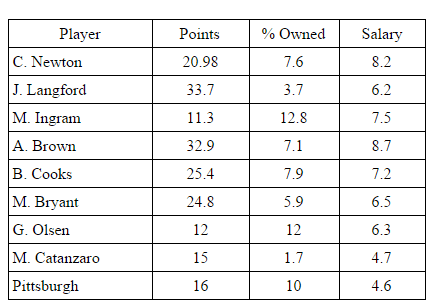 jtppick6 won 1st and 2nd place here with 192.08 points with this lineup, and it has the conspiracy theorists going nuts. I'll tell you one thing, this is not a noob's lineup. Noob's don't enter a lineup twice. Noob's don't use 3 different stacks in the lineup. While I won't suggest cheating, I will suggest that this is someone with previous experience, who began a new account under a different name. But that's not sour grapes on my part, it's just me helping you realize who you're playing against. In a perfect world, all owners would be "average Joe's," but there's just too much money at stake for people to try and find ways to work the system. It's not cheating, it's just understanding that you're not only picking your favorite players, you're playing against other humans and their strategies.
Anywho, congrats to jtppick6 for taking the top 2 prizes in FanDuel's biggest NFL tournament.
In FD, hitting on defense and kicker is very important, and they did that here by getting 31 points out of the 2 positions.
Greg Olsen was an expensive TE, but this was a week where owners seemed to save money elsewhere and were able to own higher-priced TE's.
Stacking him with Cam was a smart play, as neither hit it big, but they weren't duds either. Ingram and Cooks stacked from New Orleans combined for almost 40 points, and surely would've been more as Ingram started the game with a 70 yard run and was never the same after that.
The 3rd stack was the WR combo of Brown and Bryant who combined for over 30% of jtppick6's points. With Langford rounding out the team for the win, like many other winners this week.
More