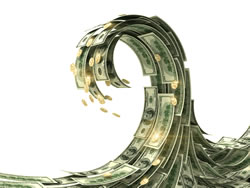 If you've ever played on FanDuel, there's a good chance that you've either played in, or at least read about the "Sunday Million" in their NFL daily fantasy options. Recently, FanDuel has bumped the Sunday Million up to a guaranteed prize pool of $2.5 million, or even $3 million at times. Basically, you have the shot at winning some serious money from playing in a tournament that has only a $25 buy-in. It's a pretty incredible deal, and it can making watching the NFL action through the weekend even more interesting than it already is.
As for the "how to" of playing the Sunday Million on FanDuel, you'll find that it's pretty straight forward. You'll be choosing a lineup that includes 1 QB, 2 RBs, 3 WRs, 1 TE, 1 K, 1 Def, and you need to make sure that your lineup stays within the $60,000 salary cap that is offered. Sound easy enough? Well, staying inside of the $60k may be easy, but it's no easy task to find yourself at the top of the leaderboard when all is said and done.
Any new player who jumps in on the action, is obviously going to want to try their luck at this tournament, rightfully so. You should put up the $25 and give yourself a chance to win life changing money, but you need to make sure that you're fully prepared going into the action. There are definitely plenty of mistakes that players will make when choosing their lineup for the Sunday Million, and here's a look at the three biggest mistakes that are usually made.
Three Mistakes to Avoid for New Players
If you want to play for your shot at $1,000,000,
visit FanDuel.com
and use promo code FREAK when you sign up to get a 100% deposit bonus on your initial deposit.
1) Trying to Get "Cute" With Roster Decisions
This may sound like an obvious bit of advice, but just pick your lineup with the best possible players in mind. Don't choose a guy who has a good matchup, but he hasn't produced hardly at all on the year. For example, if a running back has struggled in recent weeks, and has lost carries to other backs, don't just assume that he's going to get back in the action right away and put up 20+ fantasy points for you. Play it smart, and do your research. One other way that players tend to get "cute" with their decisions, has to include the decision on what quarterback to use. It's tempting to use a quarterback who costs just $6,000 (most top QBs range between $8,000-$10,500), but think about what you're likely losing. First of all, there is depth at both running back and wide receiver, and quarterback is an incredibly important position. Don't risk your quarterback position on a guy who's consistently scoring 10-14 points, when you could spend an extra $2,000 to get a guy who averages around 8-10 points more, and has far more potential for a huge game.
2) Overloading on Sleepers
It's always nice to say "look, I got three players who cost over $9,000 in this lineup", but the question is, will it be worth it? More often than not, it won't. You need to find players who are going to put up consistent numbers, but also a few who can put up the big boom for your roster. While having three guys who top $9,000 in cost looks nice on paper, you could get duds from two of your sleepers (punts in the DFS world), and one mediocre game from those three studs, and you're probably in trouble. Don't do it to yourself, and make sure that you have a nice balance across your lineup, with a stud mixed in wherever you can make him fit.
3) Not Caring About Matchups
Oh, how matchups truly do matter in the NFL. There are absolutely times when you find players who look great on paper, but have a brutal matchup. You may decide to pick that player over one who costs exactly the same and has a higher upside. This is almost always asking for disaster. For example, earlier this year, the New York Jets' run defense was looking stellar. Would you rather have a running back who averages similar numbers, but doesn't have the "sexy" name, with a far, far better matchup, or the running back who was going up against the Jets? It should be a no brainer, but if you're picking based purely on the those "sexy" names and not on what the stats say in these situations, it may end up turning out badly. Do your research on each player that you're considering, and look at what defenses struggle against which positions, as this can help you fill out your FanDuel Sunday Million lineup.
Related Content