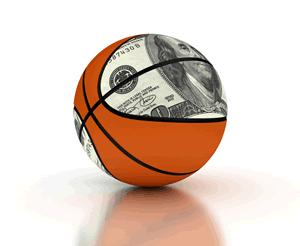 One of the biggest mistakes that you can make while setting your daily NBA GPP lineups, is to simply pick players based on numbers. For that matter, even picking players simply based on how they've done as of late can turn into a disaster. This isn't to say that some players should be avoided if they're hot, but instead there are many ways to tell who the best players on most nights will end up being. A key to this is going to be to find the players who have the best matchups. Matchups come down to a few different things, and here today we'll look at how you can breakdown which players have good matchups, and which players have the types of opponents that you'll simply want to avoid on that specific night. It's not tough to get this information either and we'll explain how most of this information created. Let's get right into it.
Research Opponents Defensive Rating
Defensive rating is one of the best ways to tell which teams in the NBA play the strongest defense and which teams are simply struggling on the defensive side of the ball. A defensive rating will breakdown how many points that a team allows on average per 100 possessions, and it's a great starting point to figure out the players that you should be targeting. It won't tell you the whole story sometimes, as often times there will be positions who are better against guarding opponents than others. For example, a team may be very good defensively against big men, but they get torched against guards. In this spot, you'll want to target the guards for opposing teams, as this is the best way to take advantage of a strong matchup opportunity.
Defensive rating can also include a team's pace. Pace is how many possessions they average per 48 minutes, and if a team really likes to slow it down, while also posting a strong defensive rating, it can make them the type of team that you want to avoid from a daily fantasy angle. There will be better options who have better matchups, but if you get a team who gives up a ton of points and also plays a fast-paced style of offense, then this adds up to a strong option in the daily fantasy game. Sites like NBA.com can give you all of this information, and it will just take a few minutes to research it.
Defensive Rankings Against Specific Positions
This one is even better, and many sites will breakdown how specific positions do in terms of fantasy points allowed to every position (as mentioned above). For example, if the Denver Nuggets aren't good against big men, you can look at how many points they allow on average on the season to opposing power forwards and opposing centers. You can also look at which teams are the worst against each specific position, and this can be a great way to help you build a lineup, and also to find some great sleepers as well. Doing this research won't take long, as you'll simply need to know which teams play on that night, and what the matchups look like. Take your time researching it, but also be aware of injuries and things such as that where you can take advantage and possibly get a sleeper or two into your lineup.
Reviewing Recent Games
Sometimes, a hot hand is just a hot hand that you want to ride. Now, for some of the higher priced players, riding a "heat wave" may not be the best way to do things. On the other side, if you have a sleeper who has been lighting it up against opponents and doing a little bit of everything, he could end up being worth the risk. Not only will it save you money so that you can get some of the more expensive players in your lineup, but on top of that, a player who's received a chance in the starting lineup because of the fact that another player out can be a great spot to look for. This is simply because of the fact that these players are looking to make a statement and prove that they should be in the rotation. Just keep an eye out for these types of situations, but also don't overpay if there is a better option on the board for a less expensive price.
More Great Reads