Although we're well into the 2015-2016 NBA season, there's still a long way to go before the finals arrive in June. That means you literally have thousands of opportunities to make money in daily fantasy NBA contests.
Fantasy basketball is almost as popular as football and baseball. But don't take my word for it. See for yourself. Visit the
FanDuel
and
DraftKings
' lobbies. Filter by NBA and check out the long list of contests hosted by both sites. (DraftKings is the clear winner in terms of sheer volume.) A large majority of the games have entry fees under $10.
Types of Contests
If you're an old hand at daily fantasy, you already know there are different contest formats. If you're a newcomer, here's a quick breakdown:
50/50s (cash games)
head-to-heads (cash games)
guaranteed prize pool (GPP) tournaments
We're going to talk about how to create effective fantasy NBA lineups in each of the above contest formats. Expect a fair amount of overlap. But pay close attention to the small, yet crucial, differences between them.
Transitioning From Fantasy Football To Fantasy Basketball
If you've been spending most of your time playing fantasy football, it may take a few days to make the transition to B-ball. Why? Because the action is completely different between the 2 sports.
For example, NFL teams play once a week. That means you have several days to research players and crunch numbers in preparation for the draft. By contrast, NBA teams play several times a week. You can enter contests every single day. More contests translates into more time spent researching players.
Another difference is the level of predictability in player performance. You can predict how your quarterback will do from week to week with a reasonable level of confidence. But the production of your receivers, tight-ends and running backs is less consistent. It's more difficult to predict. In the NBA, the high number of games makes each player's performance more predictable.
Here's something else to keep in mind: scoring is simpler in B-ball than it is in football. In football, points are scored based on position. Defensive teams score via sacks, interceptions and blocked kicks (among other things). QBs score via passing yards, passing TDs, and rushing TDs. Receivers score by making receptions. And so on.
In basketball, scoring all but ignores position. Points are awarded for assists, blocks, steals, rebounds and 3-pointers regardless of whether a point guard, shooting guard or center earns them.
One last difference: you don't have to worry about how the weather might affect your players' fantasy point production. Unlike football, all NBA games are held indoors. Weather is a nonissue.
With that out of the way, let's take a look at how to draft winning teams for fantasy basketball 50/50s.
Lineup Building For Daily Fantasy Basketball 50/50s – Cash Games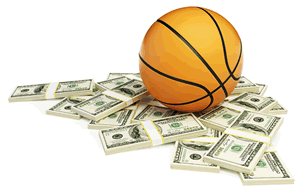 A 50/50 is a type of game that pays out to entrants who finish in the top 50% of the field. Typically, winners earn twice the entry fee less 10% for the site's rake. A 10-person 50/50 will pay out to 5 players. A 100-person 50/50 will pay out to 50 players.
Because the prize pool distribution is so flat – half of the entrants win – there's no need to take big risks. While you shouldn't avoid players who show lots of upside, you're not going to roll the dice on them. Instead, you want guys who are going to receive plenty of floor time.
It's always a good idea to have at least one elite player in your lineup. Curry, Durant and Harden are hot right now in terms of hitting buckets. Any one of them would make a great asset in a 50/50. Just be prepared to pay up for him.
Next, look for 1 or 2 players whose salaries seem low given their potential fantasy point production. One way to dig up value is to look at the NBA injury report. If a starter was recently added to the report, his replacement may be available at a low salary. Given the late-breaking news, his salary may not yet have been adjusted to reflect his expected increased floor time.
Now you have 1 elite player and 1 or 2 value plays. Fill out the rest of your squad with 2nd-tier players who are consistent and can be picked up for reasonable salaries.
Again, in a 50/50, you don't need to take big risks to win. You just need to beat half the field. So play it safe.
Tips For Creating Winning Rosters For Head-To-Heads (Cash Games)
Head-to-head contests are just like 50/50s with one major difference. Like 50/50s, you need to finish in the top half of the field to win. The difference is that the field is comprised of only two people: you and the other player (thus head-to-head).
The fantasy basketball draft strategy that works in H2Hs is similar to the one described for 50/50s.
First, don't take huge risks. For example, think twice before rostering Kobe Bryant, hoping he'll suddenly explode and deliver a head-turning performance. There's little upside in taking that sort of risk in a head-to-head.
Second, focus on value. How much do you have to pay for points? For example, take a look at the following 2 players, listed with their current salaries and average fantasy points per game:
Russell Westbrook – $10,800 – 55.4
Kyle Lowry – $8,000 – 39.5
If you were to draft Westbrook, you'd pay $194.95 per point ($10,800 divided by 55.4). If you were to draft Lowry, you'd pay $202.53 per point. Even though Westbrook has a higher salary than Lowry, he poses a better value.
If you can't afford him, move down the list and calculate the same dollar-per-point figures for players who are lower on the salary scale. Then, compare them side by side to make sure you're squeezing as much value as possible from your budget.
Third, look for players with a high floor. A player's floor represents the lowest number of points he's likely to produce. That's a part of playing it safe.
One thing I strongly recommend you do if you're competing in head-to-heads at FanDuel is to research your opponents.
FanDuel makes doing so very simple. Here's how to do it:

1. click the title of the contest
2. click the "Entries" tab
3. click your opponent's name
That will take you to a page showing your opponent's track record. His or her numbers will be categorized by sport. If there's a high number under the NBA column, think twice before entering an H2H against him or her.
DraftKings doesn't currently offer a way to research your opponents' track records.
But you CAN get an idea of their experience level. Simply type your opponent's name into the "Search Contests" form on the left side of your screen. You'll see a list of the H2Hs he or she has started. If you notice a lot of high-stakes contests – for example, games with 4-figure entry fees – you'd be well-advised to give that person a wide berth.
Draft Strategy For Daily Fantasy Basketball GPPs (Tournaments)
Large-field fantasy basketball tournaments attract thousands of players. The contests usually offer big guaranteed prize pools (GPPs) that are distributed to the entrants who finish in the top 20% of the field.
That distribution of the prize money changes everything we've discussed thus far. You need to use a completely different draft strategy if you hope to cash.
Recall that a player's floor is important when you're playing head-to-heads and 50/50s. You're just looking for consistency in both types of contests. Taking risks is unnecessary.
In GPPs, taking risks is mandatory. You're not looking for a player's floor. Nor are you looking for value. Instead, you're interested in a player's upside. You want guys in your lineup who might break out and perform on the far right side of the bell curve.
One of the pillars of an effective GPP draft strategy is to roster high-upside players who are owned by a small percentage of the field. The challenge is finding such players. Doing so takes time and research. One tactic is to look for first-tier starters who are scheduled to face strong defensive players. A lot of team owners will fade them because of the unfavorable matchups. That could work in your favor if the studs you draft manage to blow up despite the poor matchups.
That's the kind of variance that can help you to win GPPs.
Best DFS Sites To Play Daily Fantasy Basketball
My two favorite DFS sites for playing daily fantasy basketball are DraftKings and FanDuel. They lead the industry in the following areas:
– number of players
– number of contests
– breadth of contest formats
– size of tournament prize pools
– amount of the deposit bonuses
– size of their promotions
– ease of use
Both sites make it drop-dead simple to get started. Moreover, the entire banking process, from making deposits to requesting withdrawals of your winnings, is seamless.
More Great Reads