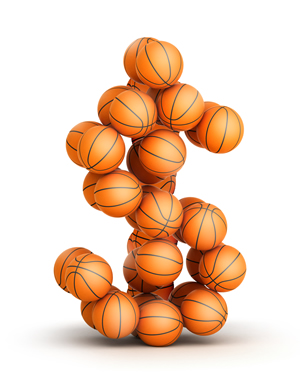 If you want to talk strategy when it comes to daily fantasy sports, one of the most talked about topics has to be the concept of stacking. If you haven't heard about stacking to this point, it's the idea of putting multiple players from one game into your line-up. Usually you choose a game that you would expect to end up being a high scoring game. The question is, will this be a concept that you should consistently be doing and taking advantage of? Also, can you get an edge while stacking players? That's what we're here to talk about today, because many are torn about whether they should do it, specifically in daily fantasy basketball.
The argument that many people have AGAINST stacking, is simply that there is only so many points to go around, and that you should spread your players out from different teams. While that's a solid argument, the game of basketball is more than just scoring points, and on top of that, it comes down to far more than just points to have a strong fantasy night. We'll look at this strategy more in-depth, and also give a verdict on it below. Let's get to it.
There is Far More to Focus on Than Just Scoring Baskets
Obviously a huge part of daily fantasy basketball is scoring goals. With that said, that's not all that you should be focused on or consider when choosing your stacking options. You need to make sure that you're getting players who can get rebounds, dish out assists, and even play defense by getting steals and blocks. Putting together two players from a team who are JUST scorers probably isn't the best strategy to use when looking at your lineups, and it's not the best way to stack. There are far better ways, and it includes looking at the players who can rebound, and pairing them up with the players who can score and dish out assists as well.
Stacking the RIGHT Players
What does it mean to stacking the right players? Well, it means that putting one of the highest priced players on the board with a role player off of the bench, isn't even the definition of stacking in all honesty. You need to look for the spots where two or three players truly lead the team in terms of scoring, rebounding and even defensively as well. These are the types of players who are going to be able to help you build a successful lineup when stacking players, and it can also mean that you'll be hoping for a high scoring game obviously, which we'll talk more about below.
Finding the Games to Stack
It pays to have a
quick link to current Vegas odds
for tonight's NBA games. You can see current NBA lines here at Bovada, a trusted online sports betting site with updated odds and a wide range of player props to help you find potential players for your team.
If you pay attention to the over/unders on NBA games, then this can be the way to help you find out the right data that you need in order to get the correct games to stack. Basically, if you have a game where the total projected for the game is something like 185, but there's a game with a total projected of 210, which game do you think that you should be targeting? More often than not, the one with the higher projected total is the one with more offensive options and players who can put up serious stat lines for your daily fantasy team. You don't want to stack players from a team who is going to be in a defensive battle and will be forced to try to score on tough shots. Find the game where both teams have serious scorers and the ability to put up big points, and that'll be the one to target.
Verdict: Stack when you see the opportunity
The opportunity simply means that you need to find the best game to stack in. You also need to find the right players. Basically, you shouldn't be stacking players from a game just for the heck of doing it. If you have a game with two or three players who can really light it up, and the game is likely going to be a high scoring one, then this is what you should be focused on attacking. This strategy can really help you get a boost in your lineup, but you still need to make sure to choose your lineup smart, and not try to stack players who shouldn't even be in your lineup in the first place! That may seem obvious, but it's definitely worth pointing out.
More Great Reads