Fantasy NASCAR 101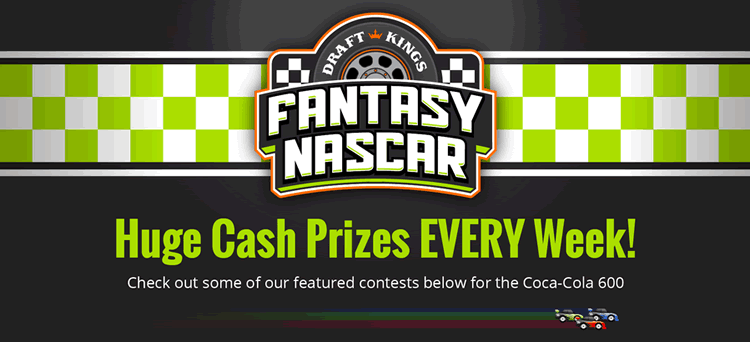 2017 Update
This guide will show you exactly how to get started playing real money fantasy NASCAR at DraftKings. It is legit, legal and honest. When you win you will get paid. Deposits are fast and easy and your money is safe. To learn more about Draftkings, read my review.
New Players –
visit DraftKings.com
and join the thousands of others who have signed up with me. Get a free entry into the weekly fantasy NASCAR $3 GPP tournament with tens of thousands (if not more) guaranteed.
Let's get to it.
NASCAR Rules – How To Score Points at DraftKings
The object is to score more points than your opponents. You earn points by drafting a team of drivers and they accomplish objectives on the track. It is more than just how they finish the race, they get points for actions during the race itself. Here are the NASCAR rules and points scoring guide on DraftKings.com
How To Pick Drivers – Drafting Your Team
The contests are salary cap based. You have to draft an entire team of X drivers while staying under your salary cap of $50,000
Each driver has a different price. The drivers who are projected to score more fantasy points are typically going to cost more. Better driver, higher cost.
$50,000 salary cap
Draft 5 Drivers
Score points based on performance and race finish
Contests last one race only.
Win and get paid after the official race stats are finalized (usually within hours of race finish)
100% legal. USA based company with a billion dollar valuation as of 2015
Fantasy NASCAR Contests – How To Join and Play
Here are the quick details of the type of contests you can find each and every week of the NASCAR season.
Real money contests start at $0.25
Plenty of $1, $2, $3, $5, $12, $20, $33, $50, $100, $200 and $1060 buy-ins
Huge tournaments – hundreds of thousands of $$ up for grabs with tens of thousands of players. All different buy-in levels have big GPP's (guaranteed prize pools).
Head to head matches – you vs 1 other player to double your money
Big double up matches – beat half of the field and you double your money with thousands of players
Small, medium and large sized leagues with the top xx% of the field make the money
Beginner contests with players with less than 50 entries into NASCAR games can play.
How To Score Points in Fantasy NASCAR / DraftKings NASCAR Rules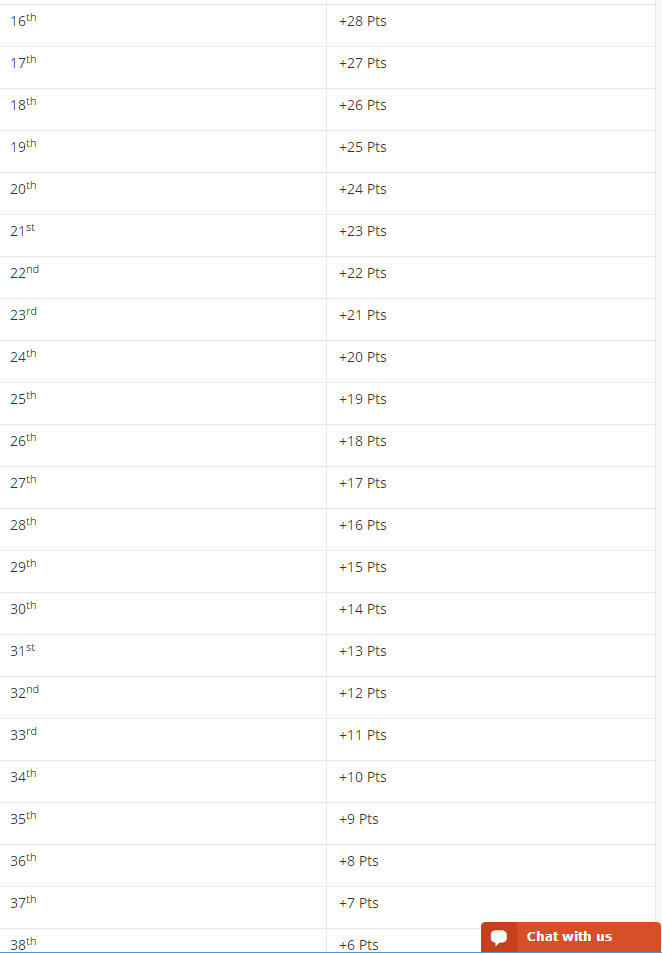 As always check the official rules on the fantasy site themselves, I'm recapping them here for you.
Place Differential +/- 1 point – Score or lose points based on where one of your drivers starts and where they finish the race. 1 point for each finish position moved up.
Fastest Laps = +0.5 – For every lap your driver clocks the fastest time you get a half a point
Laps led = +.25 – If you have the lead driver you get a quarter point for every lap he leads
Finish Position – 1st gets 46 points down to 43rd which gets 1 point (break down fully below)
So – similar to the other fantasy sports, as a team owner you score points when your racers do well on the track and when they finish the race highly. Similar to fantasy golf where you score or lose points based on hole by hole finish as well as how your golfers do when finishing the tournament.
Race Finish Position Fantasy Points Earned
1st: 46 PTs
2nd: 42 PTs
3rd: 41 PTs
4th: 40 PTs
5th: 39 PTs
6th: 38 PTs
7th: 37 PTs
8th: 36 PTs
9th: 35 PTs
10th: 34 PTs
11th: 33 PTs
12th: 32 PTs
13th: 31 PTs
14th: 30 PTs
15th: 29 PTs
16th: 28 PTs
17th: 27 PTs
18th: 26 PTs
19th: 25 PTs
20th: 24 PTs
21st: 23 PTs
22nd: 22 PTs
23rd: 21 PTs
24th: 20 PTs
25th: 19 PTs
26th: 18 PTs
27th: 17 PTs
28th: 16 PTs
29th: 15 PTs
30th: 14 PTs
31st: 13 PTs
32nd: 12 PTs
33rd: 11 PTs
34th: 10 PTs
35th: 9 PTs
36th: 8 PTs
37th: 7 PTs
38th: 6 PTs
39th: 5 PTs
40th: 4 PTs
I am excited to give this a try!
A couple of notes for scoring points. The place differential is determined by the position the racer starts the race and the position they finish the race in.
IE if you take the pole driver on your team, he can not have a positive score in this scoring factor.
If you take the guy in the back and he has a hell of a race and moves up a bunch then you can earn a significant number of points.
You can watch the scores rise and fall in real time as the race goes on. Since the game is brand new we do not have many articles on daily fantasy NASCAR quite yet, but as we do they will be listed for your reading pleasure.
Gentlemen, start your fantasy engines!
Visit DraftKings.com
now a to lock in a free entry into a $3 NASCAR contest of your choice with your first deposit. You can
learn more about DraftKings
, but just know that they are totally legit, legal and a U.S.A based company.