With the MLB season in full swing, thousands of daily fantasy baseball fans have converged on FanDuel, one of the biggest and most popular DFS sites. The contests are simple, each one using a salary cap and requiring a 9-player lineup (details). The sheer volume of contests guarantees that you'll never want for action during the pro baseball season.
Considering joining FanDuel to play fantasy baseball? Just visit
FanDuel.com
and use my
tested promo code FREAK
to maximize a 100% deposit bonus up to $200. It's legal, legit and exploding in popularity.
Most people assume that the top DFS sites are nearly identical. It's true that FanDuel, DraftKings, and DraftStreet share a lot of similarities. But there are also a number of important differences, which surface when you're competing in daily fantasy baseball contests.
Below, I'm going to give you a quick guide to playing in 1-day MLB fantasy games at FanDuel. We'll start with a rundown of the basic types of contests you'll find at the site. Then, we'll take a look at the daily MLB fantasy contests that are exclusive to FanDuel. In other words, you won't find them at other major DFS sites like DraftKings or DraftStreet.
Overview Of FanDuel's Daily Fantasy Baseball Contests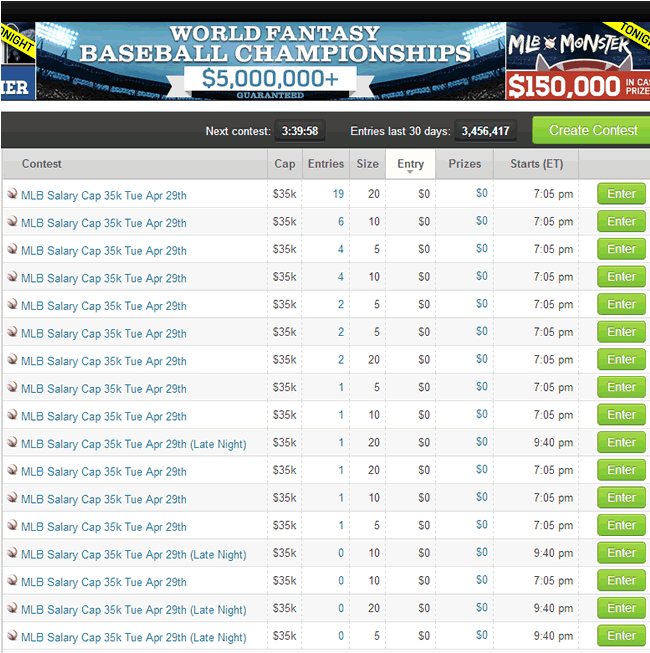 If you've read my tips and guides on how to play daily fantasy baseball, you're already familiar with the general contest formats, such as 50/50s and GPPs. So, I'll go through them very quickly.
GPPs are contests with guaranteed prize pools. They're arguably the most popular type of contest. There's usually considerable prize money up for grabs, which attracts thousands of hopeful DFS players. Also, the prize pool is guaranteed, regardless of how many people show up to participate.
50/50s are contests in which the top half of the participants, ranked by the number of points their teams accrue, split the pot. This a great format if you're trying to build up your bankroll in the one-day fantasy baseball games.
In head-to-heads, you're competing against one other player. Either you win the cash prize or the other guy wins it. Second place is the same as last place.
Those are the three most popular formats at FanDuel. You'll also find them at DraftKings and DraftStreet. Let's now take a look at several daily fantasy MLB contests that are exclusive to FanDuel.
FanDuel Baseball Scoring Chart and Comparison Guide
| Pitching | DraftKings | FanDuel | FantasyDraft |
| --- | --- | --- | --- |
| Win | 4 | 6 | 4 |
| Earned Run | -2 | -3 | -2 |
| Strikeout | 2 | 3 | 2 |
| Inning Pitched | 2.25 | 3 | 2.25 |
| Hit Against | -0.60 | n/a | -0.6 |
| Base On Balls Against | -0.60 | | -0.6 |
| Hit Batter | -0.60 | | -0.6 |
| Complete Game | 2.5 | | 2.5 |
| Complete Game Shut Out | 2.5 | | 2.5 |
| No Hitter | 5 | | 10 |
| Loss | | | 0 |
| Perfect Game | | | 0 |
| Quality Start | 0 | 4 | 0 |
| Hitting | DraftKings | FanDuel | FantasyDraft |
| --- | --- | --- | --- |
| Single | 3 | 3 | 2 |
| Double | 5 | 6 | 3 |
| Triple | 8 | 9 | 5 |
| Home Run | 10 | 12 | 10 |
| RBI | 2 | 3.5 | 2 |
| Run Scored | 2 | 3.2 | 1 |
| Base On Balls | 2 | 3 | 2 |
| Stolen Base | 5 | 6 | 1 |
| Hit By Pitch | | 3 | 2 |
| Caught Stealing | | | -2 |
| Strikeout | | | -2 |
FanDuel World Fantasy Baseball Championships
The World Fantasy Baseball Championships at FanDuel encompass all of the major events we've just covered:
– $100,000 Survivor
– $200,000 Survivor
– $1,000,000 King Of The Diamond
– $250,000 High Roller
– $250,000 Single Entry
– $100,000 Micro Championship
– $100,000 Tuesday Warm-Up
– $3,000,000 DFBC
The prize money across the 8 events totals a staggering $5,000,000. That amount is guaranteed to be paid out in August by FanDuel.
Huge and Exclusive FanDuel MLB Fantasy Pools
$100,000 Survivor
This contest actually comes in two flavors. A $25 entry fee gives you a chance to grab a piece of a $100,000 prize pool. A $200 entry fee gets you into a contest with a $200,000 prize pool. The majority of the action gravitates to the $100K Survivor.
The contest progresses over 26 rounds. The first round starts on May 14th and the final round, called the Survivor Final, takes place on August 16th in Las Vegas. FanDuel limits the number of entrants to 5,288, a figure that gets whittled down quickly with each round. The Survivor Final is played between the last 5 entrants who are left standing.
First place gets $16,000; second place gets $8,000; and third place gets $4,000. The rest of the prize money is split all the way down to the 521st-ranked entrant, who gets $50.
King Of The Diamond
The prize pool at stake for this MLB contest is much bigger than the one put up for the $100,000 Survivor. There's a cool $1 million up for grabs.
There are two ways to gain entry to the KOTD. First, you can pony up the rather hefty $200 entry fee. Your second option is to play in – and win – one of several KOTD satellites.
Entry fees for the satellites range from $2 to $50. The number of entrants allowed to join declines as the entry fee rises. For example, the $2 satellite allows 446 players to join while the $50 satellite only allows 18 players. The fewer players who are competing in the satellites, the greater your chances of qualifying for the King Of The Diamond. You'll find that the contests are available almost every evening.
The King Of The Diamond Final occurs on August 15th online. There's no need to travel to Vegas.
$250,000 High Roller
This daily fantasy baseball contest isn't for the fainthearted. Twenty-five people are allowed to enter for a chance to win part of a $250,000 prize pool. The payout schedule is as follows:
1st place – $100,000
2nd place – $60,000
3rd place – $40,000
4th place – $30,000
5th place – $20,000
The entry fee is $12,500, hence the name of the contest. (You have to be a high-roller to pony up that kind of entry fee.) FanDuel promises to fly every entrant and a guest to Las Vegas and put them up in the Cosmopolitan for 3 nights for the event. The contest takes place on August 14th.
$250,000 Single Entry Championships
This is a series of 4 GPPs (guaranteed prize pool events), all of which take place online on August 14th. The total prize money at stake equals a quarter of a million dollars.
Players are only allowed to pick a single lineup for all four events. The entry fees and prize money up for grabs for each one are listed below:
$10 entry fee – $25,000
$25 entry fee – $50,000
$50 entry fee – $75,000
$200 entry fee – $100,000
You're not required to enter all 4 contests. Enter as many of them as you'd like to participate in. The important thing to remember is that you cannot change your lineup. So make sure it's a good one.
$100,000 Micro Championship
This contest imposes a low entry fee while giving you a chance to win a comparatively huge cash prize. Joining only costs $10. If you come in first place, you'll receive $11,000 in prize money. This event is scheduled to take place online on August 13th.
$100,000 Tuesday Warm-Up
This is the first of the major daily MLB fantasy contests to occur in August. It happens on August 12th with $100,000 in prize money up for grabs.
Entry into the Tuesday Warm-Up costs $25. The first place winner takes home $15,000 – not a bad way to start the month.
DFBC
This is the big one. There's $3 million at stake and $1 million of it goes to the 1st place winner. Second and third place winners walk away with $300,000 and $100,000, respectively.
The only way to gain entry into the DFBC is by winning a qualifier. The good news is that the qualifiers run every week and some are inexpensive to join – the entry fee is as low as $10. In addition, each qualifier comes with at least $14,285 in additional prize money at stake.
The DFBC Final will be held in Las Vegas on August 16th. Seventy finalists will be flown in for the weekend and put up in the Cosmopolitan hotel, located right on the strip.
There's clearly going to be a lot of money at stake as the MLB season progresses. There's still time to get in on the action. Whether you want to participate from your living room or fly with a guest to Las Vegas to hang out with some of the other entrants, now's the time to start making plans.
FanDuel is one of the best places to play daily fantasy baseball. If you haven't yet registered your account,
visit FanDuel
to do so. Refer to
this guide
once you sign up. They will match your 1st deposit with a 100% bonus. By the time August arrives, you could be in a position to win a major chunk of MLB daily fantasy prize money.
Related