One Day Fantasy Baseball Compared At the Largest Sites in 2020
As winter sports seasons come to an end and Americans more readily focus their attention to the all-encompassing baseball season, it is only right that we discuss one day fantasy baseball games in more detail. While there is a plethora of one day fantasy sports sites, a few stand out and are vastly superior to most others.
Draft Kings and FanDuel are the most popular daily fantasy sports sites in existence. All three offer one day fantasy baseball games and while there are similarities between the three fantasy sports skins, there are many differences as well.
Playing Daily Fantasy Baseball – Which Site Is Best?
Editors ratings for fantasy baseball:
The baseball products are different. Mostly in terms of how you build your line-up.
In the following few sections we will compare and analyze the similarities and differences between playing one day fantasy baseball games at
Draft Kings
and
FanDuel
and
FantasyDraft
.
Scoring Charts and Fantasy MLB Scoring Guides Compared
| Pitching | DraftKings | FanDuel | FantasyDraft |
| --- | --- | --- | --- |
| Win | 4 | 6 | 4 |
| Earned Run | -2 | -3 | -2 |
| Strikeout | 2 | 3 | 2 |
| Inning Pitched | 2.25 | 3 | 2.25 |
| Hit Against | -0.60 | n/a | -0.6 |
| Base On Balls Against | -0.60 | | -0.6 |
| Hit Batter | -0.60 | | -0.6 |
| Complete Game | 2.5 | | 2.5 |
| Complete Game Shut Out | 2.5 | | 2.5 |
| No Hitter | 5 | | 10 |
| Loss | | | 0 |
| Perfect Game | | | 0 |
| Quality Start | 0 | 4 | 0 |
| Hitting | DraftKings | FanDuel | FantasyDraft |
| --- | --- | --- | --- |
| Single | 3 | 3 | 2 |
| Double | 5 | 6 | 3 |
| Triple | 8 | 9 | 5 |
| Home Run | 10 | 12 | 10 |
| RBI | 2 | 3.5 | 2 |
| Run Scored | 2 | 3.2 | 1 |
| Base On Balls | 2 | 3 | 2 |
| Stolen Base | 5 | 6 | 1 |
| Hit By Pitch | | 3 | 2 |
| Caught Stealing | | | -2 |
| Strikeout | | | -2 |
Your Team – What Positions, Players and Salary Cap
The number of players on your fantasy team varies from site to site.
FanDuel is the most straightforward in that you only have to draft 9 players including a pitcher (typically a starting pitcher as they tend to accrue the most fantasy points night in and night out),
P
C
1B
2B
SS
3B
OF x3
$35,000 Salary Cap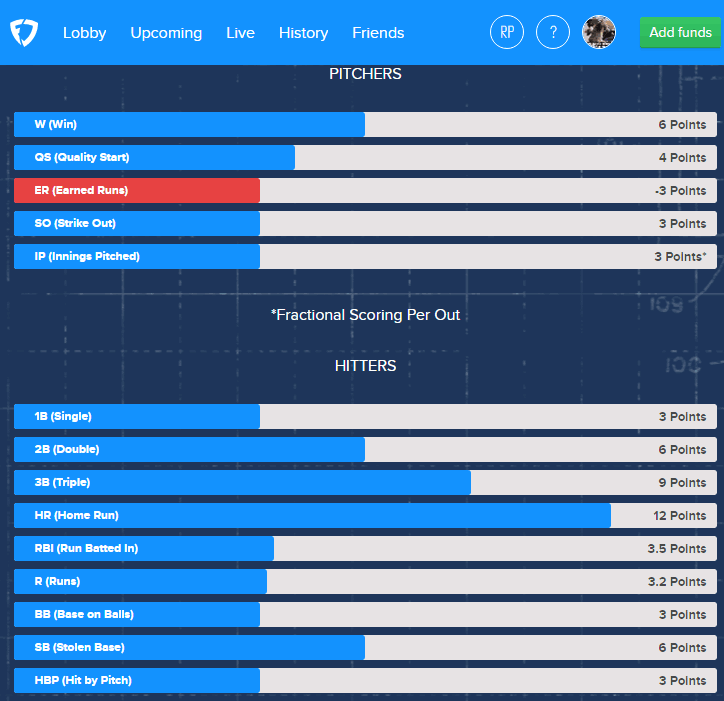 The most expensive players on FanDuel are almost always starting pitchers and can range in value from as low as $6,000 to as high as $10,000+. The cheapest players able to be drafted tend to bottom out at around $2,000.
Draft Kings salary cap MLB contests require you to draft ten players per team. The positions are the same as those on FanDuel, the only exception being that you are required to select two pitchers on Draft Kings (most often a starter and reliever).
P x2
C
1B
2B
SS
3B
OF x3
$50,000 Salary Cap
Your starting salary is $50,000. As is the case on FanDuel, the most expensive players on Draft Kings are starting pitchers that can cost you up to $10,000 and beyond. The cheapest players able to be drafted in a salary cap draft on Draft Kings range from $1,500-$3,000.
I created a more in-depth fantasy baseball scoring compared at FanDuel and DraftKings including charts for fast reference.
Scoring Points on FanDuel
Hitters accrue points as follows:
1B=3pt
2B=6pts
3B=9pts
HR=12pts
RBI=3.5pt
R=3.2pt
BB=3pt
SB=6pts
HBP=3pts
Pitchers accrue points as follows:
W=6pts
QS (quality start) = 4pts
ER=-3pt
SO=3pt
IP=3pt*
*Innings pitched calculated fractionally per out (eg. 1/3, 2/3, 1)
Scoring points on Draft Kings
Hitters will accumulate points as follows:
Single = +3 PTs
Double = +5 PTs
Triple = +8 PTs
Home Run = +10 PTs
Run Batted In = +2 PTs
Run = +2 PTs
Base on Balls = +2 PTs
Hit By Pitch = +2 PTs
Stolen Base = +5 PTs
Pitchers will accumulate points as follows:
Inning Pitched = +2.25 PTs
Strike Out = +2 PTs
Win = +4 PTs
Earned Run Allowed = -2 PTs
Hit Against = -0.6 PTs
Base on Balls Against = -0.6 PTs
Hit Batsman = -0.6 PTs
Complete Game = +2.5 PTs
Complete Game Shut Out = +2.5 PTs
No Hitter = +5 PTs
Types and Styles of Fantasy Leagues and Contests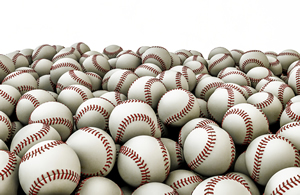 Daily MLB Contests on Draft Kings
Every daily MLB contest on Draft Kings revolves around a salary cap draft, making Draft Kings very straightforward in that regard. Their contests do, however, vary in other ways such as the number of players and the prize money that is guaranteed. Draft Kings even offers beginner contests that create a more level playing field for those who may be new to daily fantasy MLB contests online. 50/50 contests on Draft Kings work by rewarding the fantasy teams that finish in the top half of that night's competition. There are a few other types of contests that put a unique spin on the classic salary cap draft that you are restricted to on Draft Kings.
One Day MLB Leagues on FanDuel
FanDuel, like Draft Kings, restricts you to only a salary cap style of drafting. Unlike Draft Kings, however, FanDuel has a significantly smaller selection of game types, including only 50/50s, head to heads, leagues, and tournaments.
Joining Contests
As far as joining contests are concerned, the process is fairly straightforward on all three of the sites being assessed. There were, in the past, problems when it came to joining multiple contests on FanDuel but I have experienced none of those problems through recent endeavors. In fact, within 5 minutes of writing this piece I was able to use the same 9-player FanDuel MLB team to enter two separate fantasy contests.
Joining daily MLB contests on DraftStreet is just as smooth as it is on FanDuel. My only qualm with DraftStreet is with regard to how much info they pack into the draft sheet. While most people appreciate having a full range of stats at their fingertips, DraftStreet, in my opinion, tends to jam-pack too many statistics into such a small area. Having said that, however, this is all just personal preference as I am sure there are many people who would rather have all a player's stats listed right on the screen as opposed to having to search for them.
Draft Kings offers, in my opinion, the smoothest drafting experience of the three. The setup is extremely simple and individual player stats are organized neatly and are always just one click away from being accessed.
Player Swaps
After you initially draft your team you may subsequently find out that one of your players may have picked up an injury or may be sitting out for the night. Knowing that that particular player will yield you 0 points, you will naturally want to swap him with a player that is going to be participating in their game that night. If you are prone to these types of situations I would avoid playing daily MLB contests on DraftStreet because once your roster is set it is unable to be changed. Draft Kings and Fan Duel, on the other hand, allow you to make changes so long as your new roster is set by the time the competition kicks off.
In-Game Experience
The in-game experience at all three of these sites is relatively similar as your scores as well as the scores of your opponent(s) update as your team's players accrue points. In games where you are faced off against more than one opponent your position in relation to your opponents will also be updated as your team accrues/loses points. Of course, you are also able to check the live stats of your team's players throughout the ongoing competitions as well.
Fantasy MLB Promotions and Big Contests
We keep up with the on-going fantasy MLB promotions and MLB contests in our blog. For the 2017 season, FanDuel and DraftKings have rolled out some huge promotions with millions of dollars in guaranteed prizes. Here are the details: