Daily Fantasy Basketball Site Comparison: Draft Kings v. Fan Duel
Fantasy Basketball
DraftKings
FanDuel
Fantasy Basketball
DraftKings
FanDuel
See more: Top Fantasy Sites List.
Line-Up
8 Players
PG, SG, SF, PF, C, G, F, UTIL
9 Players
PG, PG, SG, SG, SF, SF, PF, PF, C
Salary Cap
$50,000

$60,000

3-pt FG
3.5
3
2-pt FG
2
2
FT
1
1
Rebound
1.25
1.2
Block
2
2
Steal
2
2
Turnover
-0.5
-1
Assist
1.5
1.5
Double Double
+1.5 PTs (Max 1 per player)
Triple-Double
+3PTs (Max 1 per player)
Check out one of our favorite
NBA DFS tools
over at
Fantasy5x5
– This stats driven tool is specifically for basketball with all the info you need to know. This article covers playing fantasy basketball at both FanDuel and DraftKings – you can read reviews of these sites
here
to learn more and get signed up. I have also put together a
FanDuel VS Draftkings NFL Guide
that compares playing fantasy football at the two sites.
Update for the 2018 season – Draftkings removes late swap from NBA games. Now they only offer the same style of games as Fanduel where games lock from early to late that night in NBA at the first tipoff. No longer do you need to scour twitter for hours on NBA night in order to be successful on Draftkings NBA games.
Fan Duel NBA Contests & Scoring
Whether you are entering a low-stakes head to head matchup or a tournament with a large prizepool, your fantasy NBA team on Fan Duel will consist of no more than 9 players. 2 PGs, SFs, SGs, and PFs will be accompanied by one Center to fill out your squad.
When drafting a team, whether it is for a league, a tournament, or otherwise, you will almost always have a salary cap of $60,000. The value of the players in which you draft are determined by overall skill and recent performance, making it almost impossible to draft a team with more than one or two superstars and still have an effectively balanced squad.
The way in which players score points as well as the number of points they score on Fan Duel are as follows:
3pt FG = 3 pts
2pt FG = 2 pts
FT = 1 pt
Rebound = 1.2 pts
Assist = 1.5 pts
Block = 2 pts
Steal = 3 pts
Turnover = -1 pt
DraftKings Basketball Scoring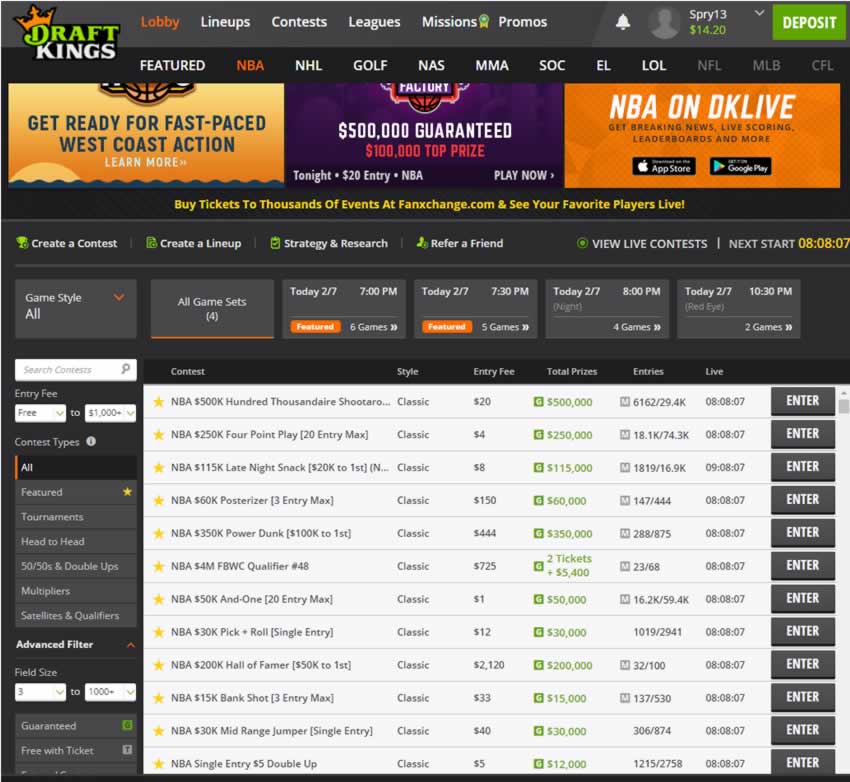 The way a daily fantasy basketball team is setup on Draft Kings differs slightly from that of Fan Duel. First and foremost, Draft Kings daily fantasy basketball NBA teams only consist of 8 players. Your team's 8 players will be comprised of a PG, SG, SF, PF, C, G, F, and a Utility player.
The way in which players are valued on Draft Kings is very similar to the way they are valued on Fan Duel, though the salary cap for drafting a team on Draft Kings is only $50,000. Like Fan Duel, Draft Kings also plays host to 50/50s, Head to Heads, tournaments, and leagues.
The way in which a player earns points and the value for those points on Draft Kings are as follows:
Every point = 1 pt
Made 3 pt. FG = .5 pts
Rebound = 1.25 pts
Assist = 1.5 pts
Steal = 2 pts
Block = 2 pts
Turnover = -.5 pts
Double-Double = 1.5 pts (MAX 1 per player)
Triple-Double = 3 pts (MAX 1 per player)
Final Word
What To Consider When Playing Daily Fantasy Basketball at DraftKings or FanDuel
If you take a look at the daily fantasy basketball contests on both Fan Duel and Draft Kings, you won't notice too many differences on the surface level. Both sites have a similar setup that is easy to follow and is incredibly informative. They both have many of the same contests (50/50s, head to heads, leagues, and tournaments) as well. Because of this, we figured it was best to take a look at each site separately to help you take note of the minor, yet incredibly important, differences.
In all, the way in which you draft players on Fan Duel and Draft Kings is none too dissimilar. While the salary caps and individual player values will vary slightly, they are, for the most part, proportionally even.
The biggest difference we found between playing fantasy basketball at either Fan Duel or Draft Kings is the difference in the scoring schemes found on both sites.
Because your players can earn points through double doubles and triple doubles, the scoring scheme on Draft Kings seems to give your fantasy team more chances to score. Not only that, but Draft Kings also punishes your players less for turnovers (-.5 vs -1).
The added opportunity for your player(s) to earn additional points through double doubles and triple doubles makes players like Lebron James and Kevin Durant, who earn double doubles with regularity, inherently more valuable players on Draft Kings than they are on Fan Duel. This is a blessing, but it can also work against a daily fantasy basketball player should their team's all-star(s) not perform up to par on any given night.
Related