Attention UFC fans! DraftKings is now offering fantasy MMA leagues. On December 22nd I noticed MMA as a drop down from the lobby.
MMA fantasy you say? Yes, Fantasy MMA is now available at DraftKings. You can pick your favorite fighters and earn points as they do battle in the cage. The big UFC fights will all have fantasy contests going on DK. Let's take a look at how it works.
How Fantasy MMA / UFC Works
This will cover how to play fantasy MMA on DraftKings as FanDuel does not currently offer MMA leagues.
Draft 5 6 Fighters Under the Salary Cap
Earn Points based on their performance in the octagon (explained in mma scoring chart below)
Score more points than the competition and win
100% legit and 100% legal (a few states have laws allowing only free play options)
Risk and win real money
UFC Fantasy leagues begin and finish in one day.
Scoring Chart – How To Score Points
Always check the rules on the official sites themselves for any updates and special circumstances to be aware of., I'm breaking them down here for you.
The scoring for fantasy UFC is broken into two categories.
Moves Scoring (in fight action)
Fight Conclusion Bonuses (who wins and which round)
MMA Moves Scoring – Fighters Rack Up Points During The Fight
Significant Strikes (SS): +0.5 PTS
Advance (ADVC): +1 PT
Takedown (TD): +2 PTS
Reversal/Sweep (REV): +2 PTS
Knockdown (KD): +3 PTS
Notes: Significant Strikes are any Distance Strike or Clinch/Ground Strikes that are considered "Power Strikes" by official scorers.
Advances include:
To Half Guard
To Side Control
To Mount
To Back Control
Fight Conclusion Points – Who Wins and Which Round
1st Round Win (1rW+): +100 PTS
2nd Round Win (2rW+): +70 PTS
3rd Round Win (3rW+): +50 PTS
4th Round Win (4rW+): +40 PTS
5th Round Win (5rW+): +40 PTS
Decision Win (WBD+) : +25 PTS
Picking Fighters – Drafting Your Team
The drafting of a team is simple in process but difficult in optimizing it to win.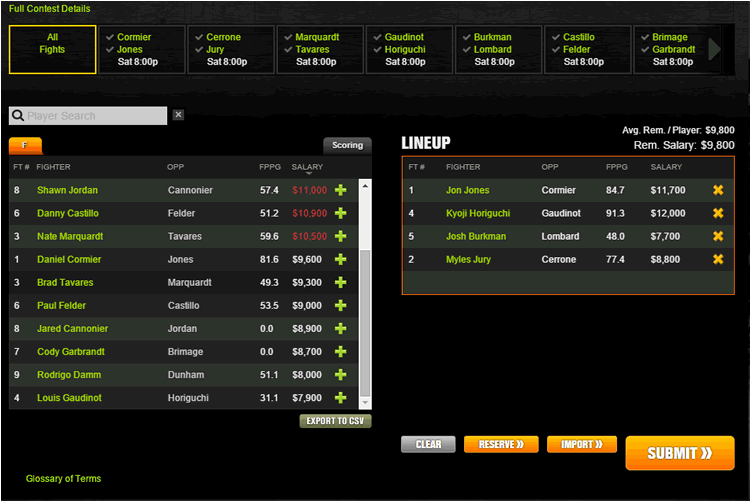 Your roster consists of 6 fighters (changed October 3rd, 2016 from 5 to 6) under your salary cap of $50,000.
You want fighters who win.
Quick KO artists are the best – you want fast wins
More points for EARLY wins
You have to draft 5 fighters
You have $50,000 to spend
The top fighter is $12k +
Scrub fighters are ~$7500
UFC Fantasy Leagues For Money – Play and Win Cash Legally
DraftKings is known for offering up a wide range of cash game options including head to head, 3 man, 10 man and larger double up leagues in addition to larger guaranteed prize pool contests.
Just visit the lobby and hit the drop down box for MMA. You will have your choice of dozens of contests from GPP's to cash games (heads up, leagues, winner take all, etc).
Remember, it's legal and legit. No problems depositing or getting paid quick and easy from DraftKings.
You can
play fantasy MMA for money now at DraftKings.com
. Real money leagues and fantasy tournaments are available in the lobby.
More Great Reads