Updated Summer 2021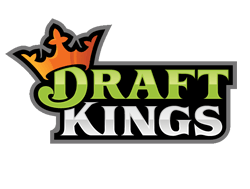 This Draft Kings 101 review will explain how to create your account on Draft Kings and find the right contests to play in. We'll go through the entire process step-by-step.
Then, I will review the actual playing of contests including drafting your team and entering line-ups. Along the way, we'll point out details and features to watch for in order to make the most of your experience. Create your account here.
Ready to jump in? If so, let's get started!
DraftKings.com Review – The Basics and The Things To Know
Official Website: www.DraftKings.com
Office Address: 225 Franklin St, 26th Floor, Boston MA 02110
100% Legal Contests – Risk & Win Real Money
Editor of DFS101's personal favorite fantasy site for NFL and PGA
Sign up to my free ebook list to get included in special DFS promo's.
Now publicly listed on NASDAQ with the ticker symbol DKNG
Editors Note DraftKings.com is my personal favorite DFS site to play fantasy football and one week PGA contests.
I can't help myself. Their golf games get me every week. The site is super easy to use, they allow last minute player swaps and they have a constant series of on-going promotions. I recommend playing fantasy sports at DraftKings. I am confident you will be glad you did.
Getting started at a daily fantasy sports site like DraftKings can be a daunting experience for anyone. Even if you've played in fantasy sports leagues for years, they've probably been traditional leagues – the type that last the entire season. If that's the case, playing in the weekly and daily contests hosted by Draft Kings may seem like an entirely new ball game.
DraftKings 101 – My New Players Guide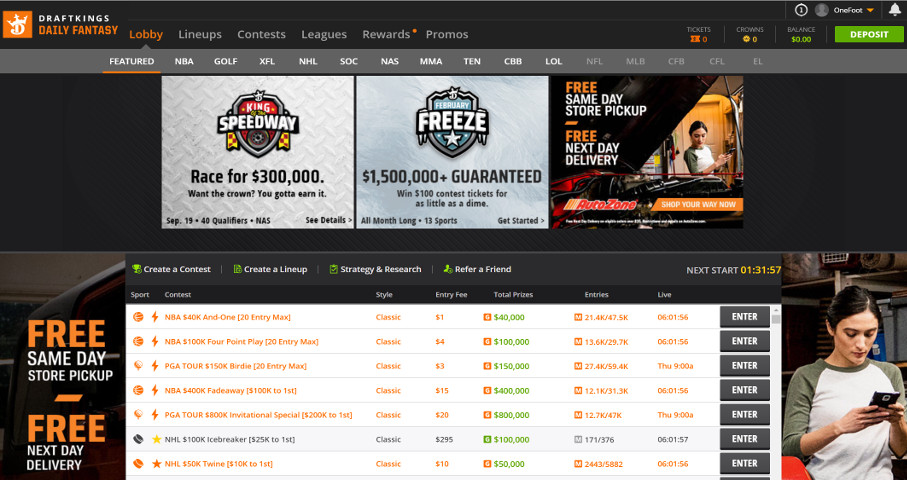 You have seen the commercials, now it's time to see how it works. If you're new to daily fantasy football, basketball, and baseball, having never played in traditional leagues or daily contests, you're starting from ground zero. It can be scary. We understand. It might seem as if everyone but you is a pro.
But, here's a secret: the reality is that weekly and daily fantasy sports leagues are a relatively new trend.
Draft Kings is one of our "go to" sites for playing in real money daily fantasy sports leagues. When you arrive on the site, you'll see 2 buttons, one for signing up with email, the other with Facebook. Click the one of your choice and you'll be given a window to sign up.
Basic To Do's:
Choose a username you like
This one will be with you for life at DK and it will be seen by other players. (I'm Spry13).
Select your state of residence
Most states are allowed for real money DFS and some states are allowed for their sportsbook where you can bet on the games like at your normal bookie. My home state does not allow me to play in the DK sportsbook so I can't give you any true insight into that. This guide focuses on the DFS product which I've been playing since they initially launched in 2011.
Check off the tick boxes underneath the state drop-down menu to accept DraftKings' terms of use and validate that you're 18 years of age or older
After completing that step, hit the "REGISTER" button. After you click the "REGISTER" button, you'll arrive at a page that displays several dollar figures and bonus amounts.
You don't have to choose any of the dollar figures displayed on the page. On the right side of the screen, you'll see a box that allows you to input the amount you'd like to deposit. Regardless of what amount you enter, you'll still receive the ticket.
Select A Funding / Depositing Source
Draft Kings gives you 2 ways to fund your account –
Any major credit card, (VISA, MasterCard, Discover, American Express)
Paypal
If you decide to use a credit card, you'll be asked for basic card details, such as card type, card number, expiration, and CCV. You'll also need to supply your mailing address and phone number. That's how DK determines whether you're an authorized cardholder.
If you want to use Paypal, just click the button for that option. The default fields for entering your credit card info will disappear and be replaced by a single large button labeled "DEPOSIT." When you click that button, you'll be transferred to Paypal to authorize the deposit. After giving your authorization, you'll be automatically shuttled back to DraftKings. Your deposit amount will be displayed at the top right of your screen to the right of the heading titled "Balance".
Visit The Lobby
Quick Info
You can play real money games starting at $.10. Dime package contests. These are fun, cheap and a fantastic way to get your feet wet playing for the first time.
There are plenty of low entry contests: $.10, $.25, $1, $2, $3 $4 and $5 events as well as high roller entries up into the thousands of dollars for an entry.
There are also free games but these usually do not have any prize of value.
There are free events and promotions ran throughout the year that you will get access to once you are signed up and have an account created.
Sports Offered
DraftKings has the widest variety of sports available. There are games to play all year round every day of the year.
Football – NFL (multiple football formats to play)
Baseball – MLB
Basketball – NBA
Golf – PGA and Euro
MMA – UFC
Racing – NASCAR races all season
Soccer – EPL and UEL all season
Tennis –
eSports – LoL – League of Legends (video games)
How Does The Money Work?
Create your account by registering completely for free.
You can now enter free contests with no charge. You will see your account balance shown as "$0.00" under your name at the top of the screen.
To play contests with real money you need to make a deposit. When you deposit, your account balance will update to how much ever you deposited. This is your 'Draftkings wallet' and now you can spend it entering contests of your choice.
You can withdraw it out whenever you want. You don't start spending that balance until you buy an entry into real money contest.
When you win money on the contests it is added to your balance. Use it to play more or withdraw it. That's up to you.
Finding A Fantasy Contest To Join
The first thing you'll want to do is to check out the weekly and daily fantasy games to join. You'll notice 6 tabs, lined up side by side, near the top of your screen. Click the one labeled "Lobby."
Scroll down the page until you see the list of contests. Take a minute to notice everything that is displayed on the page. You'll see 8 tabs that let you filter the list according to the type of contest you want to play in. For example, you can limit the list to games that come with a guaranteed prize pool. Or click "HEAD-TO-HEAD" or "50/50" to see only those types of contests.
You can also click on "Advanced Filter" to narrow these options just a bit more if you're looking to play in something really specific.
Notice that each line shows the number of entries, the entry fee required to join, and the associated prize pool. Each one also shows a countdown that reflects when the contest goes live. You can sort the list on any of these fields. For example, if you want to find games that have a low entry fee, just hit the "ENTRY FEE" column label to bring the freerolls and $1 contests to the top.
Very easy and very intuitive.
Games Offered By DraftKings
Explore The Daily Fantasy Contests
Click one of the contest titles.
A box will pop up on your screen displaying all of the relevant details for that contest. You'll see the number of people who have joined thus far and the maximum number of participants allowed to join. Draft Kings also displays a list of the folks who have bought into the contest and are waiting for it to go live.
Take a closer look at the "Entry Fee" column. Notice how some of the dollar figures – namely, the ones that say "$2" – have a small orange ticket next to them? That little graphic means you can join the contest without paying the entry fee.
When you make a deposit into your account, Draft Kings automatically gives you a complementary $3 entry ticket. That ticket can be redeemed to join one of the $3 games. It's a great way to test the waters on DK's dime!
Games with guaranteed prize pools will go live whether or not they fill to capacity. That's not the case for contests that lack a guaranteed pool. If they don't fill to capacity by the time the countdown reaches 0:00, the games are cancelled and the entry fees are returned to the participants. Most all of the daily fantasy sites work that way, due to the way the UIGEA legal requirements are set. You can see the wiki entry on daily fantasy sites here for more info.
The pop-up box also displays how the prize pool will be distributed among the top-ranked entrants. If a contest's prize pool is $100, 1st place might receive $35, 2nd place may get $25, and the remainder might be split amongst the 3rd, 4th, and 5th-ranked participants. The point is, the payout schedule will be listed in plain sight.
Keep Track Of Your Account
Close the pop-up box and take a look at the top right of your screen. Notice the graphic that looks like a small gear? Click the gear to display a drop-down menu. Select the menu item that says "My Account."
There you'll see your personal information, account balance, Frequent Player Points, and available tickets. (Side note: your balance is always displayed at the top right of the screen regardless of what page you're on.) You'll also see your pending bonus.
On the right side, you'll see a number of buttons. Use them to make deposits, request withdrawals, and to check out your account history.
We'll go into more detail about these features in an upcoming DraftKings tutorial – particularly the account history feature. For now, realize that this is where you can retrieve all of your account information. Registering your account and finding contests to play in is simpler than you imagined, right? You have Draft Kings to thank for that. They've designed their site so that it's easy to use and navigate. If you haven't created an account yet, visit DraftKings.com and claim your 100% matching bonus (up to $600).
Drafting A Team – Building Your Lineup
Want more examples? Watch me enter a real money fantasy basketball contest and win! We'll explain everything you need to know to join a game and start picking players to win real money and you can see screen shots of me doing just that.
Football Updates
There are now four different contest types or styles to play from when you want to play NFL contests.
The software and games are constantly updated. In 2017 they added a feature to the players themselves, and now we are all classified as 'Experienced' or 'Very Experienced'.  You can see more details about who you are playing against and know from a quick glance if they are 'grinders' or if they are regular guys.  Football is the season for daily fantasy sports sites like DraftKings. It is make or break time for them. They went through crazy growth in 2015 and encountered huge road blocks, legal challenges and insider trading/cheating accusations and shenanigans.
Since last year, things are  different. They are taking a lower key stance on advertising. They have announced a new series of "DraftKings community Guidelines" and they have started tagging players who are 'experienced'. I.E you know not to play against them in head2head matches.
My Final DraftKings Rating – 5/5 Stars
DK is my favorite DFS site to play. I love the interface and the on-going promotions. Not to mention the absolutely huge prize pool tournaments they put up each year. I recommend this fantasy site strongly to my personal friends and family and I am doing the same for you. If you are looking for a quality place to play daily fantasy then come aboard. The site works great with mobile devices so you can sign up and draft your team from anywhere.
Related
print $reviewboxtitle?>
Deposit Bonus: 20% Drip Bonus up to $500 + Free $3 Ticket