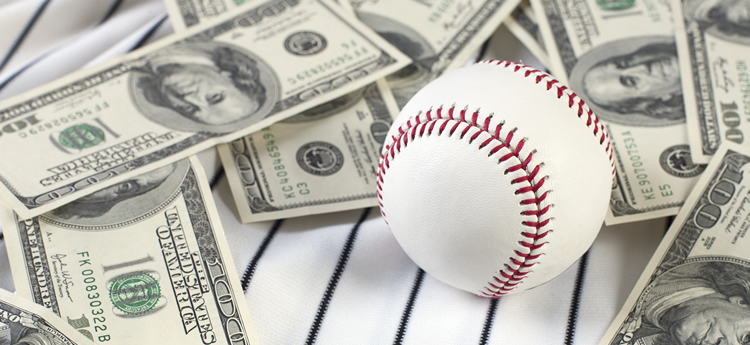 I've created several fantasy MLB tutorials for you on this site. They cover everything from key metrics and pitcher selection to stacking theory and using Vegas odds to inform your draft choices. Following is a laundry list of my best tips. These are actionable tactics you can use starting today. Along the way, I'll provide links to pages that explain them in more detail.
#1 – Focus On Your Starting Pitcher
Be ready to pay for your pitcher. He's the guy that's going to earn you the most points. Sans an unexpected injury, he's going to be the backbone of your lineup.
You'll probably need to pony up a large sum to draft an ace who has a lot of strikeouts and a strong enough arm to last the game. Just know that it's usually worth the investment.
There are exceptions to the rule, such as when a starting pitcher is scheduled to face an extremely productive lineup of batters. But for the most part, the rule sticks.
Keep in mind that FanDuel only requires one pitcher in your lineup. DraftKings requires two. At DraftKings, spend big to pick up an ace and keep your eyes open for a less expensive option to fill the second slot.
#2 – Concentrate On Strikeouts
There are a lot of metrics to take into account when it comes to selecting pitchers. But few are more important than strikeouts.
Draft a stud who has racked up a mountain of them. Strikeouts are one of the best gauges for predicting how a pitcher will perform on any given night.
#3 – Watch The Strikeouts/Walks Ratio
This is an extension to the previous tip.
Strikeouts are obviously important. You want your pitcher to throw as many as possible. You'll earn 3 points at FanDuel and 2 points at DraftKings for each one.
But there's another factor to consider: walks.
This is mostly an issue at DraftKings. There, 0.6 points are deducted for each walk your pitcher allows. That being the case, you'll want to draft an ace who has a high strikeouts/walks ratio.
You don't have to worry about walks as much at FanDuel. No points are deducted for them. But keep in mind, you WILL lose 3 points for each earned run your pitcher allows. So the lower the number of walks, the better. See more MLB differences at FD and DK.
#4 – Look For Weak Opposing Lineups
Definitely use the above suggestions, as well as those I've given you in the past, when selecting pitchers for your lineups. They'll help you hone in on highly-productive arms.
But you should also consider the hitting potential of the opposing lineup. Obviously, the weaker it is, the better the prospects for your man on the mound. The challenge is being able to identify a weak lineup.
One of the easiest ways to do that is to look at each hitter's weighted on-base average (wOBA). There are a lot of sites that offer that metric. It's just a matter of looking it up.
Let's now switch gears and talk about hitters…
#5 – Choose Hitters From The Top Of The Lineup
The hitter who leads the batting order is going to see more opportunities at the plate than the hitter who brings up the rear. More opportunities means more points. So naturally, all other things being equal, you'd want to draft hitters at the top of the order.
That probably sounds intuitive. But you'd be surprised by how many daily fantasy baseball fans fill their rosters with guys at the bottom of the lineup.
Don't make that same mistake.
#6 – Exploit Right/Lefty Splits
When there's a southpaw on the mound, it's usually a good idea to draft right-handed hitters. If the pitcher is right-handed, look for left-handed hitters. I explain the reasoning behind this draft strategy on this page.
You'd be surprised by how effective this tactic is in daily fantasy baseball. A hitter's batting average can vary dramatically when split between right-handed and left-handed pitchers.
You may as well take advantage of it.
#7 – Pay Attention To Weighted On-Base Average
I touched on this briefly in tip #4, but did so from the perspective of drafting a pitcher. Now, let's consider it from the other side of the equation – rostering hitters.
Most people focus on sluggers. That's understandable. It's exciting to see a guy slam the ball over the fence. But slugging average is a really poor method for selecting hitters in daily fantasy baseball.
Instead, you want guys who have a talent for getting on base. It doesn't matter whether they get there via a walk, single or something else. You just don't want them to make an out. So focus on each hitter's weighted on-base average.
#8 – Beware Of Reckless Base Stealers
Stolen bases are a great "gimme" in fantasy MLB contests. Each time one of your players steals a base at FanDuel, you'll earn an extra 6 points. You'll earn 5 points per stolen base at DraftKings.
But you don't want a guy who's reckless. Because you want them to score a run for 3 and 2 points respectively.
#9 – Look For Last-Minute Bargains
After you spend big for an ace pitcher and fill your lineup with a few high-salary studs, you'll need to conserve your budget. One way to do that is to look for bargains.
When I say "bargains," I'm not talking about scraping the bottom of the barrel for cheap, low-production players. I'm talking about guys who have been unfairly discounted by the market.
One type of bargain is the hitter who has a solid track record, but for one reason or another has been struggling. Another type is the backup player who graduates when the starter gets injured. If you act quickly after the news breaks, you can often roster such players for cheap.
#10 – Play Lots Of 50/50s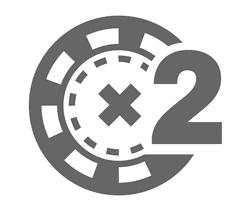 Daily fantasy MLB contests can be categorized into two groups: cash games and guaranteed prize pool (GPP) tournaments. Cash games are made up of 50/50s (or double-ups), head-to-heads (H2Hs) and small leagues.
Double-ups are much easier to win than GPPs. There are fewer players and half the field gets paid. The payouts are much smaller, but the odds of cashing are much greater.
I've covered daily fantasy 50/50 strategy here and here. I strongly recommend reading both guides to get up to speed.
#11 – Take Huge Risks In Tournaments
Don't be afraid to try your luck in GPPs. The key to doing well in them is to take risks. That means rostering players who stand to break out, but are being discounted and dismissed by the majority of your competitors.
I've written a tutorial for competing in FanDuel tournaments here. It was written in the context of daily fantasy football. But most of the tips can be directly applied to one-day fantasy baseball contests.
#12 – Learn The Art Of Stacking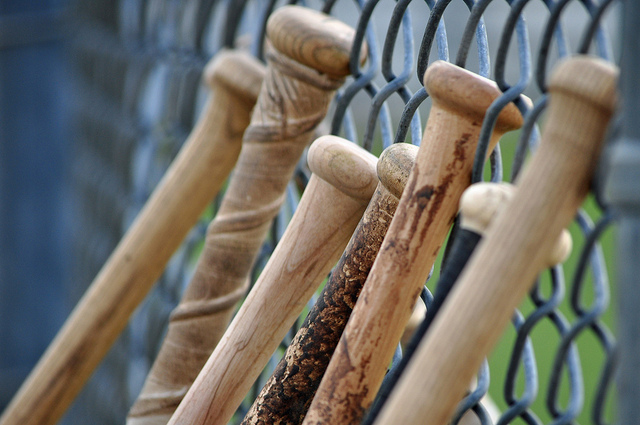 Stacking is rostering several players from the same MLB team. The idea is to exploit pitchers who are struggling. By adding several productive hitters to your lineup, you stand to accumulate a large volume of points.
Stacking can also be useful when certain players rely on each other's production. For example, let's say you stack 4 hitters who usually occupy the top of their team's batting order. Let's also suppose the first 3 hitters make singles, loading the bases. The 4th hitter then hits a home run, bringing in his teammates.
You get credit for each of those runs.
Stacking can be a powerful strategy in daily fantasy baseball. Learn to do it well.
#13 – Save Your Cash On Catchers
Catchers are the polar opposite of pitchers in one-day fantasy baseball. While you should be willing to spend a considerable sum to roster a great pitcher, save your cash when it comes to choosing a catcher.
Offensively, they don't offer a ton of upside.
You have to add one to your lineup. You don't have a choice. Just don't spend a lot of money to do it. There are better ways to spend your budget.
#14 – Look For Struggling Pitchers
Weak pitchers are the fantasy baseball equivalent of struggling quarterbacks in fantasy football. The most important thing to remember is that they can be a boon when you're drafting hitters.
First, evaluate pitchers who have had trouble in recent games.
Second, identify those who are scheduled to face productive lineups. Find out how they performed against those teams in the past.
Third, stack players from those lineups, particularly those who occupy the top of the batting order.
At some point, if the pitcher continues to struggle, he'll get pulled from the mound. But your hitters should be able to earn a considerable number of points before that happens.
#15 – Get Comfortable With Daily MLB Stats
Yon don't have to be a sabermetrics enthusiast to appreciate the value of using stats to build winning daily fantasy baseball lineups. Metrics like Batting Average On Balls In Play (BABIP), Expected Fielding Independent Pitching (xFIP), Skill-Interactive ERA (SIERA) and Left on Base Percentage (LOB%) can help to inform your draft selections.
That's not to say every metric is crucial. Some are definitely worth more than others. Given that your time is limited, identify the ones that are most valuable to your draft strategy and forgo the rest. Get familiar with them. Then, get into the habit of calculating them before each draft.
#16 – Know Your Scoring Systems
You've no doubt noticed the fantasy baseball scoring system used at FanDuel is different than the one used at DraftKings. The number of points awarded (or deducted) varies by event. For example, consider strikeouts. As I mentioned earlier, your pitcher will earn 1 point for each one at FanDuel and 2 points for each one at DraftKings.
In addition, some events aren't even accounted for by both scoring systems. An example is the number of points deducted when a runner gets caught stealing. You'll recall that DraftKings deducts 2 points. FanDuel doesn't deduct any.
There are lots of ways to take advantage of the differences between the two fantasy MLB scoring systems. Here's a nice rundown, including several actionable tips.
#17 – Start Building From The Middle
It's common for fantasy players to build their lineups from the top. They choose an ace pitcher, a few studs and work their way down.
The problem is that it's easy to overspend on the front end, leaving very little cash to draft players on the back end.
Here's a contrarian model…
First, roster your pitcher and one stud. Then, start looking for middle-salary bargains to fill out the rest of your lineup. Doing so will help you to spend your budget wisely without the risk of running out of money with 2 or 3 slots to fill.
If you have money left over, you can always swap out players if you think doing so gives you additional upside.
#18 – Check Vegas Odds
Oddsmakers make a living by calculating accurate lines. They have skin in the game. That being the case, it's always a good idea to check the most current odds on upcoming games before finalizing your lineup.
Pay attention to the total number of runs expected to be scored during a game. A high-scoring game suggests that one or both pitchers are going to struggle.
Also, review the money line set by oddsmakers. Leverage the data to draft pitchers and hitters whose teams are expected to win.
#19 – Take The Ballpark Into Account
You've probably heard that some parks favor hitters while others favor pitchers. For example, Coors Field and the Great American Ball Park are known for being among the friendliest venues for hitters. Meanwhile, AT&T Park and PNC Park are known to suppress the number of home runs.
Can you see how that information might help you create winning lineups?
#20 – Keep Your Eyes On Twitter
Twitter is currently one of the best resources for finding out about injuries, late scratches, weather concerns and other game-affecting news. Pay attention to the most relevant feeds right up to the moment the evening's games begin.
A last-minute scratch may hobble your lineup and warrant a quick replacement. It can also present an opportunity to pick up the scratched player's backup at a big discount.
Stay up-to-date and be ready to take action if important news breaks.
#21 – Play On More Than One Daily Fantasy Site
You should play at both FanDuel and DraftKings. Not only do both sites host different fantasy MLB promotions, but you'll find player salaries vary as well.
Here's an example…
As I write this, the New York Mets are scheduled to face the Washington Nationals. Here are the current salaries for two pitchers from both sites.
Pitcher 1:
FanDuel salary: $10,500
DraftKings salary: $11,100
Pitcher 2:
FanDuel salary: $9,400
DraftKings salary: $8,100
Notice that pitcher 1's salary is LOWER at FanDuel than DraftKings. By contrast, pitcher 2's salary is HIGHER at FanDuel than DraftKings.
Playing at more than one fantasy site allows you to refine your draft strategy and take advantage of these differences.
Take advantage of the tips I've given you on this page to increase your odds of winning a cash payout.
More Awesome Reading