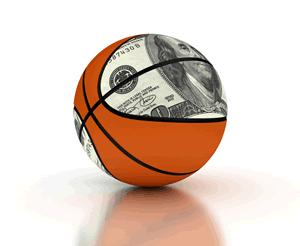 By now, you've (hopefully) created your account at DraftKings or Fan Duel and made your first deposit. You've had a chance to explore both sites and get a feel for how everything is laid out.
Let's take a walk through playing a real money daily fantasy basketball contest at DraftKings.com.
100% Legal in most states
Risk and Win Real Money
Entries start as low as $0.10 (freerolls are available just to try it out)
The Big Daily Fantasy Basketball Tourneys happen on Wednesdays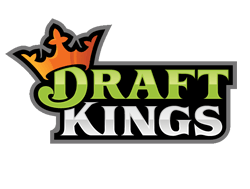 It's now time to jump into your first real money contest. Don't get caught in the "paralysis by analysis" trap. The quickest way to get comfortable with daily fantasy sports betting is to enter a contest and watch your team perform live. It's like working on your car. You can read about transmissions and engines all day, but until you pop the hood and get your hands dirty, you'll never get comfortable with them.
With that in mind, we're going to walk you through the process of entering your first real money daily fantasy basketball contest. We chose basketball because it's not our favorite sport (football is). That means we'll be approaching it without knowing a ton about the individual players. Our draft picks might end up dominating the court (highly unlikely) or laying bricks the entire night.
For this 101 tutorial, the outcome doesn't matter as much as showing you the process through fresh eyes and exactly how it works.
We're going to use Draft Kings for the following tutorial. Keep in mind, a lot of what you'll see on DK is similar to what you'll see on FanDuel. Enough small talk. Let's play some basketball!
Select NBA And Review The Daily Fantasy Basketball Contests
Recall from our tutorial on creating your DraftKings account that the lobby is where all of the action starts. Not only are all of the upcoming contests listed in one place, but you can filter and sort them in various ways. You'll be able to find what you want very quickly.
First, locate the drop-down menu titled "Sport." It's on the left side of your screen a couple of inches above the main set of tabs (right underneath the splash of promos). Click the menu and choose "NBA." For this tutorial we are going to play a Multiplier, so click on that tab.
Choose A Daily Fantasy Basketball Contest With A Low Entry Fee
I would like to emphasize low entry fee. You can find as little as $1.00. Sometimes even just $.25 cents. Scroll down the list of NBA events. Play one of those. Or you can use a freeroll ticket which you get after making your first deposit. Look for contests that have a small, orange ticket displayed next to the entry fee. Since for this tutorial you will be brand new, there the orange ticket means free entry for you, not for everyone else. New players get a small free entry to use to try it out.
For this tutorial, we're going to choose an "NBA 10X Booster." The one we have in our sights pays out $20 to each of the top 5 players. If you end up lower on the leaderboard, you'll go home empty-handed.
To follow along with the instructions below, click the title of the contest you want to enter from the lobby. A box will pop up, showing all of the relevant details for it. You'll see a large, yellow-orange button labeled "DRAFT TEAM." Click it.
Assuming this is the first contest you've entered, you'll see a second pop-up box that provides basic instructions. It mentions a $50,000 salary cap, and explains that you'll be officially entered into the contest once you submit your team. I can't show this because I've played before.
Click the button labeled "START DRAFTING."
Draft Your Team – Budget Your Cash
Before you start picking players, take a moment to notice the blue horizontal bar spanning your screen. You'll see the start time, entry fee, and how many entries have been submitted thus far. (Note that the $2.00 entry fee is crossed out and replaced with a "FREE with your ticket" label.) For this particular contest, you can submit up to 5 entries. But we're going to keep it simple and stick to a single entry.
Now, take a look at the tabs. Each one reflects a position. Selecting each tab displays the players who play that particular position. For example, if you click the PG (point guard) tab, you'll see Stephen Curry, Kemba Walker, and Eric Bledseo. If you click the SG (shooting guard) tab, you'll see Paul George, Monta Ellis, and DeMar DeRozan. Players who play in multiple positions are found under multiple tabs.
You need to fill 8 roster positions on your team:
a point guard
shooting guard
small forward
power forward
center
flex guard (PG or SG)
flex forward (SF or PF)
and a utility.
Remember, you're working with a salary cap. Spend your cash wisely.
NBA Fantasy Scoring Chart
Fantasy Basketball
DraftKings
FanDuel
Fantasy Basketball
DraftKings
FanDuel
See more: Top Fantasy Sites List.
Line-Up
8 Players
PG, SG, SF, PF, C, G, F, UTIL
9 Players
PG, PG, SG, SG, SF, SF, PF, PF, C
Salary Cap
$50,000

$60,000

3-pt FG
3.5
3
2-pt FG
2
2
FT
1
1
Rebound
1.25
1.2
Block
2
2
Steal
2
2
Turnover
-0.5
-1
Assist
1.5
1.5
Double Double
+1.5 PTs (Max 1 per player)
Triple-Double
+3PTs (Max 1 per player)
When you want to draft someone, click the green plus sign ("+") located to the right of his name. That player will instantly show up in your lineup on the right side of your screen. If you change your mind, just hit the green "X" next to the player. He'll disappear from your lineup.
If you want to check out a player's stats before drafting him onto your roster, click his name. A box will pop up displaying tons of data along with recent news about him. The data can be sorted in various ways, but the "AT A GLANCE" view should suffice for now. If you still want to draft him, click the button labeled "DRAFT PLAYER." Then, fill your other positions.
Notice the 2 dollar figures displayed directly above your lineup. The figure on the right – the one titled "REM. SALARY" – is the one to watch. Each player you draft reduces your "remaining salary" by the dollar amount listed next to the player's name. Once you fill out your roster, review it one last time and click the large, yellow-orange "SUBMIT YOUR TEAM" button. A box will pop up, asking you to confirm your entry.
If this is your first contest, you'll see a note mentioning that your entry is free thanks to the complementary pass you received when you made your deposit. Also, notice that residents of Arizona, Iowa, Louisiana, Montana, Washington, and Quebec are prohibited from participating.
Click the button labeled "ENTER NOW." The next page you'll see will confirm that you are now entered into the contest. You'll have a chance to join other contests with the same team, or join them and draft entirely new teams. For now, we're going to sit back and wait for the games to go live.
Watch How Your Team Performs Live
We've got a few hours to kill, so let's go over a couple of details about the navigation scheme on DraftKings. First, scroll down to the bottom of the confirmation screen. You'll see a white button labeled "VIEW MY LINEUPS." Click that button to check out the team you just drafted. Note that you can make changes in your lineup up until the countdown timer (located above your roster to the right) reaches 00:00:00. You can also view your lineups for pending contests at any time by clicking the "My Lineups" tab. The tab is located near the top of your screen.
You can get a bird's-eye view of all of the contests you've entered by selecting the "My Contests" tab. You'll find it sitting to the immediate right of the "My Lineups" tab.
While your contests are live, they'll be listed in the section titled "Live Contests." Otherwise, they can be found in the section titled "Upcoming Contests." After the final buzzer sounds, and the final shot falls, your contests will be listed in the "Completed Contests" section.
Track Your Players' Performance On The Leaderboard
When your contest goes live, turn on your television and log back into your DraftKings account. Watch the games on TV while tracking how your roster measures up to the other teams on the DK site.
Here's how to do it…
First, click the "My Lineups" tab. At the top of the roster, notice that the countdown timer has been replaced with "LIVE." At the bottom, you'll see a tally of your team's "TOTAL FANTASY POINTS." Next, click the "My Contests" tab. Notice that the contest you entered has been removed from the "Upcoming Contests" section and is now listed in the "Live Contests" section. To the right of the live contest, you'll see a black button labeled "WATCH LIVE." Click that button.
You'll see a listing of all the fantasy players who entered the contest on the left side of your screen (your screen name will be highlighted in orange). On the right side, you'll see your lineup. The specific game that each player is participating in is listed to the right of his name. The number of fantasy points earned by each player is found to the far right.
A scoreboard listing each game your players are participating in can be found directly below your team roster. Each team's score, like your players' fantasy points, are updated in real time.
Beneath the scoreboard, on the right-hand side, you'll see a box labeled "TALK SOME SMACK." If you're going to use that box, try to keep it clean. Friendly smack-talk is fine. Just don't get nasty or mean-spirited.
Is It Necessary To Watch The Games Live?
No. You don't have to watch everything happen live. If you have things to do, go do them. You can always log into your account later and check the results.  One of the advantages to playing in cash money daily fantasy sports contests is that you can take a hands-off approach to them. Enter a contest, draft your team, and log out. Then, come back in the morning to see how your roster stacked up against your competitors. Very simple and very low-maintenance.
Pick a new team the next day.
Having said that, watching the leaderboard change as your players earn points can be addictive. Don't say we didn't warn you!
Edit / Update = BOOM GOES THE DYNAMITE –  We Win!
Here is how the team did:
That's me, Spry13. It was just enough to secure 4th place out of 100 for an in the money finish, which in this contest is the same as if I had won 1st in this contest since the top 5 10x'd their money.
Real Money Fantasy Basketball "For Dummies" And er… You! From DFS 101
That's the process in a nutshell. I hope you enjoyed the screenshots and walk through. 100% honest truth here, the above tutorial was put together with the win in my very first ever daily fantasy basketball tournament. I love playing football but basketball is not a sport that I follow. At all. And therefore I do not play the fantasy version either. I wanted to put together a real, true to life tutorial for you that you would find useful so I did the entire thing from start to finish and ended up winning! I'll take it and it was on my first try. Perhaps I'll have to start paying a bit more attention and getting into some of the big long shot basketball fantasy tournaments for a major score.
The steps we've just covered are virtually identical for football, baseball, and hockey at DraftKings. So there's no reason to feel like you should stick to your favorite sport. Try them all. Get experience under your belt by entering contests that have low entry fees.
And if you lose? It won't matter much. By this time tomorrow, you can pick all-new rosters for yet another chance to grab a big chunk of the prize money. That's the beauty of one day fantasy sports betting!