Until a site earns it, they will not be listed here. Play at the DFS sites below in confidence, they are the best in the business. We've been tracking them since 2013 and helping thousands of new DFS players find the right site for them.
Top 10 Daily Fantasy Sports Web Sites List
This content contains affiliate links which I earn a commission from if you purchase the products and services found here at no additional cost to you at all. Thank you in advance – Use all my links in confidence and enjoy the website!
Updated Spring 2022
There are not 10 viable daily fantasy sports sites to choose from, even now in 2022. We do not have a top 10 list complete, and do be honest it is doubtful that we ever will.
I can not recommend most of the new, untested and unproven DFS sites.
I personally play myself at the sites I list here. These daily fantasy sites are the best in the business in 2022. These are the sites that I play at and where I recommend you play at as well.
I will review new fantasy sites every once in a while when a quality site emerges. As time moves on some new sites will be added to our list as their reputation grows and the market changes. If you know of a fantasy sports site that you feel deserves to be on our list, please let us know by filling out this quick google form.
Does Biggest = The Best When It Comes To Fantasy Sites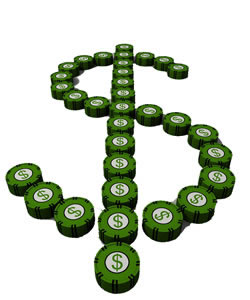 Yes and no. In general, we like playing at the larger fantasy sites for many reasons. First they always have big tournaments. I am talking the $1 to $5 buy-in tournaments with $x,xxx in prize money for top finishes. Win and you'll be a thousandaire. Come on! Second they are proven to be reputable. They got large for a reason. Third, they offer the safest and easiest fantasy sports experience online.
The Top 2 Largest Daily Fantasy Sites
These are the two market leaders, with valuations at over $1 billion (with a "b") dollars. Each (at least during NFL this past season, this could change w/ the new legal landscape shaping up with more regulation (good!).
I've recently updated my reviews featuring new screenshots of the lobby's and features at both of these sites. If you have yet to play, now is the time.
FanDuel was bought out by the gambling conglomerate, Paddy Power / Betfair in 2018. It looks that federal legal sports betting is coming to the USA and FanDuel (and Draftkings) want a huge piece of it. FD and DK have been rivals for the overall market lead since 2013. In terms of number of players overall Fanduel appears to have the edge.
DraftKings is in a very healthy second place. These two fantasy sports giants control the vast majority of the daily fantasy sports action. The smaller sites are considerably smaller in terms of size of players, guarantees and contests. To be fair, FantasyDraft is one of the few smaller to medium sized sites that has been able to stick around and compete.
They have both recently updated their lobby to be responsive and mobile friendly.
Check out reviews linked above for latest screen shots.
Historical Updates 2022
6/9/2020 – Draftkings has gone public, ticker symbol DKNG on the NASDAQ
1/10/2020 – Draftkings and Fanduel are expanding their sports betting side of the business in the states where there is regulated and legal sports betting in the US.
9/1/2019- Monkey Knife Fight is added to DFS101 after their first year of successful operation. We felt comfortable enough to recommend them to our DFS sites if you are looking for something a little different than the typical build your DFS team and score points. MKF has the prop bet/games you want at the place you can't help but like Monkey Knife Fight (MKF review).
3/14/2019 – Innovation continues in this market. While the sharks have eaten up most of the fish, the sites have responded with newer 'rookie friendly' procedures and employed some limits on multi-entry and mass-entry events. Not limited them so much but have created a variety of contests that are not mass entry.
3/14/2019 – Golf is in full swing and I broke down the Draftkings Golf contest formats here.
8/6/2018 – New DK NFL formats explained and compared here.
7/24/2018 – Draftkings continues to try and help the newbies and recreational players avoid the professionals. They have introduced filters that do not allow the high volume grinders to play in their lower buy-in events. They have also lowered the maximize number of contests that the pro's can multi-enter.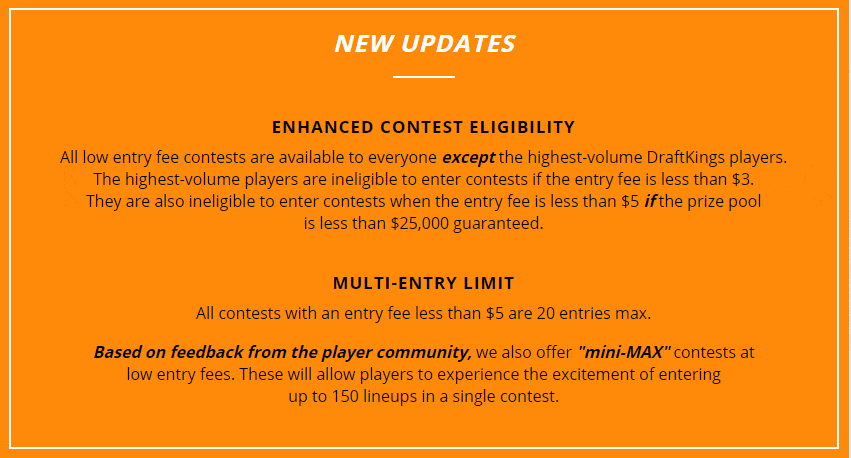 5/24/2018 – Fanduel bought by Betfair / Paddy Power sports betting site.
4/17/2018 – Published article on Draftkings new golf formats. You can now play one day fantasy golf (showdown mode) and weekend fantasy golf where you just compete for rounds 3 and 4. No more trying to pick players who make the cut in this format.
3/21/2018 – Draftkings offers a new golf scoring format for the match play contests.
11/30/2017 – DK tries to target the casual sports players more, with gif's.
8/7/2017 – Readying for DraftKings Fanduel NFL 2017. Both sites will remain competitors as the companies abruptly called off merger talks back in July.
7/13/2017 – NYtimes reports that the FD/DK merger is called off. Also hints that Draftkings is in a strong position than FanDuel. We shall see.
4/4/2017 – Fanduel revises Baseball scoring for 2017
3/14/2017 – Fanduel adds golf to all areas except New York for legality reasons – PGA contests are now live at FanDuel.
2/23/2017 – FantasyDraft (we like FD!) has pledged to work with FantasyAces player base to help get players made whole.
2/1/2017 – Mid/small sized site, FantasyAces (never promoted here) has gone bankrupt. Players funds are unlikely to be recovered.
Strong rumors circulating of a merger between DraftKings and FanDuel – They are trying to make this happen.
The NFL 2017/2018 season has shown a much subdued and much matured DFS industry.
There have been a few minor issues up to this point but they learned from 2015 and 2016 I believe. There has been way less advertising, less drama (although there was some) and to be honest, more difficult games to win.
They calmed down on the advertising and they are trying to make sure the industry operates as a real living ecosystem. Both major sites and a few smaller ones have now added player identification tags (letting you know if the player is a strong player in general or not) as well as limiting the number of H2H matches any one person can scoop up against you.
2016 proved to be pivotal for daily fantasy sports. Either the two big sites will get their collective acts together and build a sustainable long term business or it will crash and burn (positive news update). That's my prediction anyway. Today it looks like they are getting their acts together.
Back in 2015 we saw the first emergence of a couple of other players with big backing. Notably Yahoo! daily fantasy sports and recently Sportsline. While many argue they are too late to get in on the action, they feel otherwise. The short answer is there are a growing number of DFS sites available but I highly recommend you stick to the sites that have built a reputation already that you can trust. There are thousands thousands of different leagues and contests up for grabs every day. Especially every weekend during football season you will find tens of thousands of unique players take part in contests every weekend.
The traditional fantasy sites like Yahoo! (now with a daily product as well), NFL, CBS, ESPN and the like are still offering the season long style fantasy games and are by far larger than all of these in volume.
Plus with the large player pools, a huge portion of the field is made up of recreational fantasy players. Not to mention that the largest sites are US based companies meaning someone you can really reach out to if you must. To learn more about these sites click through to our reviews below to find the right fit for you.
Middle Sized & Smaller
Let's look at the middle and small fantasy sites. I'm only going to recommend two smaller sites right now because I am extremely selective on who I am willing to recommend to you.
FantasyDraft – I am starting to play here for the NFL 2016 season. I am looking for a site that has smaller sized tournament in terms of numbers of entries and FantasyDraft fits the bill. Until now, I haven't played much ere but some friends do and say they enjoy the site.
StarsDraft *formerly Victiv (review) – Now owned by the same company that owns PokerStars. They bought out site Victiv and re-branded to 'StarsDraft'. I have somewhat of a less than great fondness for the new owner, however they seem to have kept most of the product the same. They only accept players from Kansas, Maryland, Massacusetts, and New Jersey.
FantasyAces
StarStreet
FanThrowdown
DraftOps
FantasyFeud
The middle and small sized sites sometimes offer value you will not find at the larger sites. You can sometimes find overlay (extra money) in some of their tournaments or special bonuses or freerolls you can take advantage of for joining the site. In addition you can find tournaments with solid prizes with less overall competition. Read through the fantasy site review by clicking the site above to see learn more and get details on the signup bonuses. If you are ready to play, check out our latest site news and promos section for up to date promotions.
Fantasy Betting Sites Compared By Sport – Find The Best Site For Each Sport
You can play the 'big 3 sports' (football, baseball, basketball) at all of the fantasy sports sites we list as they are the 'bread and butter' of the fantasy industry. The less popular sports are only available at select sites.
These are the current sports you can play. We have new player guides based on the different sports here. As our content is ready in these lists we will link them accordingly above.
About The Top 10 Daily Fantasy Sites and DailyFantasySports101.com
Only the absolute best fantasy sports website hosts make it on my Top 10 list. Part of being the best is being big. You will quickly see that my the "Official Daily Fantasy Sports 101 Top 10 List" is incomplete. Why? Because we only select the top rated fantasy betting sites in the industry. We are extremely careful on who we are willing to list and recommend to our visitors. We work hard to create a list of sites that you can trust and offer the best bang for your fantasy buck in the industry. People use this list every day when choosing where to deposit their hard earned money and play, so we have a commitment to list only list the best in class fantasy sports sites.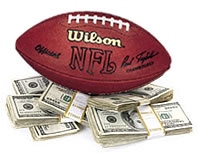 We work very closely with these sites. Since they know that new players are coming from this website they want your business. New players joining is a major goal of their marketing. That means they offer our visitors the absolute best promotions, signup incentives and bonuses on the internet.
You can sign up with these sites in confidence knowing that you are maximizing your account when you use DailyFantasySports101.com's links.
Are The Fantasy Sites Legal? (Yes – But Laws Vary By State!)
The legality and regulation of daily fantasy sports sites is a fluid one. Especially since October of 2015 when an employee from DraftKings won a major prize on FanDuel and leaked internal sensitive DraftKings data early. Anyway the short answer is that yes it is legal but it depends on where you live. Check out our 'is it legal?' page for a list of references and links to confirmations but yes it is legal in most states. There are a few exceptions where states have laws against playing but unless you happen to live in a very few number of states it is 100% completely legal. You can deposit and withdraw with Paypal, Visa and Mastercard. It is quick, seamless and easy to get in the game right now.
More Awesome Content