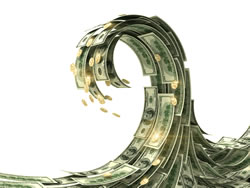 If you're just now getting started with daily fantasy sports, you're in the right place. This is the guide you need to read.
If you've played daily fantasy football, baseball or basketball in the past, but have taken a sabbatical from the fast-paced fun, this guide will help you to regain your mojo.
What follows isn't a "how-to" tutorial. There are plenty of those already on this site, each one doing a deep dive into a specific aspect of daily fantasy.
Nor is this article a strategy guide. Again, you'll find lots of those here too.
MY BEST TIPS AND TACTICS – This is a preparation manual. It's a compendium of my best tips and suggestions designed to give you a solid foundation on which to build a successful daily fantasy "career."
The advice you'll find below will help you start off on the right foot and improve your chances of winning contests.
It could even help you to make the transition from being a hobbyist to becoming a daily fantasy pro. And it'll help you to form the right expectations so you'll find the motivation to press on when you hit cold streaks.
Sound good? Grab a cup of coffee and get ready to take a few notes. This is your quick-start guide to daily fantasy success.
21 Tips Every Brand New DFS Players Should Hear
#1 – Play The Freerolls
You are building a lineup anyway. You can use it in the freeroll with a click of a button. Competing in freerolls costs you nothing. The entry fee is $0. Meanwhile, you get a chance to learn the ins and outs of DFS while familiarizing yourself with the fantasy site's scoring system.
Some freerolls offer cash prizes. Others offer tickets to paid contests. Either way, there's zero risk. Consider them a gift and take advantage of them.
Consider joining freerolls on any of the new DFS sites we recommend like DraftPot where they have weekly free contests and overlay
#2 – Do The Research
When you buy a company's stock, you want to know how that company has performed in the past, right? The same thing is true in daily fantasy sports. You should know a player's past performance record before adding him to your lineup.
Researching players is easier in some sports than others. For example, you'll do a lot more number-crunching in fantasy basketball than you will in fantasy NASCAR. There's more data to review in fantasy baseball than there is in fantasy mixed martial arts.
Regardless of the sport, be ready to do the work. Fortune favors the prepared.
#3 – Stick With A Winning Formula
Over time, you'll come up with a draft strategy that works for you. But there will be times, particularly when you're in the middle of a cold streak, when you'll question the effectiveness of your formula.
That's normal.
But think twice before chucking a formula you know works just because you've hit a dry spell. Hold fast to your draft strategy unless you have hard data that proves it's worthless or ill-conceived.
#4 – Don't Feel You Have To Meet Your Salary Cap
DraftKings gives you $50,000 with which to build your lineups. FanDuel gives you $60,000. Those figures represent your salary cap.
There's a tendency to want to spend the entire thing. After all, if you have money left over, it means you're leaving a lot of value on the table, right?
Not necessarily.
The cap is an arbitrary number. It's there to limit your options, not dictate who you draft. Don't second-guess yourself if you build a high-potential roster and have a few bucks left over. Let it go. Contests are won every day by team owners who didn't spend their entire salary caps.
#5 – Learn The DFS Site's Scoring System
There are differences in the way points are awarded at DraftKings and FanDuel. Those differences spell opportunity.
For example, DraftKings gives you extra points when a basketball player logs a double-double or triple-double. FanDuel doesn't.
DraftKings gives you bonus points when your quarterback passes 300+ yards. FanDuel doesn't.
DraftKings deducts points when a runner gets caught stealing a base. FanDuel doesn't.
Although these differences are small, they matter. They should inform your draft picks. For example, knowing that DK puts a premium on strikeouts, you'd want to favor pitchers who have a high-SO record.
See our DraftKings strategy guide here.
#6 – Take Advantage Of Vegas Odds
Vegas oddsmakers will predict outcomes for all the games that can influence your lineup's score. That's good news. Oddsmakers crunch a lot of data to come up with their lines and over/unders. They've done the hard work for you.
Take advantage of their efforts. Before drafting players, check out their predictions for that evening's scheduled games. Those predictions can save you from unwittingly sabotaging your roster's chances of winning.

#7 – Tread Lightly In High-Stakes Contests
Generally speaking, the bigger the buy-in, the more experienced the fantasy players. For example, a 50/50 with a $5,300 entry fee is almost sure to have a few sharks waiting for inexperienced prey.
Be smart. If you're not a daily fantasy pro, stick to the lower-stakes contests.
#8 – Look For Streaks
Teams and players that are on hot streaks are likely to continue performing well. Conversely, teams and players that are on cold streaks are likely to perform poorly. Momentum has a major influence on players' psychology, and thus has predictive value on their fantasy point production.
Use that knowledge to your advantage.
It's worth noting that basketball and baseball tend to be among the "streakiest" sports. Hence, both give you a higher-than-average number of opportunities to leverage player and team streaks.
#9 – Look For Last-Minute Injuries
Players get injured all of the time. For that reason, it's always a good idea to check for injuries just before the first game of the night begins. Fail to do so and you might find your lineup saddled with unproductive bench-warmers.
Basketball players are notorious for late scratches due to injuries. Football players are nearly as guilty. The lesson? Play it safe and check the latest injury report before finalizing your rosters.
#10 – Learn How To Create Lineups For Different Contest Formats
A large-field guaranteed prize pool (GPP) tournament is a lot different than a small-field 50/50. The two formats require different draft strategies. For example, stacking is a great tactic to use in GPPs, but rarely necessary, or even advised, in 50/50s.
Learn the basics of building effective rosters for different types of contests. (Hint: I've provided several in-depth tutorials to that end on this site.)
#11 – Know When Risk Is Your Friend
Risk is valuable when you're competing against thousands of players for a prize pool that will be distributed to the top 20% of the field. You have to take risks to have any chance of finishing in that top 20%.
In head-to-heads and 50/50s, risk isn't as important. In fact, it can work against you. Know when to use it to your advantage and when to avoid it like the plague.
#12 – Learn To Manage Your Bankroll
A lot of daily fantasy players find that their long-term results have less to do with their wins and losses than their ability to control their cash. That's what bankroll management is about.
Keep a tight rein on your money and you'll be able to absorb a high percentage of losses on your way to making a long-term profit. Take a lackadaisical approach and a few big losses can spell the end of your daily fantasy career.
#13 – Focus Most Of Your Bankroll On Cash Games
You only have to end up in the top 50% of the field to win most cash games. Compare that to cashing in a GPP, where you need to end up in the top 20% – and sometimes in the top 15%.
To b sure, you're not going to become a millionaire playing 50/50s and head-to-heads. But you'll stand a much better chance of winning.
Definitely enter GPPs every once in awhile. They're fun and you might score a big payout. Just realize the odds are against you. That being the case, focus most of your attention (and bankroll) on cash games, where your chances of winning are much better.
#14 – Be A Contrarian In GPPs
Variance plays a huge role in large-field tournaments. That's why it pays to take risks. Part of taking risks is zigging when other team owners zag.
For example, suppose a major portion of the field for a fantasy NFL GPP drafts Julio Jones. You don't want to just emulate other team owners. Remember, most of them are going to lose. Drafting the same guy as everyone else all but guarantees you a spot in the Loser's Circle.
Instead, take a risk and roster DeAndre Hopkins or Odell Beckham Jr. – guys who tend to have less field ownership. They might break out and deliver a mountain of points. If they do, your contrarian approach will catapult you ahead of your competition.
#15 – Create A Set Of Draft "Rules" To Follow
The masters of any craft follow self-imposed rules they've developed to streamline their preparation and improve their performance. They create systems for themselves.
For example, many professional athletes go through a series of breathing and stretching exercises before every event. Many professional musicians perform scales before going onstage. Their routines have proven to help them perform. As such, they seldom change.
Take the same approach to your daily fantasy draft strategy.
As I noted earlier, you'll develop your own strategy over time. You'll discover tactics that work and tactics that don't work. For example, you might learn through trial and error that stacking 3 players from the same NBA team when the Vegas over/under exceeds 206 works well in GPPs.
So make that one of your rules.
You'll eventually come up with a set of rules that will help you to save time and mental energy when building your lineups.
#16 – Track Your Results
The only way to know whether you're doing well in daily fantasy is to track your wins and losses over time. I recommend you use a spreadsheet to keep track of the following items:
– sport (football, NASCAR, etc.)
– contest format (GPP, 50/50, head-to-head)
– day of the week
– entry fee
– win or loss
– $ amount won or lost
The above data points will give you a macro view of your daily fantasy results. They'll reveal win/loss trends and show you areas that warrant making adjustments. See our growing page on DFS tools for some bankroll trackers.
There are lots of other data you can track if you have the time and motivation. But most of it is unnecessary. Instead, focus on the 6 items above.
#17 – Learn From Every Loss
Don't think of losing a contest as a failure. Instead, think of it as validation that something in your draft strategy didn't work.
That's good news because it means you have information with which to make changes that might yield better results.
Remember that Thomas Edison quote about inventing the lightbulb? He said "I have not failed. I've just found 10,000 ways that won't work."
That's the perspective you need to have in daily fantasy sports. If you're tracking things, you'll have the data you need to make informed changes.
#18 – Adjust Your Draft Strategy When Something Isn't Working
When a tactic doesn't work, and fails to work over and over, have the courage to try something new. Albert Einstein said insanity is "doing the same thing over and over and expecting different results."
That's a surefire recipe for wasting your bankroll.
When your win/loss record exposes a problem, be willing to make changes. You don't have to get rid of your entire strategy and start from scratch. Just make small adjustments and track your results.
#19 – Be Prepared For Streaks (Cold AND Hot)
There are going to be times when it'll seem you're destined to lose every contest you enter. I can tell you from firsthand experience, cold streaks are brutal. They can wreak havoc on your confidence.
On the other hand, you'll go through periods when you seem to have the Midas touch. You cash in every contest. It's hard not to feel like you're on top of the world when you're racking up a large percentage of wins.
But keep in mind that streaks end. Nothing is forever.
If you're going through a cold streak, don't get discouraged. There's light at the end of the tunnel. If you're enjoying a hot streak, resist the temptation to think you're invulnerable. You'll eventually lose.
The important thing is that you track your results and look for ways to improve your draft strategy.
#20 – Set Weekly And Monthly Goals
Goals give you a target to shoot for and allow you to evaluate your progress. Without them, it's impossible to know whether you're moving forward or backward over the long run.
Goals also help you to create a realistic plan.
For example, suppose you want to make $250 in profit each month. Let's also suppose you win 70% of the 50/50's you enter. (You ARE tracking your results on a spreadsheet, right?)
Let's say each 50/50 imposes a $10 buy-in and pays out $18 to winners. That means you would need to enter 100 contests each month. That's 25 contests per week, or 3 or 4 per day. You can now create a sensible plan to generate $250 each month in daily fantasy profits.
Setting goals allows you to build a routine that complements your track record.
#21 – Have Fun
There's no use to playing daily fantasy sports if you're not having fun.
Sure, you want to make money. Who doesn't? And you'd love the bragging rights that come from finishing in the top 10 of a large-field tournament.
But if neither of those things happen for you – at least, not in the short term – you should still enjoy the time you're spending at DraftKings and FanDuel. That's what makes it worthwhile.
If you haven't yet competed in daily fantasy sports, now's the time to jump in. Find out for yourself why millions of fantasy sports fans are flocking to contests that pay real cash prizes without the commitment of season-long leagues.
Keep On Reading